Texas A&M GIS Day Promotes Geospatial Skills And Careers Nov. 11-13
GIS Day at Texas A&M features a career fair, industry panel, workshops and networking events.
Nov 1, 2019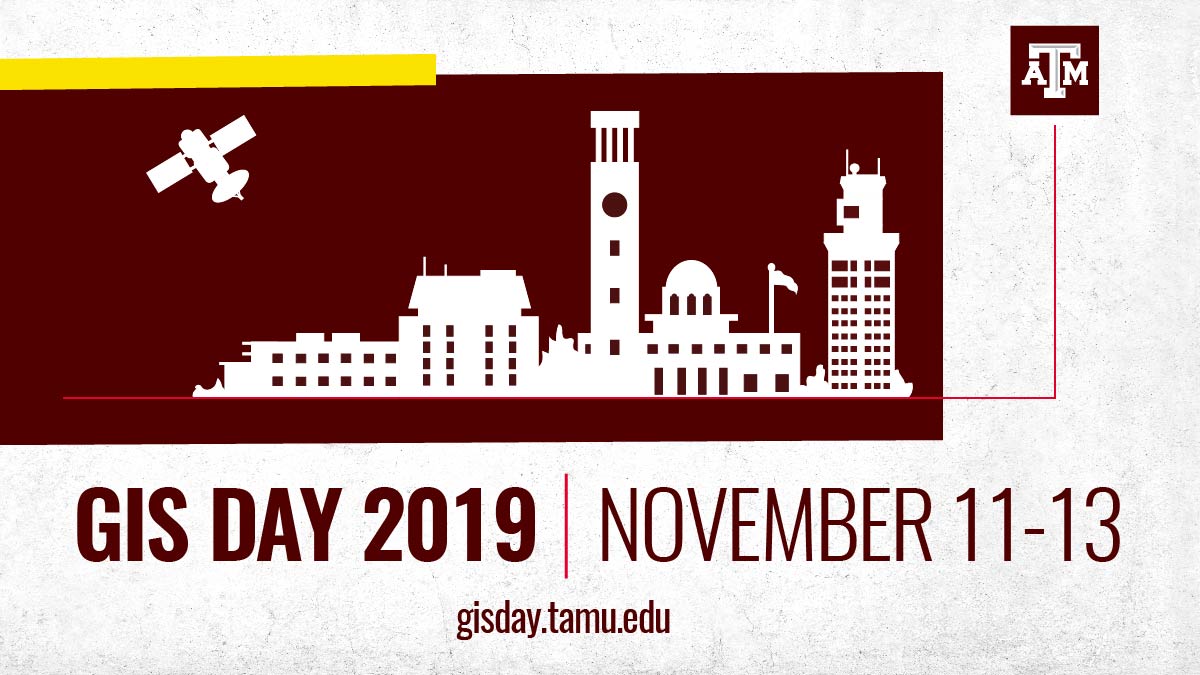 If you've ever used an app to order lunch delivered to your office, called 911, or used GPS navigation for driving directions, then you've benefited from geographic information science — or GIS — technologies.
Today's world is tied together with GIS technology. Nearly every public and private sector of society, including banking, health care, tech, and law enforcement, use geospatial tools to make location-based data and services possible. Job opportunities in GIS are growing, and an interdisciplinary event at Texas A&M University is helping Aggies get trained in GIS skills and network with leading employers.
GIS Day at Texas A&M is a 3-day annual event and the largest GIS Day event in the world, according to organizers. The local community, industry, and Texas A&M students, faculty, and staff are invited to attend free GIS technology workshops, interactive events, and lunches. A GIS career fair, industry panel and networking events are also open to students.
The event features three competitions awarding over $1,000 in prizes and awards to Texas A&M students for best poster and research paper presentations, along with a volunteered geographic information citizen scientist contest to collect data about the Texas A&M campus. Abstracts for the paper and poster competitions are due by Nov. 8.
Attendees are encouraged to register for workshops, events and competitions using the Texas A&M GIS Day website. All workshops are open to the public; registration is encouraged but not required.
"Geographic information science and technology affects nearly every aspect of our lives," said Dr. Daniel Goldberg, the chair of the GIS Day organizing committee, and associate professor in the Department of Geography and the Department of Computer Science and Engineering at Texas A&M. "From how we shop, to how we work, to where we live, to how we play, mapping and GIS approaches provide critical services, many of which we do not even realize, that allow us to make better decisions and improve our health and happiness."
Workshops include:
Local Governments Run On GIS
Brett Blankner '95 will present the GIS Day keynote address, Zen and the Art of GIS, Tuesday Nov. 12 at 4:30 p.m. in MSC 2300B. As GIS coordinator for the city of College Station's Enterprise Maps & GIS Division, Blankner is driving innovation and the use of GIS technology and data to advance intelligent decision-making by citizens, elected officials, and city staff tasked with providing many essential services to the local population.
"This year's keynote will highlight the importance of spatial data to running the local governments which impact the lives of nearly all Americans," said Dr. Stacey Lyle, a GIS Day co-chair and geography assistant professor of the practice.
"The city of College Station is really leading the way when it comes to leveraging the power of GIS to improve the operations of the city and the lives of its community members. Through Brett's leadership, College Station has become a national success story of how the right ideas, the right data, and the right team can all come together to create and implement a vision where GIS data and technology are a critical component for running cities of all sizes.
"College Station GIS remains at the forefront of GIS innovation through Brett's efforts including the city's open data portal, its hackathon program, and its frequent and numerous research and service learning partnerships with university students, faculty, and staff."
GIS Skills Are Crucial To Many Fields
"The GIS job market has been booming for over a decade and continues to this day, with over 100 new job postings every day," Goldberg said.
"Even more importantly, geospatial knowledge and techniques are becoming desired and even required skills in far reaching industries and job roles. Aggies from all majors and colleges who need to work with data about people, places, or things can up their job-getting prospects by knowing how to leverage the power of spatial data and tools to solve hard problems and make better decisions across many industries. Defense and intelligence, energy, logistics, insurance, real estate, manufacturing — jobs in all of these sectors and more are relying more and more on data, and spatial data is the most powerful data."
GIS Day gives students from across campus an opportunity to learn geospatial skills for free, in small consumable workshops designed to get people excited and ready to learn more.
"Texas A&M students in geography, landscape architecture and urban planning, computer science, health science, business, ecosystem science, engineering, and many other disciplines are all learning valuable GIS skills during TAMU GIS Day and turning them into successful careers in the many research, public, and private sectors that utilize GIS," Lyle said. 
GIS Day is a multidisciplinary, campus-wide event hosted and supported by many Texas A&M Colleges, departments, and centers, including: University Libraries, College of Geosciences, College of Architecture, Department of Geography, Department of Landscape Architecture & Urban Planning, Hazard Reduction Recovery Center, Office of Facilities Coordination, Transportation Services, Texas Research Data Center, the Center for Texas Beaches and Shores, the Institute of Data Science, and the Center for Geospatial Sciences, Applications and Technology (GeoSAT). The event's website and app are developed and maintained by the Texas A&M Department of Geography's GeoInnovation Service Center.
External industry sponsors of GIS Day include: ConocoPhillips, ESRI, Tessellations, Safe Software, UAV Survey LLC, 40Geo, Cimarex Energy, and Tudor, Pickering, Holt & Co.
By Leslie Lee '09