Up, Up, And Away
Learn about a familiar annual sight on the Texas A&M campus: the Geography 213 blimp.
Nov 25, 2019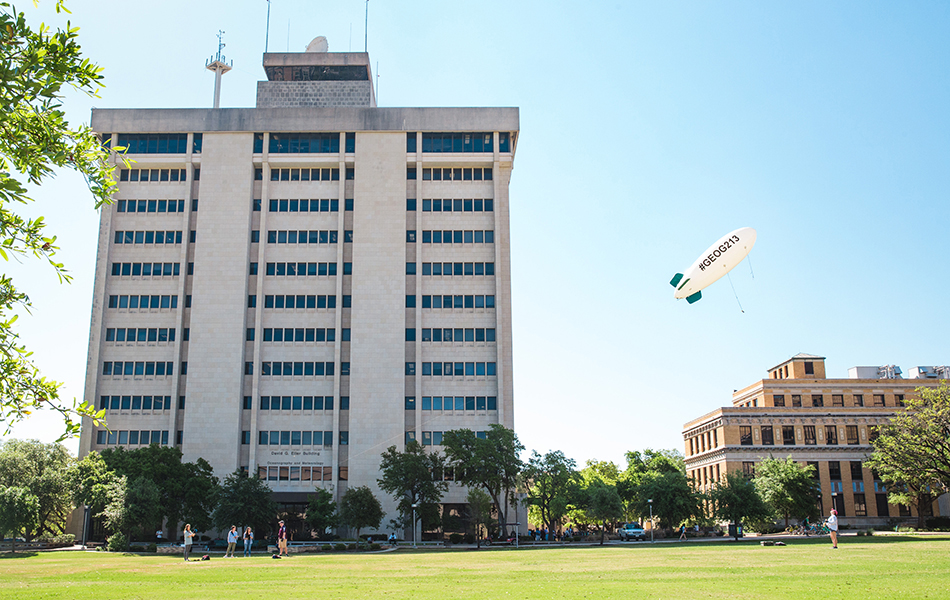 Each semester, students in Geography 213 venture outside the Eller Oceanography and Meteorology (O&M) Building to take weather measurements with this tethersonde, otherwise known as a blimp.
Entitled "Planet Earth Laboratory," Geography 213 is a one credit-hour course that gives Aggies a hands-on introduction to physical geography and concepts like solar radiation, the Earth's seasons, weather data and natural disaster case studies.
"The blimp is part of a two-week segment in the class focused on outdoor weather observation," explained Daniel Vecellio '20, a Ph.D. candidate in the Department of Geography and head teaching assistant for the course. "Students take measurements of air temperature, surface temperature, humidity and wind at various areas around the O&M building and the Bonfire Memorial."
The blimp has become a class trademark and a familiar sight in the sky on campus, which is unsurprising considering that it travels up to 150 feet, weather permitting.
As two students fly it, classmates record weather measurements on the ground. For many Aggies, this fun and collaborative learning experience is a highlight of the course.
By Karissa Bayliss '12, originally published by the Texas A&M Foundation