Julia Reece Named Montague-Center for Teaching Excellence Scholar
The Geology and Geophysics assistant professor was awarded the prestigious award for impactful teaching.
Oct 1, 2019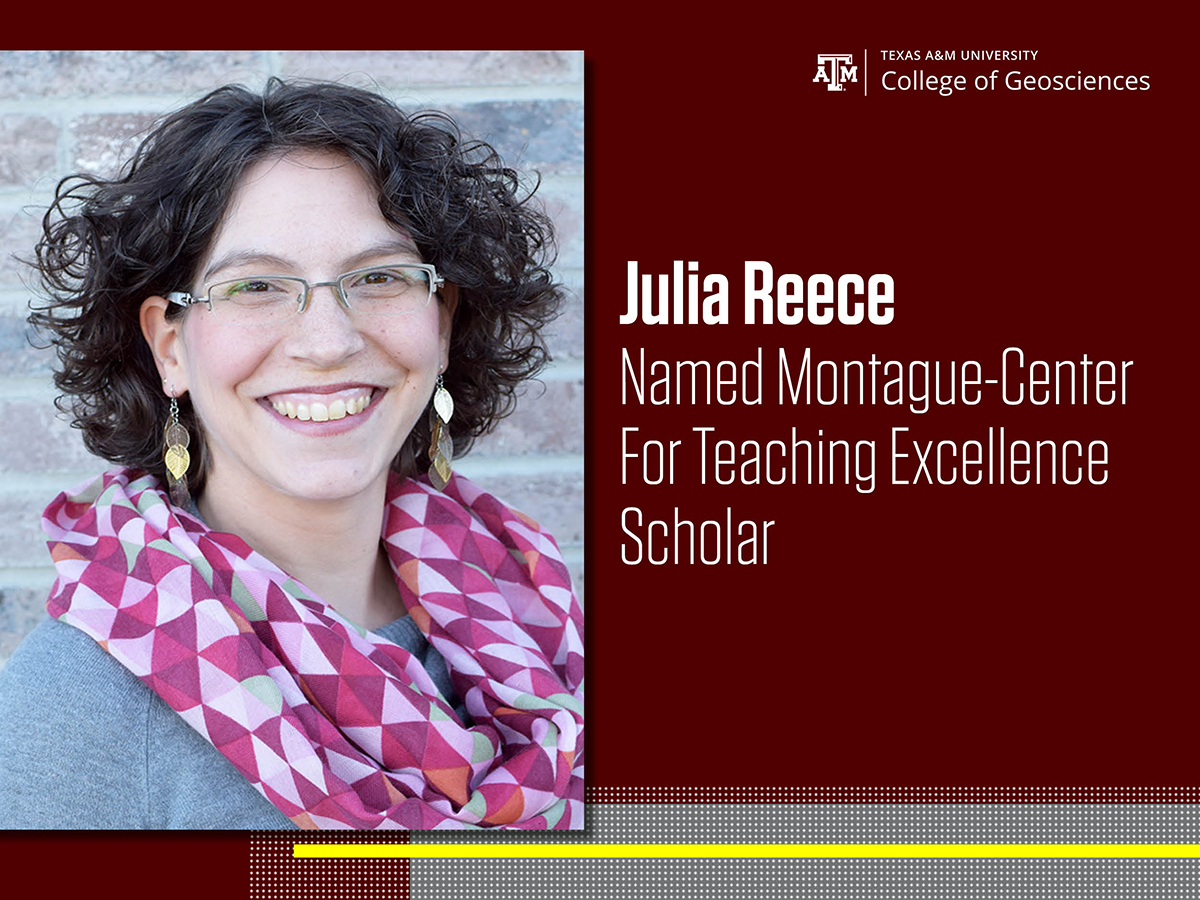 Dr. Julia Reece, assistant professor in the Texas A&M University Department of Geology and Geophysics, was named the 2019 Montague-Center for Teaching Excellence Scholar for the College of Geosciences, by the Texas A&M Center for Teaching Excellence (CTE). 
"Dr. Reece has earned her reputation as one of our best classroom instructors," said Dr. Julie Newman, Geology and Geophysics department head. "Even for her students in large classes, she has developed field trips, hands-on activities, and demonstrations to help students learn. Students appreciate how well-prepared and organized she is and that she shows passion for the subjects she teaches. Equally important, students know that Dr. Reece cares about them as individuals, and works hard to help them succeed."
For the past 28 years, each Texas A&M academic college annually selects one tenure-track assistant professor to receive the prestigious Montague-Center for Teaching Excellence (MCTE) Scholar award. The awardee is selected based on their ability, commitment, and interest in teaching undergraduates. Each Montague-CTE Scholar receives a $6,500 grant, to research and develop innovative teaching techniques. The outcomes of these teaching developments continue to benefit the educational community by being made available to other Texas A&M faculty through the CTE. 
The Montague-Center for Teaching Excellence Scholars Program started in 1991 and is named for the founding donor, Kenneth Montague '37. The MCTE program supports the endeavors of the CTE to provide leadership and services that contribute to the improvement of teaching at Texas A&M. The Center for Teaching Excellence exists to support the educational mission of Texas A&M University through evidence-based professional development opportunities for both faculty and student success. 
By Ali Snell