New Honors And New Heroes: Distinguished Geoscientists Inspire Students At Annual Awards
Four remarkable geoscientists were recognized Oct. 11 at the College of Geosciences' annual awards gala.
Oct 29, 2019
The toasts had been made, the tables cleared, the hugs and farewells given. But at the front table of the ballroom, a half-ring of students still stood, listening eagerly around a new-found hero.
Sitting in the middle of these young Aggies was Dr. Inda Immega, a trailblazing geoscientist who graduated from Texas A&M in 1971 as the very first woman to ever earn a geology degree from Texas A&M.
At the 2019 Texas A&M College of Geosciences Distinguished Achievement Awards Ceremony and Gala Oct. 11, Immega was honored as the recipient of the 2019 Michel T. Halbouty Geosciences Medal. And after an evening of honors, memories, and comradery, she generously stayed into the night to share wisdom, stories and encouragement with geosciences students.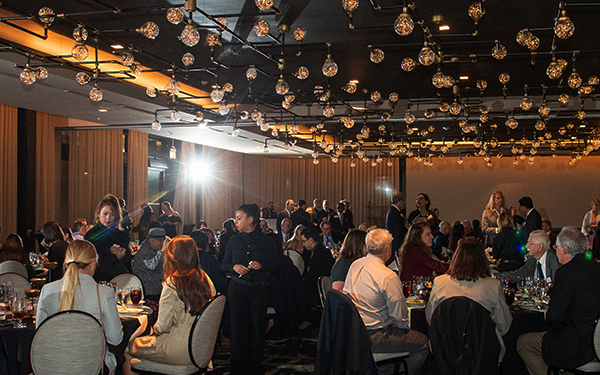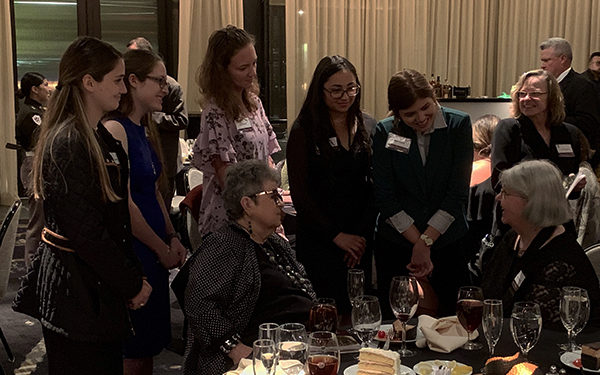 Each of the four recipients imparted their advice and invaluable experience to current students during the gala and during their remarks, providing Aggies with a unique chance to hear from heroes in their fields.
Every year, this event brings together former students, honored guests, current students, faculty, staff, and friends of the college to honor, learn, reminisce, and look forward. 
This year the college honored four outstanding geoscientists for their excellence, leadership, innovation, remarkable achievements, and significant contributions to both the scientific community and the public good.
"The individuals we honor tonight are the very essence and fulfillment of our mission and our purpose," said Dean of the College of Geosciences Dr. Debbie Thomas at the gala. "We honor excellence and we honor the many forms and paths excellence can take."
"What this college has instilled in me is excellence in the forms of discipline, passion and courage," said Rene Castillo '20, environmental geosciences senior, who delivered an inspiring speech to conclude the evening. "All of these qualities and lessons can be seen in the character of the recipients of tonight's awards, their work, and their stories. Thank you for paving the way for those coming up behind you. The legacy of excellence you have built is an investment in the future."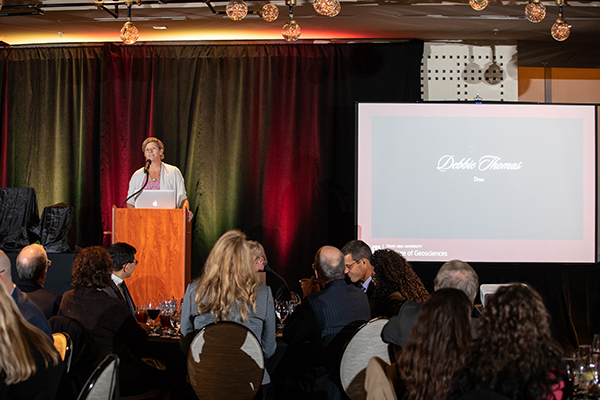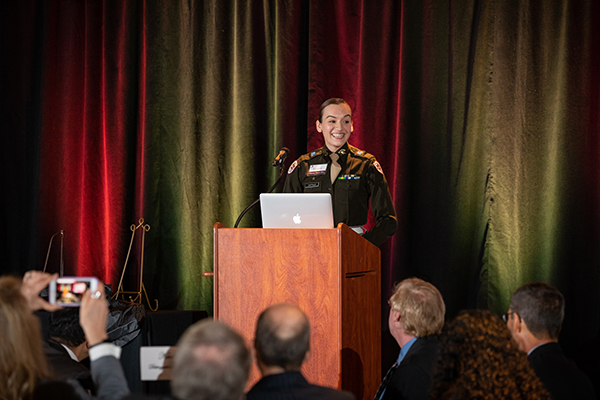 Dr. Inda Immega '71 
Dr. Inda Immega '71, the first woman to graduate from Texas A&M with an undergraduate geology degree, was honored with the Michel T. Halbouty Geosciences Medal.
After graduating from Texas A&M with a bachelor's degree in geology in 1971, Immega earned her master's in 1973 and Ph.D. in 1977, both from Indiana University.  
She was then hired by Shell and served the energy industry for 25 years, prior to retiring from Shell E&P International Ventures in 1999.
"By all accounts, Dr. Immega was a trailblazer through her educational and professional path, and these efforts alone merit the exceptional honor of the Halbouty Medal," said award presenter Dr. Julie Newman, head of the Department of Geology and Geophysics.
One of her nominators praised her "substantial advancement of the techniques for applying geoscientific knowledge to technological, economic, and social problems" and farsighted and dynamic direction of resource development efforts.
But Immega did not stop there. After retiring from Shell, she began donating countless hours volunteering for the Houston Geological Society and as a docent for the Houston Museum of Natural Science, leading tours and sharing her passion for geology with thousands of visitors over the years, from kindergarteners to heads of state. 
"Dr. Immega's impact on the perpetuation of curiosity, academic pursuits, and appreciation for the geological sciences makes her one of the most influential recruiters for the geologic professions," said one of her nominators. "Through her work as a volunteer and teacher, she has ignited the passions for so many future geologists that our schools and universities are full of the very students she influenced."
"She is a self-proclaimed ambassador for the profession and serves society brilliantly in this capacity," Newman said.
Dr. Dawn Wright '86 (M.S.)
Dr. Dawn Wright, chief scientist of Esri, was awarded the Geosciences Innovator Award.
At Esri, Wright works to strengthen the scientific foundation for Esri software and services while also representing the company to the scientific community. 
Nicknamed "Deepsea Dawn," Wright is an ocean scientist, a geographer, and a GIS thought leader. A specialist in marine geology, she has authored and contributed to some of the most definitive literature on marine GIS. She joined Esri in 2011 to help formulate and advance the intellectual agenda for the environmental, conservation, climate and ocean sciences aspect of Esri's work.
"As a scientist, Wright brings a background of rigor that will strengthen our alignment with the requirements of the scientific community," said Esri's founder and president, Jack Dangermond. 
She also maintains an affiliated faculty appointment as a professor in the College of Earth, Ocean, and Atmospheric Sciences at Oregon State University. She is a fellow of the American Association for the Advancement of Science, the Geological Society of America, and Stanford University's Leopold Leadership Program, and she holds lifetime achievement awards from the American Association of Geographers and the Geological Society of America. 
Wright has traversed numerous expeditions across oceans and she worked as a seagoing marine technician for the International Ocean Discovery Program, which is operated and managed by Texas A&M Geosciences. She served on numerous IODP legs aboard the JOIDES RESOLUTION from 1986 to 1989: legs 109, 113,0115, 117, 119, 121, 123, 124, 126, and 128.
Wright holds an individual interdisciplinary Ph.D. in physical geography and marine geology from UC-Santa Barbara, an M.S. in oceanography from Texas A&M, and a B.S. cum laude in geology from Wheaton College. 
Wright was not able to attend the event, and Pamela Kersh, Esri solution engineer, accepted the award on her behalf.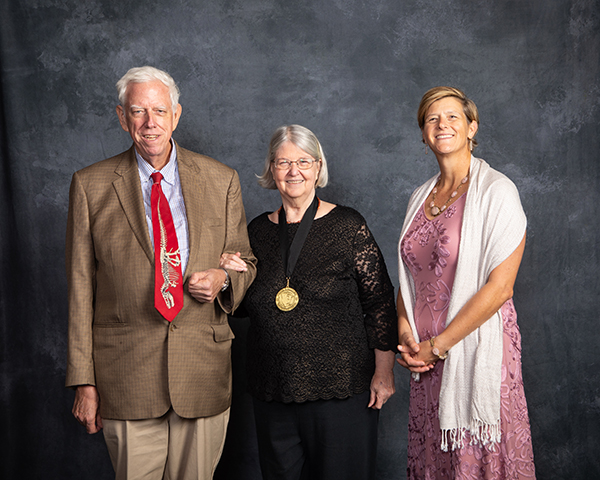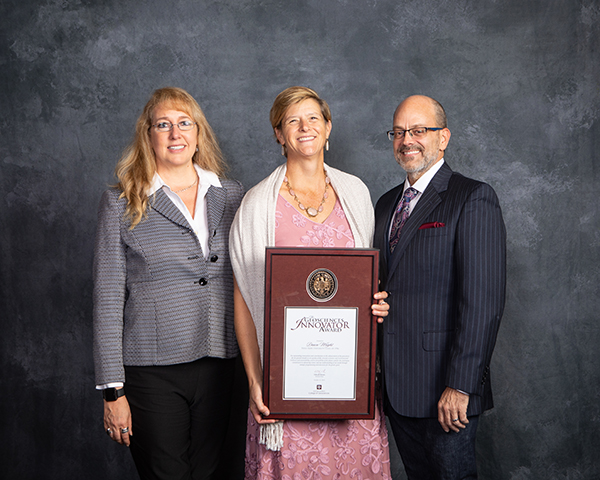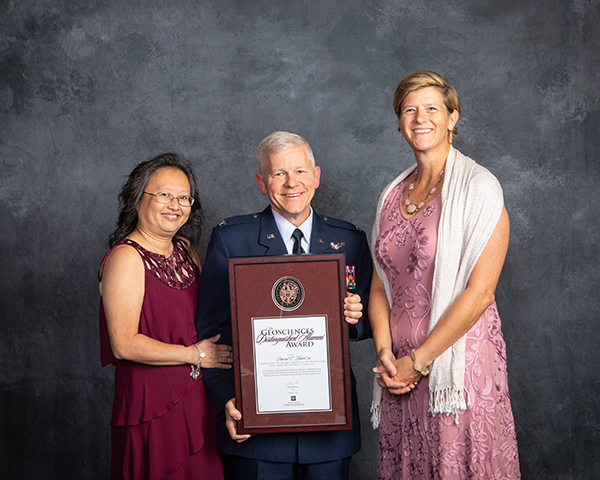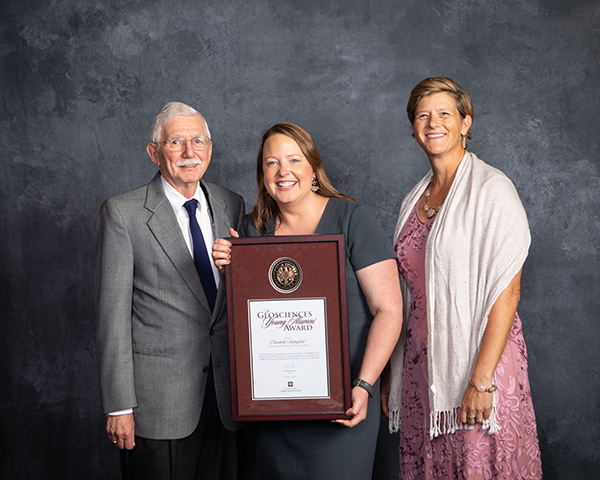 Colonel David E. Bacot '90
Colonel David E. Bacot '90, commander of the Air Force Reserve Officer Training Corp, Detachment 330, at the University of Maryland, was awarded the Geosciences Distinguished Alumni Award.
"Col. Bacot's career path and the corpus of his accomplishments, culminating in his most recent assignment to ready the next generation of Air Force officers at the University of Maryland Air Force ROTC, are an inspiration," said award presenter Dr. Don Conlee, instructional professor in the Department of Atmospheric Sciences at Texas A&M. "He remains a model of what the world knows of those from Texas A&M – a noble gentleman and leader for the state and the nation."
Col. Bacot enlisted in the Air Force in 1984, graduated from the Air Force ROTC program at Texas A&M University in 1990, and earned his B.S. in meteorology from Texas A&M in 1990. In Kuwait in the early 1990's, David supported reconnaissance and fighter aircraft operations, delivering highly accurate, timely, and relevant weather support, often in austere environments with limited data and communications capabilities. He developed technology that evolved and optimized the calculation of weather impacts. In 1999 he earned a master's in meteorology from the Air Force Institute of Technology.
Today Col. Bacot chairs the Department of Aerospace Studies, and directs and administers an officer training program to provide the United States Air Force with high-quality officers and leaders of character.
"He has sought to ensure that every young person walking through the doors of the Armory has an opportunity to become the leader of character that the Air Force and our nation need," wrote one of Col. Bacot's nominators.
He is a command meteorologist with diverse assignments supporting defense strategic space policy, fighter and bomber operations, tactical and operational command and control centers, U.S. Army aviation and maneuver, and global weather operations.
Dr. Elizabeth Satterfield '10 (Ph.D.)
Dr. Elizabeth Satterfield, a meteorologist at the U.S. Naval Research Laboratory (NRL) in Monterey, California, received the 2019 Geosciences Young Alumni Award.
"I am so proud to honor someone that is held in such high regard and so early in her career," said award presenter Dr. Jerry North, atmospheric sciences research professor and University Distinguished Professor Emeritus. 
Satterfield earned her Ph.D. in atmospheric sciences from Texas A&M in 2010, and then joined the NRL Marine Meteorology Division in July 2010 as a postdoctoral National Research Council Research Associate. She became a meteorologist at NRL in October 2012.
Satterfield actively contributes to the U.S. and international meteorology and atmospheric sciences communities, through AMS editorships, AMS committees, and organizing conferences and symposiums. She served as the co-chair of 25th Conference on Probability and Statistics for the 98th AMS Annual Meeting in 2019, and she is now the lead organizer for the 26th Conference on Probability & Statistics to be held at the 2020 AMS annual meeting in Boston. 
For the past 18 months, Dr. Satterfield has been one of the key scientists to advocate to Office of Naval Research and NRL leadership for a NRL Directorate-wide Data Assimilation Initiative. 
"Dr. Satterfield's tireless support, optimism and thoughtful insight helped bring this effort to an officially supported initiative," wrote one of her award nominators.
"Elizabeth left a lasting legacy in the Department of Atmospheric Sciences by starting the Departmental Graduate Seminar Series," North said. "And she is now in a position to make an impact that will catapult the next generations of atmospheric scientists to the forefront of thought leadership, innovation and insight."
The Geosciences Awards Program began in 1978 with the creation of the Michel T. Halbouty Medal. The awards program was expanded in 2017 to celebrate the outstanding alumni and friends of Texas A&M and the College of Geosciences, by awarding the Michel T. Halbouty Medal, the Distinguished Alumni Award, the Young Alumni Award, and the Innovator Award.
For more details on the college's awards program, read about our awards and recognitions. 
View and download photos from the awards gala: tx.ag/GeosAwards2019.
By Leslie Lee '09