Julie Newman Appointed Geology And Geophysics Department Head
She began serving as department head Sept. 1, 2019.
Sep 10, 2019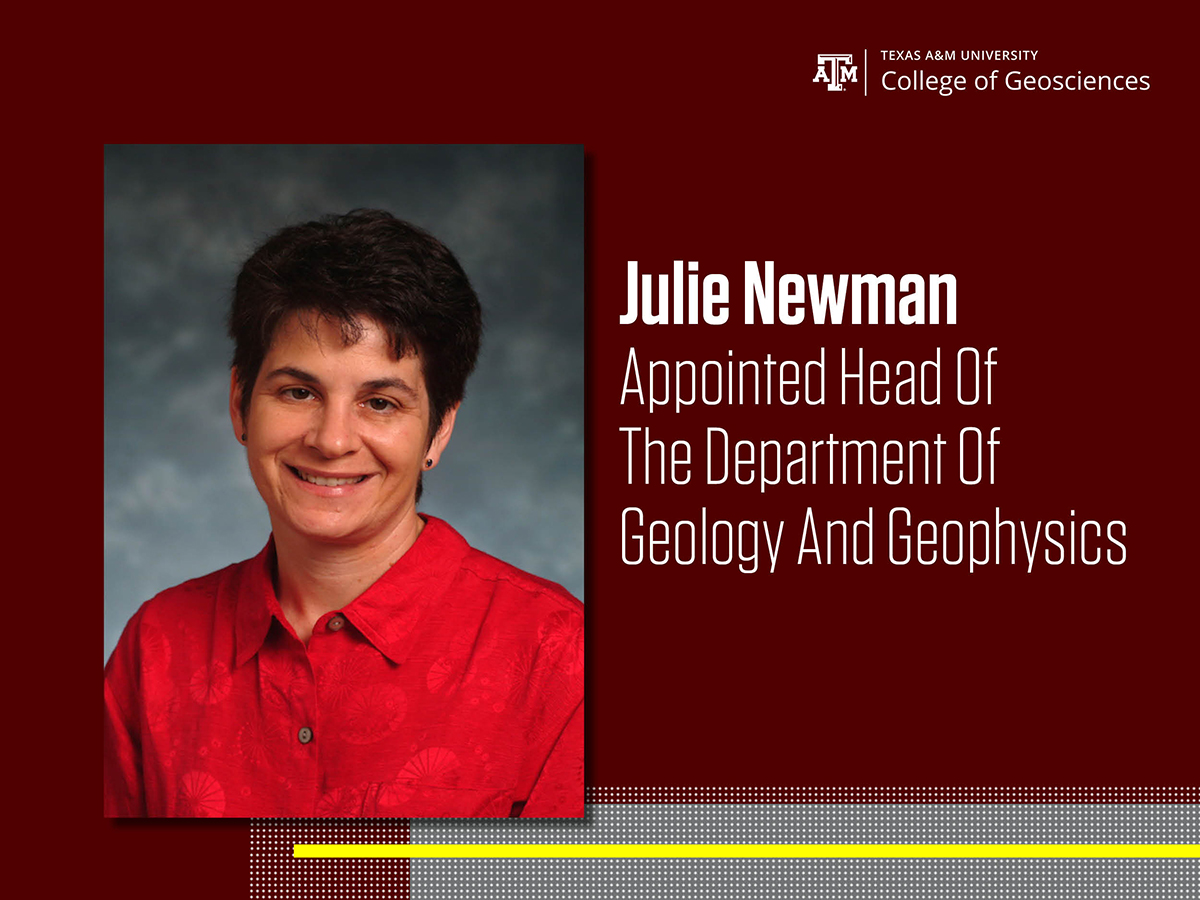 The College of Geosciences at Texas A&M University is pleased to announce the appointment of Dr. Julie Newman as the new head of the Department of Geology and Geophysics. Newman brings to this position her comprehensive leadership experience, deep knowledge of the Department of Geology and Geophysics, and a forward-looking perspective for the department.
"We are so thrilled that Dr. Newman is taking on the critical role of department head," said Dean of the College of Geosciences Dr. Debbie Thomas. "She is a trailblazing researcher in structural geology and tectonics, a gifted educator, and, as the first woman ever to lead the Department of Geology and Geophysics, we add selfless leader to her growing list of accolades. We know the department will continue to thrive and become a top program in the nation under Dr. Newman's leadership."
Newman has been with the College of Geosciences for over 20 years.
An expert in her field, Newman has spent her career researching the strength and behavior of the earth's lithospheric layers and mountain-building processes. She has been a principal investigator on numerous National Science Foundation grants and is highly regarded by her peers in academia.
Newman is also recognized as an exceptional educator. In 2010, she was designated as a Texas A&M Montague - Center for Teaching Excellence Scholar for the College of Geosciences. Her continued dedication to educating both undergraduate and graduate students ensures the next generation is passionate about geology and geophysics.
Newman succeeds Dr. Michael Pope, who had served as head of the department since 2015. Thomas commended Pope for his leadership of the department, selfless service, and leading "an absolutely transformational redesign of the undergraduate curriculum, which quickly is gaining national recognition as a model for modern undergraduate training and development." Pope is looking forward to returning to full-time research and teaching.
By Stephanie Taylor '10