Jessica Fitzsimmons Awarded Early-Career Research Fellowship By National Academies Gulf Research Program
The Texas A&M Oceanography assistant professor is one of twenty scientists awarded 2019 Early-Career Research Fellowships by the National Academies Gulf Research Program.
Sep 3, 2019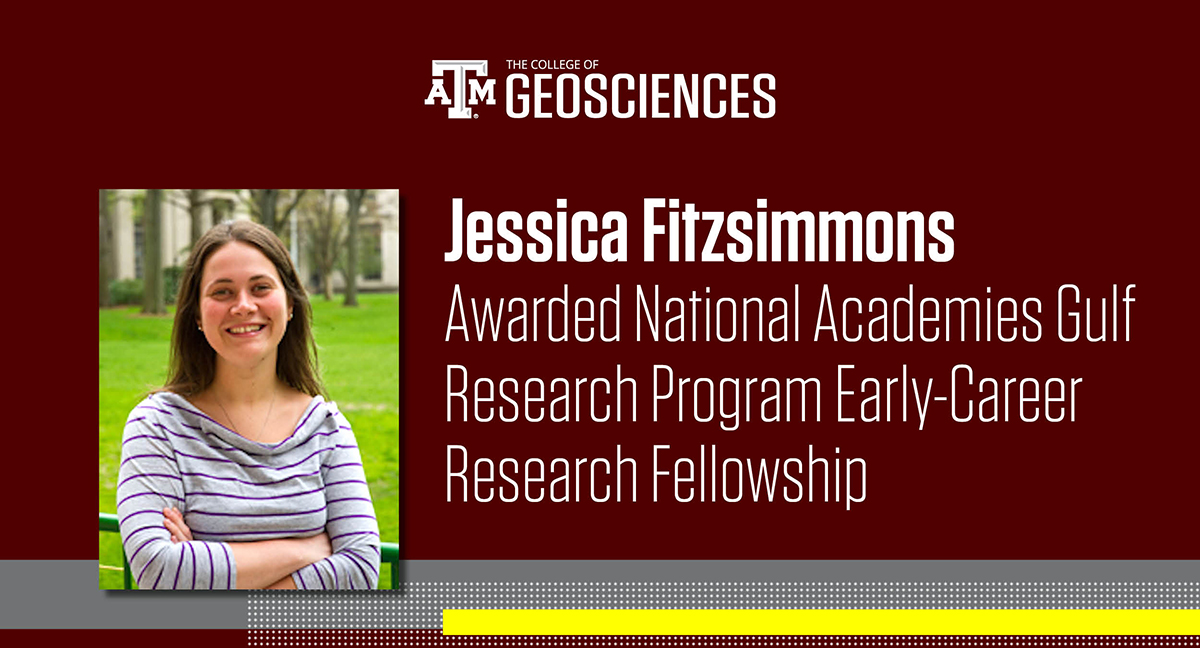 Dr. Jessica Fitzsimmons, assistant professor in the Texas A&M University Department of Oceanography, has been named a recipient of a 2019 Early-Career Research Fellowship from the Gulf Research Program of the National Academies of Sciences, Engineering, and Medicine.
Now in its fifth year, the fellowship program supports the development of emerging scientific leaders who are prepared to work at the intersections of environmental health, community health and resilience, and offshore energy system safety in the Gulf of Mexico and other U.S. coastal regions. Twenty scientists in total received 2019 fellowships.
"Dr. Fitzsimmons is a stellar researcher whose research has an impact on the Gulf of Mexico and the broader ocean sciences community," said Dr. Shari Yvon-Lewis, oceanography department head. "She conducts high-profile research focusing on the speciation and transformation of trace metals and their isotopes in the ocean, and she has shown her ability to be a leader in her field through her extensive work with the International GEOTRACES program, and her work on the fate and transport of metals in Galveston Bay. She is also a strong mentor to both undergraduate and graduate students."
The Gulf Research Program's Early-Career Research Fellowship helps early-career researchers during the critical pre-tenure phase of their careers, according to the program. Fellows are provided with a $76,000 financial award along with mentoring support to help them navigate this period with independence, flexibility and a built-in support network. The support allows them to take risks on research ideas, pursue unique collaborations, and build a network of colleagues who share their interest in improving offshore energy system safety and the resilience of coastal communities and ecosystems.
The fellowships are awarded to individuals who demonstrate a strong scientific or technical background, superior scholarship, effective communication skills, and an ability to work across disciplines, among other attributes. Nearly 70 Early-Career Fellowships have been awarded since 2015. Applications for 2020 Early-Career Fellowships will open in early December.
The National Academies' Gulf Research Program is an independent, science-based program founded in 2013 as part of legal settlements with the companies involved in the 2010 Deepwater Horizon disaster. It seeks to enhance offshore energy system safety and protect human health and the environment by catalyzing advances in science, practice, and capacity to generate long-term benefits for the Gulf of Mexico region and the nation. The program has $500 million for use over 30 years to fund studies, projects, and other activities in the areas of research and development, education and training, and monitoring and synthesis. 
The National Academies of Sciences, Engineering, and Medicine are private, nonprofit institutions that provide independent, objective analysis and advice to the nation to solve complex problems and inform public policy decisions related to science, technology, and medicine. The academies operate under an 1863 congressional charter to the National Academy.
By Leslie Lee '09, in collaboration with the Gulf Research Program.