Geography Researchers Analyze The Past With Cave Stalagmites
Undergraduate students have helped study calcite in caves to evaluate Southern Great Plains climatology.
Sep 4, 2019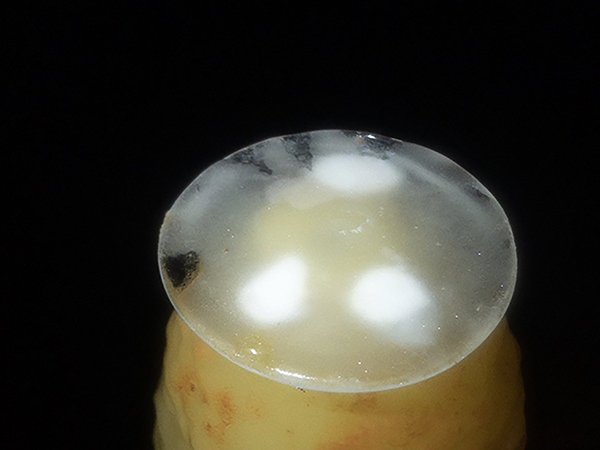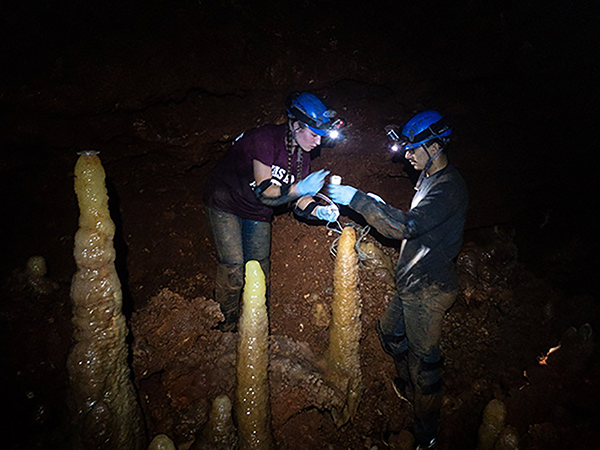 Dr. Christopher Maupin, a research associate in the Department of Geography at Texas A&M University, has been travelling since 2015 to Williamson County, Texas, where he has been utilizing caves to study climate in the Southern Great Plains region.
Working in collaboration with environmental consulting firms SWCA and Cambrian  Environmental, which provide surveys and evaluations for the county, the Texas A&M team was granted access to work on a private land preserve to conduct research in the caves. The Williamson County Conservation Foundation supports this work both logistically and financially in hopes that they can find out what has happened in the past to the hydroclimate of their region, Maupin said.
A Critical Data Gap To Fill
After the 2018 National Climate Assessment Report was released and noted that the climate of the Southern Great Plains was very uncertain, and research of the region needed to be a higher priority, it made people more aware of that need, he said.
"It's something that the National Climate Assessment Report has asked us as a community to do," Maupin said. "We're trying to figure out what kind of variability the climate system in the Southern Great Plains is capable of."
By studying water isotopes in caves, the team is able to reconstruct through time the history of the isotopes before the preindustrial era.
Maupin travels two and a half hours to the cave to collect and record data, along with undergraduate students from Environmental Programs in the College of Geosciences who help conduct the research.
Dr. Brendan Roark, Environmental Programs director, has been proactive and supportive of this project, Maupin said. This work is very conducive to undergraduate research and connects students with projects that align with their academic plans.
During the team's most recent trip, in May of 2019, two students who are currently research assistants in the Stable Isotope Geosciences Facility conducted research nearly independently, with Maupin's supervision.
"I want to, at the very earliest possible point in their scientific endeavor, instill them with the understanding that they should be free and encouraged to use their creativity to look at scientific problems," he said.
These hands-on research opportunities provide a jump start for that, allowing students to do real science, with intellectual freedom, helping them understand what science really is, he said.
Why Paleoclimate Matters
The Southern Great Plains is an important region to study because it is made of "a huge population of highly water-stressed individuals and economies," Maupin said.
The storms in the Southern Great Plains are among the strongest by latometrics; however, their spatial scale is small and the current global climate models do not have small enough grid cells to accurately simulate them, and there is a large amount of uncertainty on what these storms will do.
"If we know what isotope values each different storm type can produce, then we can really say 'okay, we have a probability here of what kind of storms these were, what kind of storms these were that dominated whenever these cave deposits were growing.'"
To fix the scale issue, Maupin said that there are two proposed strategies: making the models finer scale, and using paleoclimate to evaluate past climate to pinpoint how much variability the Southern Great Plains Climatology is capable of.
"When you're trying to build a house, you use many different tools, and when you're trying to understand the climate system, you use many different tools. Stalagmites are one of those tools."
"We don't know what the system is capable of doing, and we're trying to reduce the uncertainties there," he said. By studying the past they can deduce and evaluate similarities in the past and how the climate might or might not react in the future given similar circumstances.
"It's an interdisciplinary effort wrapped around a very tight but important scientific question and that is: How are we going to handle the next 30-100 years? What are we going to have to weather? Can we reduce the uncertainty of that?"
Conducting Research In Cave Sites
Twice a year, the team travels to the cave to collect monitoring samples and data. The stalagmite they were granted permission to collect in 2016 dates back 400,000 years, and they're hoping that by analyzing it they can have a strong understanding of "what happened over the last several glacial, interglacial cycles here in the Southern Great Plains."
Since the cave is located on private, protected land containing multiple endangered species, the Texas A&M researchers coordinate with the Williamson County Conservation Foundation and United States Fish and Wildlife Services-permitted contractors Cambrian Environmental and SWCA.
"We coordinate with them, and we're all there at the same time, we're all there together to make sure there's minimal disturbance and impact," Maupin said. "We've had temperature loggers in the cave ever since we started."
Using this data and by measuring the stable isotope concentrations in calcite, they can reconstruct the history of the water isotopes as they enter the caves during and following storms.
"So, we're looking at how the isotopic evolution of Texas has changed and been controlled and been tugged on by things like Ice Ages or orbital forcing or abrupt climate change because of the incredible importance of storms to our livelihoods in the Southern Great Plains."
On these trips, the students are tasked with collecting calcite farmed on glass plates, collecting drip water, documenting meta data, and ensuring the cave is operating as expected.
Maupin hopes that through paleoclimate research, they can "use the past to understand as much about the present as we can, and proactively plan for the future."
By Amanda Hoth '21