Second 'Under the Sea' Camp Helps Local Children Learn Ocean Sciences
Texas A&M Oceanography faculty and other researchers hosted the second annual summer camp.
Aug 4, 2019
From making their own sediment core, to trying on an authentic at-sea survival suit, to learning about the mysteries of the deep ocean, Brazos Valley children received a week of world-class oceanography education this summer thanks to the Department of Oceanography at Texas A&M University.
During July 8-12, oceanography faculty and other researchers collaborated to host the second annual "Under the Sea" camp for local youth, held at the Children's Museum of the Brazos Valley.
Students who participated were 4 to 12 years old, and each had the opportunity to complete hands-on science experiments and lessons each day.
Many faculty, staff members, and graduate students helped make the camp happen, including: Dr. Chrissy Wiederwohl, oceanography instructional associate professor, and Dr. Jason Sylvan, oceanography assistant professor; Tacey Hicks and Serena Smith, oceanography graduate students; Drs. Denise Kulhanek, Laurel Childress, and Emily Estes, of the International Ocean Discovery Program (IODP); and Drew Casey and Meredith Faix from Texas Sea Grant.
"We had a great time working with the Children's Museum for the Under the Sea Camp again this year," said Wiederwohl, who also serves as oceanography assistant department head for engagement and graduate affairs.
"We saw a lot of familiar faces of campers attending for their second year, and we loved all the campers' enthusiastic in-depth questions. It was really exciting for us to see young kids show such a great interest in learning more about the ocean."
The vision of the camp started back in 2017 when Wiederwohl dropped her daughter off at a science camp at the children's museum. "I asked the director of the museum if they would be interested in doing an Ocean Science camp, then met with their director of education, and the camp grew from there," she said. After that, the summer camp became one of the outreach programs of the oceanography department.
During the camp, different ocean-related topics were covered each day by experts in the field, and children were able to get their hands wet in learning marine science.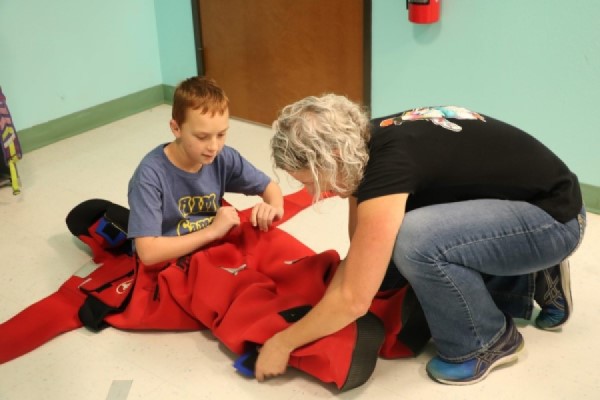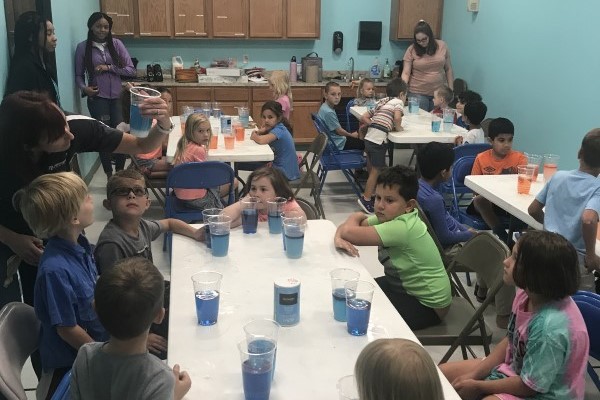 On the first day, IODP staff scientists introduced IODP research with short videos, including footage of a research expedition in Antarctica. They talked about how safety is important when working in polar regions, and children had the opportunity to wear a survival suit, nick-named the "Gumby suit," that is used in the field. Students made their own sediment core using sands, gravels, and shells, and also learned how IODP scientists describe sediment cores by identifying different grain sizes.
On Tuesday, Wiederwohl taught the group about density, and students learned how adding salt can change the density of a fluid. Campers also did an activity demonstrating the difference between ice melting in fresh water versus salt water.
On the third day of the camp, Texas Sea Grant experts talked about plastic pollution in the ocean and discussed how it harms marine organisms, such as sea turtles. Students also did a craft project, creating a paper-plate sea turtle.
On Thursday, oceanography graduate students discussed ocean acidification and how it affects coral reef health. Students conducted a small experiment using cabbage juice as a pH (acidity) indicator, by blowing bubbles (which added carbon dioxide into the fluid), to see how it changed the pH. In addition, they talked about small ways of reducing carbon emissions in our daily life to protect the beautiful and important ocean ecosystem.
On the last day of the camp, Sylvan introduced how scientists study the deep ocean. He showed videos and photos of deep-sea organisms, and taught how their living environment is different from the surface ocean using models of fish.
Texas A&M Oceanography is planning to bring their expertise back to the "Under the Sea" summer program again next year. For more detailed information about the camp, visit the Children's Museum of the Brazos Valley.
Anyone from the local community interested in having Texas A&M Oceanography visit their classroom or speak to their group can email ocean-outreach@geos.tamu.edu.
By Bumsoo Kim