GeoX 2019: A Scientific Summer To Remember
GeoX, the College of Geosciences' Exploration Summer Program, hosts 60 high school students each summer.
Jul 11, 2019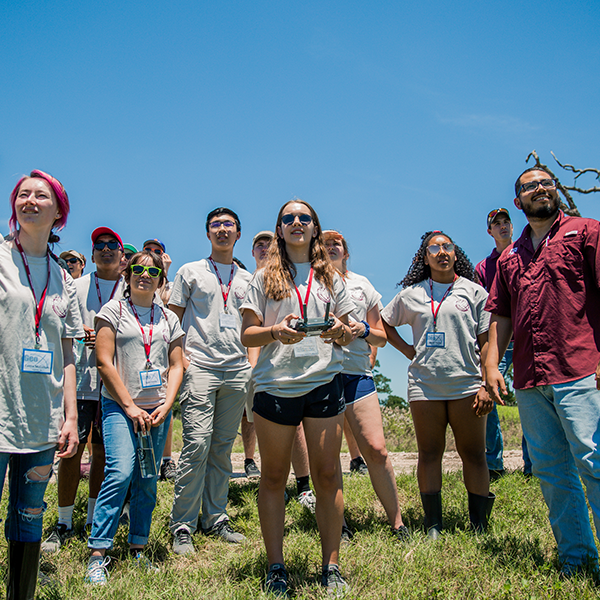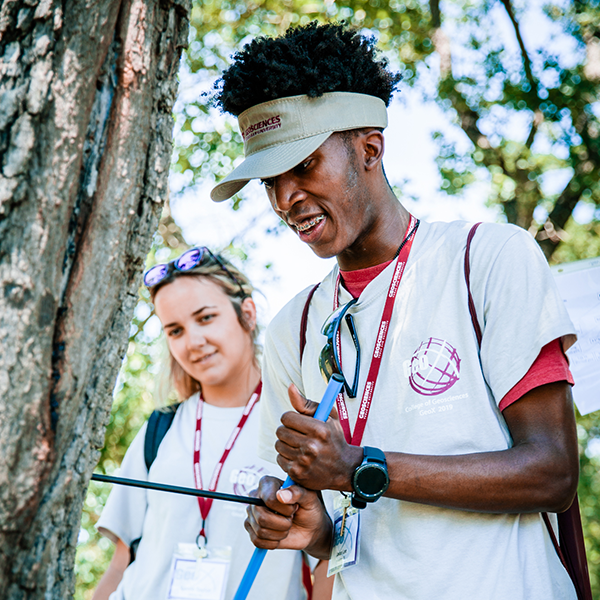 It's the kind of scene that inspires a hundred coming-of-age movies: Amid a typically face-meltingly hot Texas summer, 60 teenagers pack their bags and head off to spend a week mingling among total strangers at a place most of them have never been.
Except these high school students don't venture into the woods to go canoeing and roast s'mores. Instead, they check in at the Eller Oceanography and Meteorology Building on the Texas A&M University campus. There, they meet Aggie student counselors from the College of Geosciences who will teach them how to scientifically explore the Earth together. It's the first day of the GeoX summer camp, and by the time these campers go home, they'll hopefully know exactly where they'll go to college and what they'll study when they get there.
Not Your Average Summer Camp
According to Judy Nunez, director of student recruitment for the Texas A&M College of Geosciences, swaying high school students toward a career in the geosciences is relatively easy… once they know what one looks like. "The word 'geoscience' isn't usually the first thing that anybody clicks on," Nunez said. If they did, she explains, they'd see the diverse array of majors the College of Geosciences has to offer, from oceanography and geology to the top-ranked meteorology program in the country. The biggest priority for Nunez, then, is to reach out to potential students and let them see what each program has to offer.
The Geosciences Exploration Summer Program, or GeoX camp, was created to accomplish just that. The brainchild of former Associate Dean Chris Houser and former Director of Recruiting Sonia Garcia, GeoX was conceived in 2011 as an innovative way to immerse prospective high school students in the geosciences. For eight days every summer, counselors, professors and administrators from the College of Geosciences guide two groups of 30 campers along a series of hands-on activities in fields spanning the full breadth of the college's different degree tracks.
Students who attended the 2019 camp were treated to in-depth presentations by professors at the college, some of whom delayed their own research projects just to participate in the program. Campers toured oil and gas company BP's headquarters in Houston, embarked on an exotic safari at Triple JJJ Ranch in Somerville and sailed across Galveston Bay aboard the R/V Trident, one of Texas A&M-Galveston's research vessels. Between the larger activities, students practiced using real-life geoscience skills to take core samples, survey land and operate a GPS.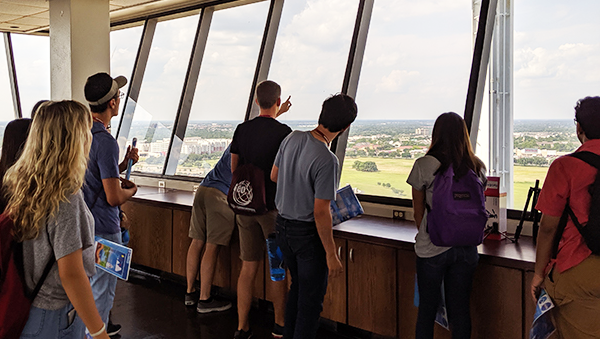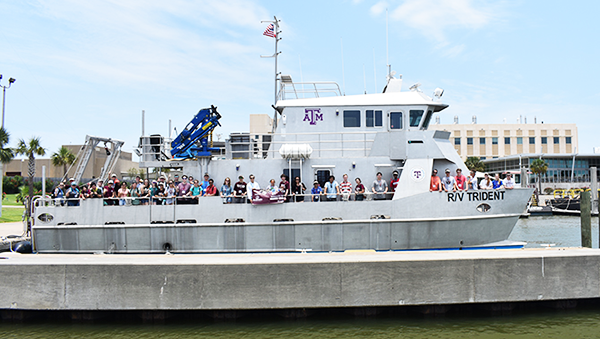 Savannah Pruitt, a camper from Franklin, Texas, originally came to GeoX with only meteorology in mind, but the diverse activities quickly broadened her horizons. "Visiting the BP headquarters got me really interested in the oil and gas field," Pruitt said, "and oceanography really intrigued me as well." Regardless of what major she chooses, Pruitt has already set her mind to apply to the college and join the Corps of Cadets to enlist in the U.S. Air Force after graduation. Basically, she's sold.
"The counselors are the X-factor," Nunez said. "Most of our current counselors came to this camp as high schoolers, so they know what anxieties the campers might have about going away to college, trying to fit in and getting lost in a university this size." Since many of the counselors were once in the campers' shoes, Nunez explained, they're able to mentor campers and form a strong bond with them over the course of the camp session.
GeoX counselor and meteorology major Quinton Lawton '19 described his time attending as a camper in 2015. "When I came into this camp, I was immediately surrounded by people I connected with because they had the same interests as me," Lawton said. "By the end of the first day, we were all buddy-buddy." The instant connection he made with his fellow campers lasted long past the week's end—many became his college peers.
Pruitt echoed this sentiment during the 2019 camp session. "The first night, I was really nervous as soon as my parents left, so I sat at the very top row and waited for someone to talk to me," she said. "Eventually, another girl sat down next to me wearing a meteorology shirt, so I started talking to her. I now have a group of several friends and we're super close." She said this three-and-a-half days after arriving at the camp.
A Priceless Experience
Of the 58 high school seniors who attended the 2018 GeoX camp, 100 percent of them applied to the College of Geosciences and 100 percent were admitted. GeoX has easily become the college's most reliable recruiting tool, and there's some clear reasons why. For example, the college selects campers based on GPA, class rank and strong interest statements to ensure that every camper arrives with a curious mind and a passion for learning.
Perhaps the most important asset to the camp's success, however, is the way in which the college deals with the cost barrier that could discourage potential campers: by removing it completely. Thanks to generous sponsorships from BP and other corporate and private donors, the college completely subsidizes the cost of running the camp. Students admitted to GeoX attend free of charge.
For campers like Rebecca Reisinger from Spring, Texas, that was a decisive selling point. "It means so much to attend this camp for free, and I couldn't have attended otherwise," Reisinger said. "There's so much value that all 60 of us are getting out of this."
It costs about $1,200 to sponsor an individual camper. But to College of Geosciences Dean Debbie Thomas, the impression the camp makes on each student is priceless. "Our campers all arrive with a deep passion for the geosciences," Thomas said. "Through the immersive experience made possible by our gifted staff and faculty, the campers develop a critical connection between their passion and the rewarding career paths that await them.
"The most powerful dimension of that experience, however, is the Aggie experience," she continued. As campers learn more about the geosciences, they also engage in Aggie traditions and learn about the all-encompassing spirit that makes this university special. "Most of our campers return home from GeoX knowing that they are going to be Texas A&M Aggies." Students come to GeoX looking for a place where they can learn and build a career they're passionate about. Somewhere along the way, they find a place where they can belong.
By Bailey Payne '19
Originally published by the Texas A&M Foundation.
While the GeoX program is made free by its current sponsors, the College of Geosciences is requesting a major endowment to ensure the long-term viability of the program and to fund scholarships for students attending the camp. To learn more about how you can support GeoX and/or sponsor a camper, visit give.am/GeoXExplorationCamp or contact senior director of development Gary Reynolds '88 at greynolds@txamfoundation.com or (979) 862-4944.