Jane and Bill Thomas Give $3 Million, Endow The Field Camp Experience
Generations of students will benefit from this high-impact learning experience, thanks to Aggies' gift.
Jun 19, 2019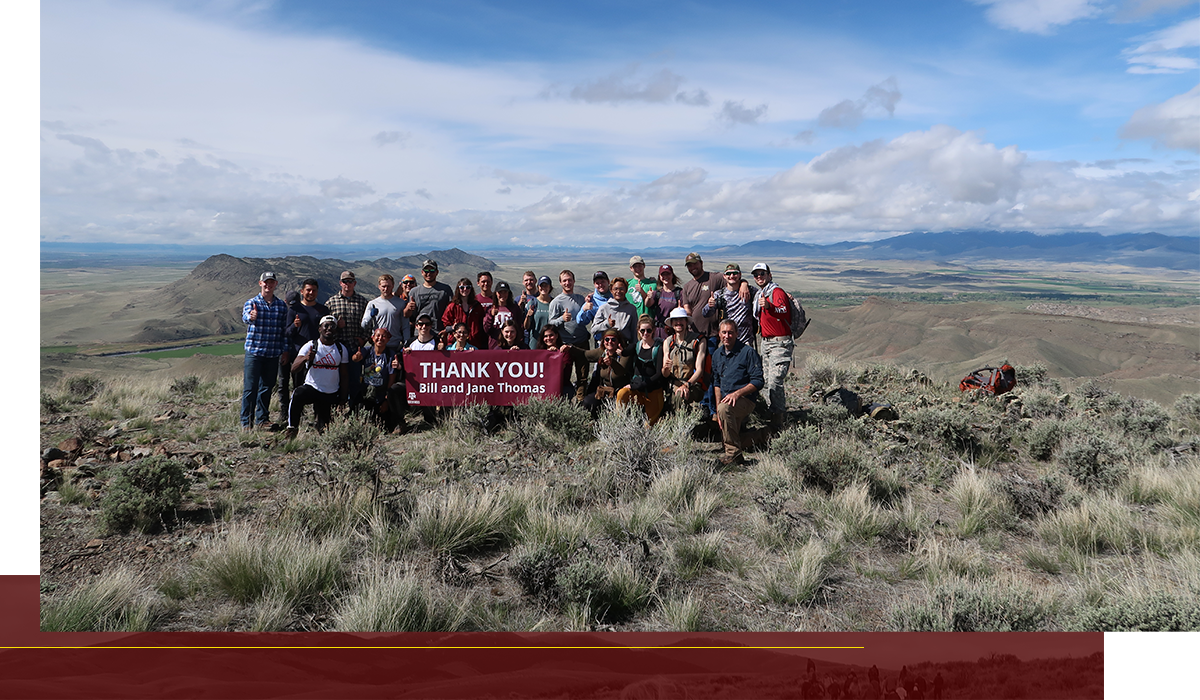 Decades of Aggies who graduated from the Texas A&M University Department of Geology and Geophysics will tell you the same story: Field Camp was a turning point in their lives. Field Camp was where the foundation of their career began. Field Camp was where they transformed from an inexperienced student into a future geologist.
In the summer of 1974, Bill Thomas '75 was a junior geology major beginning his summer Field Camp experiences, excited to spend weeks adventuring through outcrops and hiking along mountain ridges in Colorado and Far West Texas with Aggie students and professors. 
Today, he is the Chief Executive Officer of EOG Resources and a leading pioneer of shale oil and gas exploration, and he and his wife Jane have established the Jane E. '76 and Bill R. Thomas '75 Field Experience Excellence Endowment.
The $2.5 million endowment will support of Texas A&M's Field Camp as part of the comprehensive field-based education operated by the Department of Geology and Geophysics, in the College of Geosciences. On-going funding from Bill and Jane Thomas for the next several years will eventually bring the gift to more than $3 million. The gift supports the university's Lead By Example Campaign, a fundraising effort to raise $4 billion in support of Texas A&M students, faculty, colleges and programs by 2020.
"This gift will transform the life and career of every one of our majors. I'm at a loss to express how deeply Bill and Jane inspire me, and I am so grateful for the friendship that we have developed," said Dean of the College of Geosciences Dr. Debbie Thomas. "At the heart of their visionary gift is equity of opportunity, ensuring that all of our geology majors experience field camp and ensuring that the Department is able to offer this experience in perpetuity." 
A Life-Changing Experience
"I really, clearly remember Field Camp," Bill Thomas said. "Field Camp was the biggest learning experience for me, and it had the biggest impact on me actually learning geology. You could actually see the rocks, and see the structure and stratigraphy, and then you mapped it. I'm a visual person and that was an incredibly meaningful experience."
This incredible gift will provide support to geology and geophysics students enrolled in the summer Field Geology (GEOL 350) course and its required 3-week Field Camp experience. And, the endowment will also support additional multi-day field experiences in several other geology courses. Every single student in the department, therefore, will directly benefit from the Thomas family's gift.
"Field Camp was so pivotal in Bill's life," Jane Thomas said. "Texas A&M provided the opportunities for him to be where he is now." 
"I'm hoping that this endowment keeps Field Camp alive and healthy for decades to come," Bill said.
The goal of each Field Camp is for students to solidify their understanding of basic concepts, and to utilize field techniques to create geologic interpretations for a variety of geologic locations. Students spend each day completing various geologic maps, stratigraphic columns, cross-sections and geologic interpretations — all led by faculty mentors.
And all these years later, Bill still remembers the impact of that in-field mentoring time.
"At Field Camp, you got to interact with the faculty more, and on a one-on-one basis, because you're walking around, looking at this, looking at that, and you had more time to talk," he said. "They asked us good, thought-provoking questions, to make us think."
Currently, the department usually operates two summer Field Camps each year, with a total of about 100 students each summer. One is held in Montana, where students stay on the campus of Montana Western, in Dillon, and the other is a traveling Field Camp, covering sites in New Mexico, Utah and Montana. This year's Montana Field Camp was led by Dr. Brent Miller and Dr. Alfonso Benavides-Iglesias, and the traveling field camp was led by Dr. Andreas Kronenberg.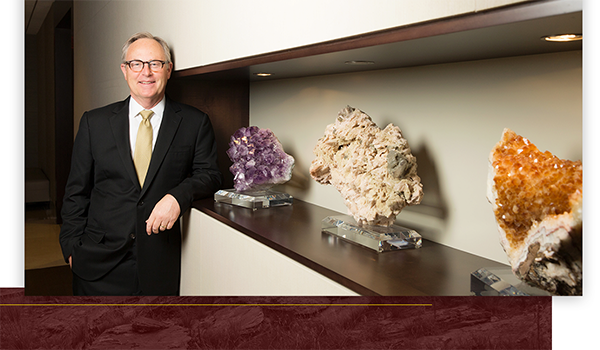 Beginning An Aggie Family Legacy
For Jane Thomas, her journey to Texas A&M started at an Aggie Football game in the fall of 1973. Then Jane Vanderslice, she began her college career attending Baylor University, but came to visit Texas A&M one weekend with a friend.
After one football game, she was hooked on Aggieland and the Aggie spirit.
"Everyone there was down to earth, hard-working, regular salt of the Earth people," she said. She quickly transferred to Texas A&M, and was officially an Aggie education major by the following spring.
Jane and Bill were both involved in the Baptist Student Union (now Baptist Student Ministry),   met that spring, and later began dating.
"Our BSU girls intramural football team won first place that year — his BSU boys team got second," she teasingly recalled.
Like many Aggies today, they stayed busy playing intramural sports, volunteering in campus ministries, and studying. One difference between campus in 1974 and campus today, was student access to a certain football field.
"They probably don't let it happen now," Bill said. "But I remember going with some of my geology buddies and playing touch football on Kyle Field! We were ripping up and down, throwing the ball, and it was just open!"
"I would love to go back and do it all again — it was such a great experience."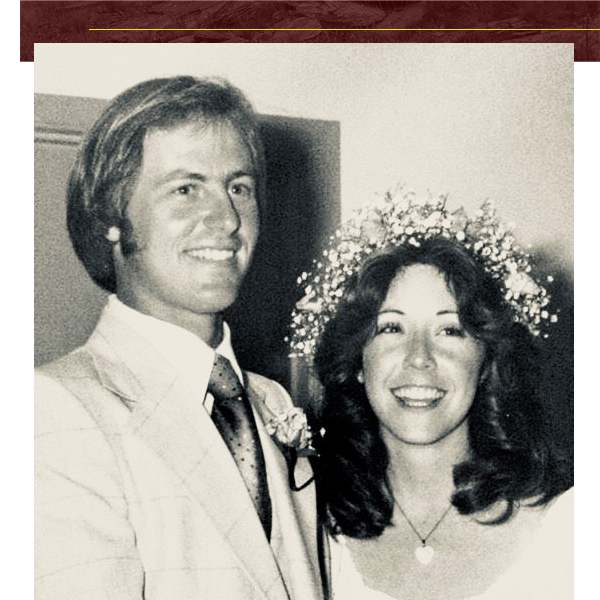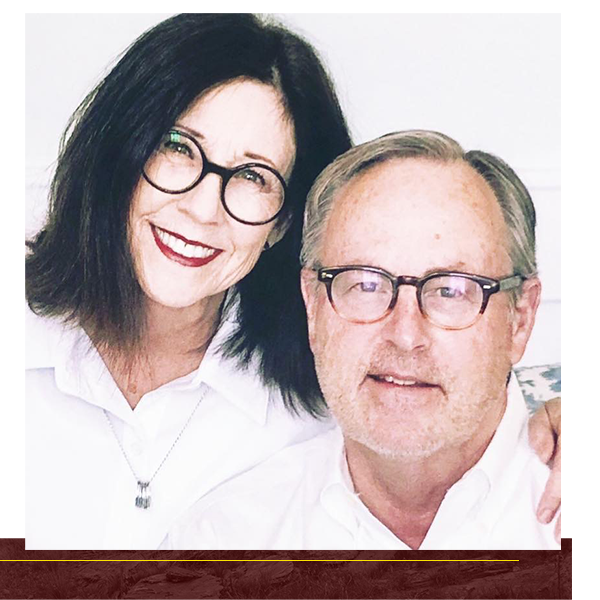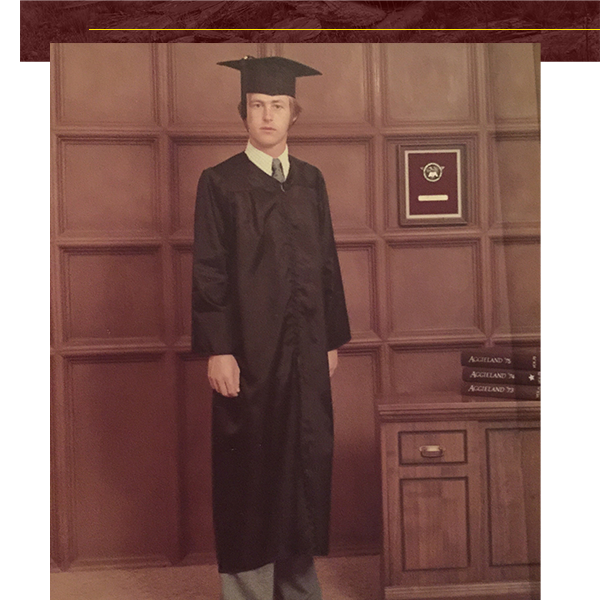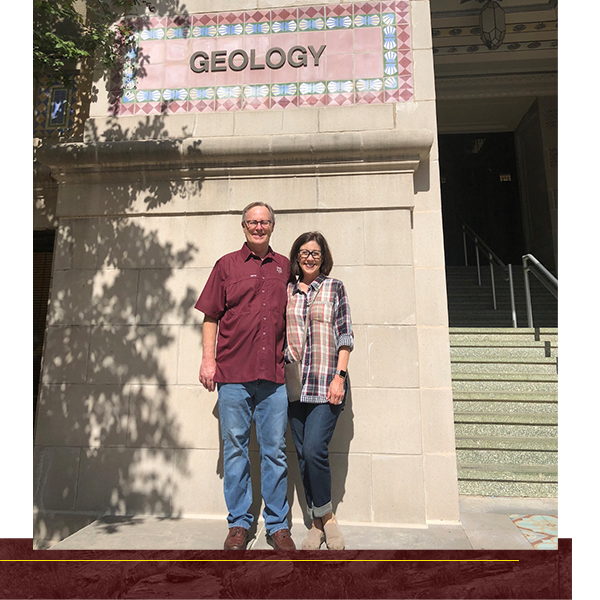 Idyllic campus days gave way to summer, and in the summer of '74, Bill was headed to geology Field Camp experiences in Colorado and around Big Bend, Texas, for several weeks.
"He studied all the time, and then he went off to Field Camp, and he loved it, and it really impacted his life," Jane said. "And, he looked like Robert Redford in Jeremiah Johnson when he came back! I felt like I'd died and gone to heaven!"
Bill graduated from Texas A&M in May 1975, and they got engaged that fall. Jane graduated in May 1976, and they married in the summer of 1977.
Four Decades Of Energy Exploration
Bill began his career in West Texas as a district engineer for Dowell, an oil field services company, where he gained invaluable field experience.
"The interesting thing is, his first job was not doing geology, but those two years were when he learned a lot about hydraulic fracturing," Jane said. In 1979, he used that valuable experience and joined an EOG predecessor company as a production engineer located in Sonora.
Their family grew, and Jane and Bill welcomed three daughters over the years. Bill held a number of positions with EOG, including District Geologist and Senior Exploration Geologist. He was named Senior Vice President and General Manager in 2004, and later Executive Vice President while based in Fort Worth.
In February 2011, Bill spearheaded EOG's drive to explore horizontal shale potential with the development of EOG's Barnett Shale Play. "He broke the code on the shale industry," Jane said.
EOG is now widely credited as the company who pioneered the development of unconventional horizontal shale resources.
Bill was named Chairman and Chief Executive Officer of EOG Resources, Inc. in January 2014, and has now been with EOG and its predecessor companies for nearly 40 years.
"To this day, he would still rather find drilling prospects than eat," Jane said. "Even though he's the CEO, he's still finding prospects."
"We're a team, and I admire him now more than I ever have. He didn't aim to be CEO, he just did his very best every day."
Investing In Texas A&M Students
From serving in and supporting their church, to financially supporting international orphan-care organizations and state-side ministries, the Thomas family is an inspiration to many.
"Our priorities are our faith and our family, and then our work — and in each of those areas we have been so blessed," Bill said. "We've been blessed with relationships and opportunities, and we've always been committed to being life-long givers."
Today, the Thomas family includes their three daughters and sons-in-law, and six grandchildren. Two of their daughters graduated from Texas A&M, and in 2018 they started exploring what would be the best way for them to give back to Texas A&M.
"Field Camp was the most impactful learning tool I've ever experienced," Bill said. "So if I could do something meaningful to help preserve and enhance it, then that's what I wanted to do." 
"I think A&M is a great university and a great investment. And Jane and I are very proud of our university and very proud to be Aggies."
He credits Geosciences Dean Dr. Debbie Thomas for her inspiring leadership of the college and her focus on high-impact learning.
"I'm so grateful for Dean Thomas' leadership and her passion for the students' learning experiences," he said. "The field experience at Field Camp is one of the key methods of teaching and inspiring and raising up really solid, strong geology students. It was also the most meaningful relationship tool, for faculty to mentor students and for students to develop friendships."
"I really believe, and I've talked to a lot of people about this, and they all have the same story – Field Camp made a huge difference in their lives."
Considering his potential positive impact on current and future Aggies, Bill had this advice for current students: "Always be thankful and gracious. Never think too highly of yourself. Think of others first, because ultimately we are here to serve people."
By Leslie Lee '09
To learn more about supporting high-impact learning experiences in the College of Geosciences, visit leadbyexample.tamu.edu/geosciences.