Trailblazing Oceanography Grad Will Be Ocean Educator In Florida Keys
This May, Victoria Scriven '19 will be one of the first two Aggies to graduate with an undergraduate degree in oceanography.
May 10, 2019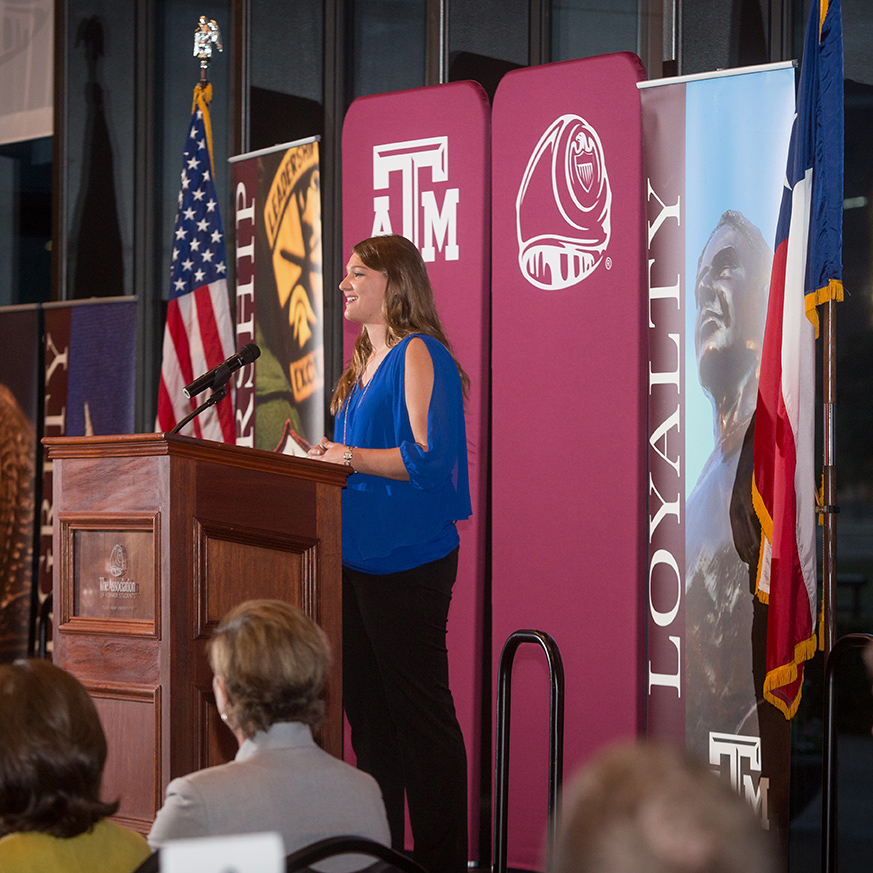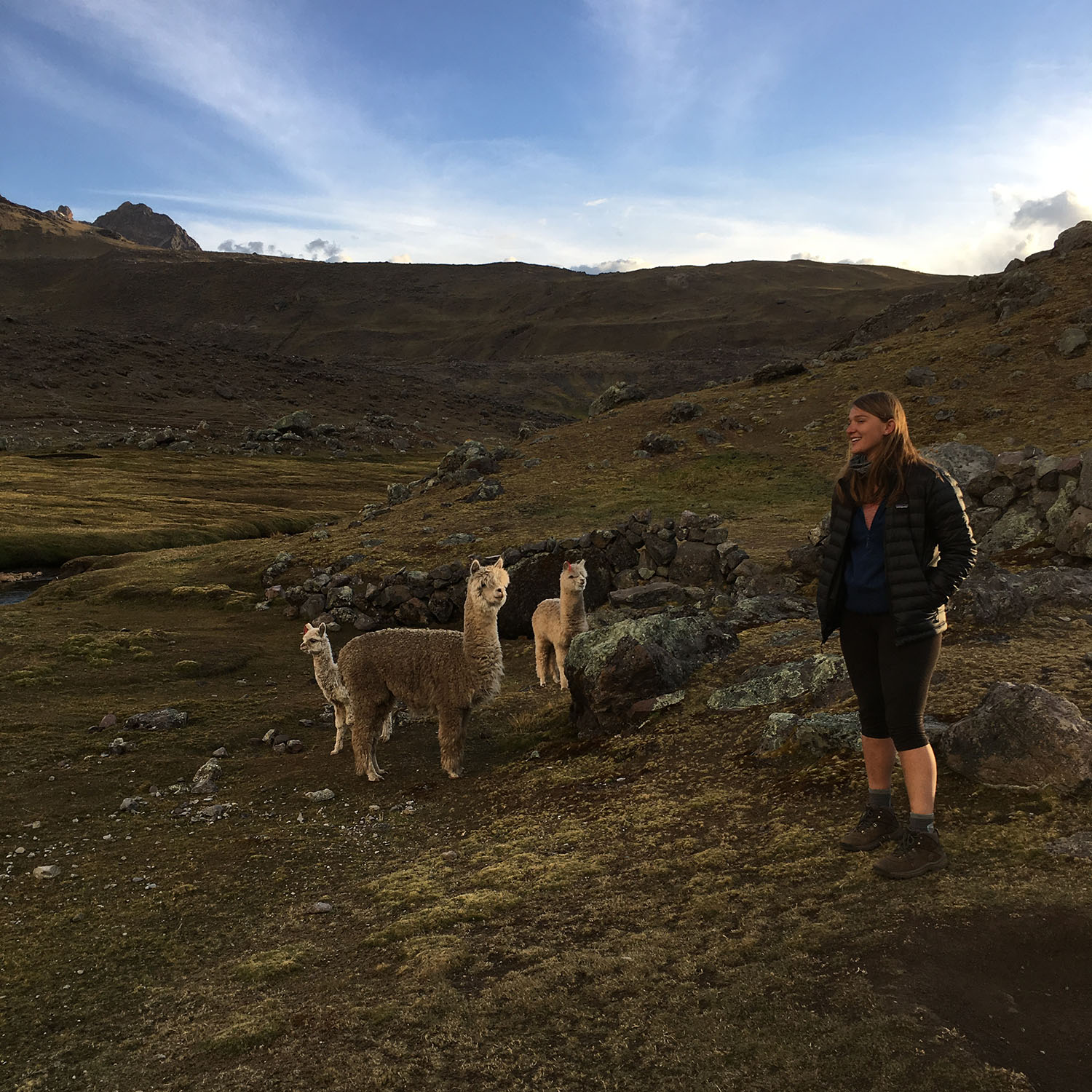 Victoria Scriven '19 is a trailblazer. As the very first Texas A&M University undergraduate student to ever major in Oceanography, she has helped lead the way for younger Aggies pursuing ocean science.
The Department of Oceanography in the College of Geosciences established the oceanography undergraduate program two years ago, in the fall of 2017, and Scriven jumped at the chance to change her major to Oceanography.
Scriven knew in high school that she wanted to study the relationship between the ocean and environmental problems. When she first applied to Texas A&M, she chose the closest thing she could get to an ocean science degree: environmental science, with a minor in Oceanography. It was during her junior year while taking a marine pollution class that Scriven began hearing whispers throughout the College of Geosciences about the possibility of an oceanography major becoming reality.
During the course of the semester, the class dove deep into marine pollution. Scriven says marine pollution opened her eyes to the impact she wanted to make in the world. She knew having a degree in oceanography would help her get there.
"Marine pollution is what sucked me in," Scriven said. "It was a good mixture of what was happening in the world around us but also that chemical oceanography side, so it was very relevant. And everyday it was something new and something kind of concerning."
Soon, oceanography was approved as a major at Texas A&M, and she transferred immediately.
Getting At-Sea Experience
Over the next two years, Scriven had incredible hands-on ocean experiences she knew only the Department of Oceanography at Texas A&M could provide to her.
From weekly cruises after Hurricane Harvey studying the coastal impact and observing the ocean, to a study abroad program trekking in the Andes of Peru, to traveling to Naples, Italy, to participate in the high-impact learning research program SEAWATER, Scriven and the other oceanography majors were frequently given opportunities to learn from and research with world-class faculty.
"There have been so many things I've gotten to be a part of because of this department," she said.
What Scriven didn't know at the time of transferring majors was just how much the faculty would be fighting for her education. Scriven believes their dedication to the undergraduate oceanography majors is like nowhere else in the world.
"They push you right up to the edge and say 'If you fall, we've got you, but why don't you go ahead and jump.' That's just our department and I think that's a unique thing to us."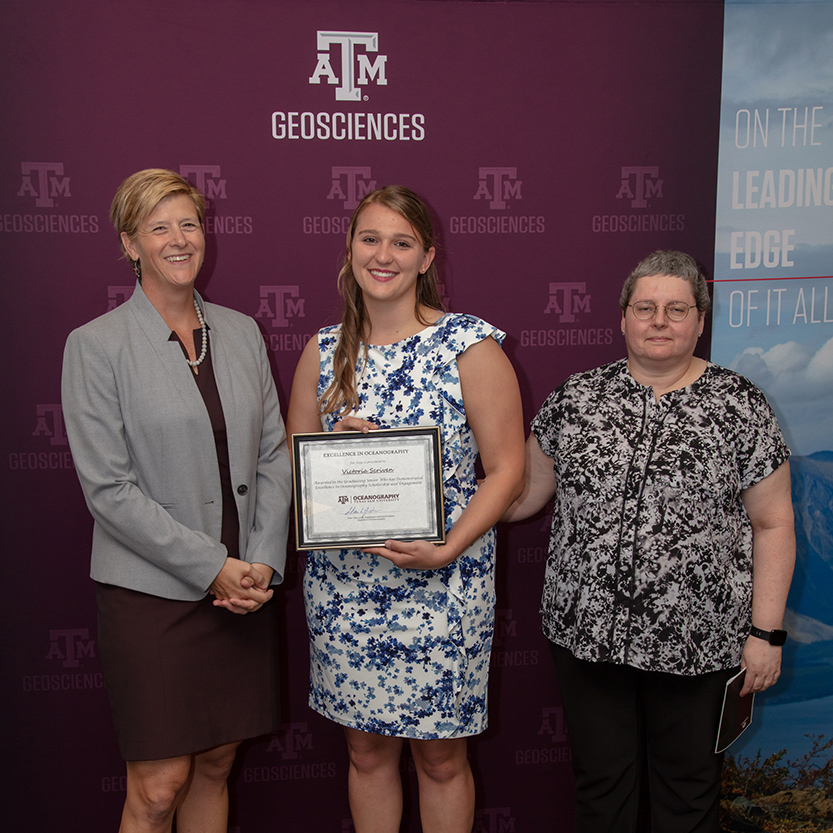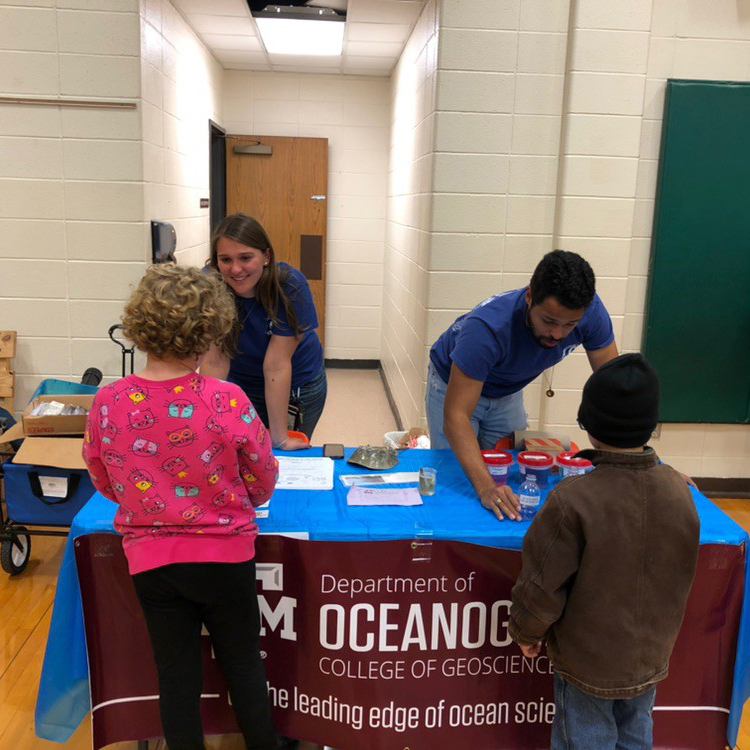 Establishing An Oceanography Peer Mentor Program
It was because of the encouragement from her professors that Scriven began saying "yes" to every research project and study abroad opportunity that was presented to her and her classmates.
One of the opportunities she ended up saying "yes" to was becoming a mentor for the summer Research Experience for Undergraduates (REU). The Ocean REU is a National Science Foundation-funded research program built to give college students from around the country a glimpse into the ocean sciences, providing the students opportunities to work with faculty and mentors in laboratories and at sea, learning the analytical skills needed for multidisciplinary oceanographic research.
While serving as a REU program mentor, Scriven saw what it meant to have a support system directly benefiting the REU students. It was during that summer that she had the idea to build a mentorship program right here for Texas A&M oceanography students.
"During that time, I got to really know the rest of the department, instead of one or two professors that I'd personally had," Scriven said. "As I was sitting in one of the Friday REU talks, I was listening to the students ask a million questions and stand up and get excited about the topic. I decided that we needed to do this, but for our undergrads."
Scriven gathered enthusiastic support from the oceanography faculty. Her idea for forming a student organization supporting ocean students quickly came together, and TAMU Ocean was born.
TAMU Ocean is the student organization that runs alongside the oceanography major and minor, and was created to give oceanography undergraduate students access to mentors and networking opportunities, bringing like-minded classmates together to help them build their educational experience.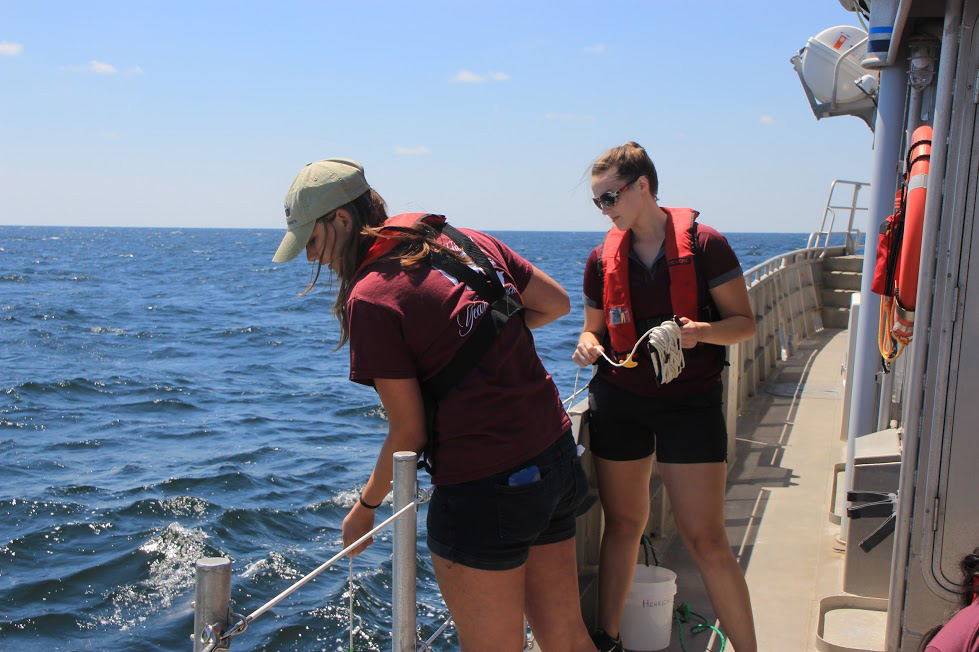 Moving On To Sea Camp
With graduation looming around the corner, Scriven knows TAMU Ocean is in good hands.
"I am excited to see my fellow classmates and the incoming TAMU Ocean officers continue to build our community and to see our first class of freshmen become the new leaders of our program."
Scriven's time mentoring younger students is far from over. That's because Scriven will continue her call to mentorship after graduating.
In June, Scriven will head to the Florida Keys, where she will be serving as a marine sciences instructor at Sea Camp. Sea Camp is a nonprofit organization dedicated to creating awareness of the marine world and educating children and adolescents in marine science. The job, however, wasn't something she discovered on her own. It was a class project that opened her eyes to the possibilities of becoming a marine sciences instructor.
After completing a project in one of her classes to prepare for a mock interview for a real job listing, Scriven decided to submit her application in real life.
"After doing all that for the project, I was thinking 'I kind of like this,' and I had already done all the work, so I decided to send it in," she said "A month later, I got the job."
As a marine sciences instructor, Scriven will be educating and mentoring high school students as they discover their own passion for the ocean sciences. Along with leading her students in courses like exploration of the seas and marine ecology, she will also be using her expertise to guide her students as they discover the possibilities of a future in ocean and marine sciences.
Without the support of the Texas A&M Oceanography faculty, staff, and students, she wouldn't have found this incredible opportunity or had the same life-changing experience during college, Scriven said.
The oceanography undergraduate program continues to grow, thanks to trailblazers like Scriven and her classmates.
As Scriven dons her cap and gown to graduate with the class of 2019, her advice to the current oceanography majors, incoming freshmen, and major-changers is simple:
"Be open to new experiences. And get involved in what you love."
By Stephanie Taylor '10