Klein Conducting Antarctic Research Aboard NSF Ship
Diving in never-before dived sites, scientists are investigating declining macroalgae communities.
May 17, 2019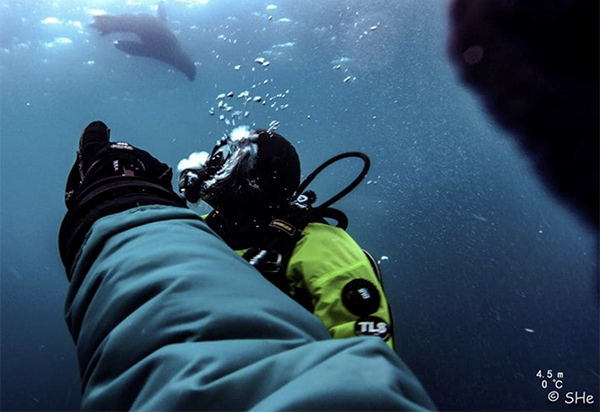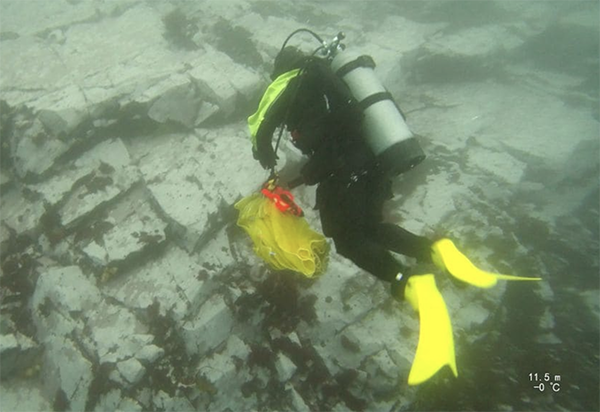 In early April, researchers departed for Antarctica from Punta Arenas, Chile, for a two-month research cruise aboard the R/V Laurence M. Gould, a National Science Foundation (NSF) vessel.
Dr. Andrew Klein, professor in the Department of Geography and EOG Teaching Professor in Geosciences, is on board and serving as a co-PI of the project. Funded by a $880,000 NSF grant, the project is investigating brown macroalgae in the northern portion of the western Antarctic Peninsula (WAP) region.
Brown macroalgae form extensive undersea forests in the northern part of the WAP and provide both physical structure and energy sources in shallow water communities. Reduced ice coverage caused by climate change in the southern WAP over the past 30 to 50 years, have affected macroalgal communities, according to the researchers. To assess these impacts, the research team is documenting the macroalgal communities and testing hypotheses about the cause and consequences of the alterations to them. 
Many of the sites that the team has dived along the Antarctic Peninsula have never been diving sites before.
"It has been an adventure," said Klein, who is no stranger to the Antarctic - having completed 17 previous research trips to the continent.
You can read updates on Klein's Island to Ice Facebook page for his perspectives during the cruise.
And, follow along with the team's National Geographic blog for a behind-the-scenes look at their dives, research and experiences.
The team is led by University of Alabama-Birmingham's Dr. Charles Amsler and Dr. Jim McClintock, along with co-PIs Klein, Dr. Katrin Iken, University of Alaska, Fairbanks, and Dr. Aaron Galloway, University of Oregon.
By Leslie Lee '09