Aggie's Weather Radio Show Helped Local Community Be Weather-Aware
Graduating senior Joseph Trujillo '19 recorded daily weather forecasts for a local Spanish radio station while earning a double degree in meteorology and Spanish.
May 10, 2019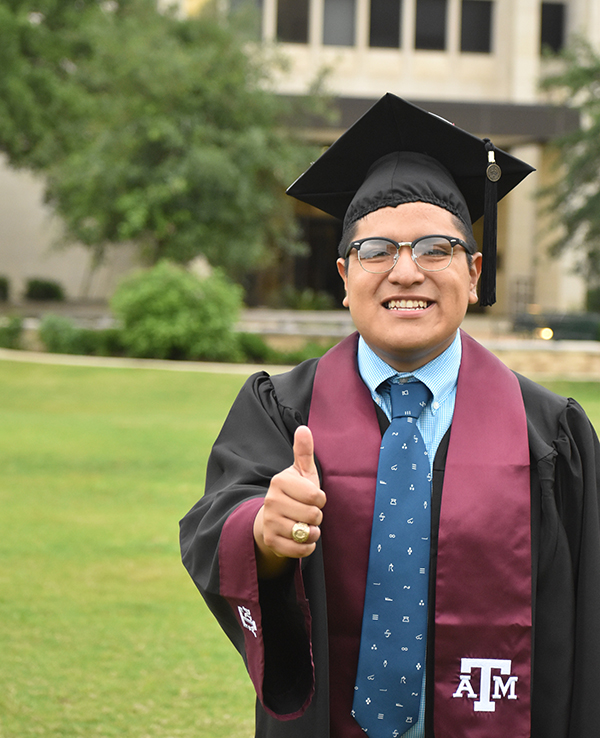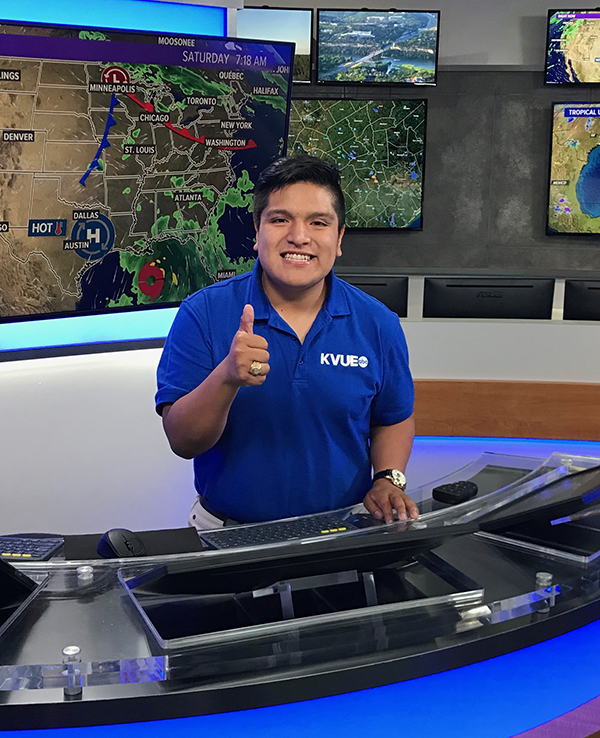 When Joseph Trujillo '19 was a sophomore at Texas A&M University, he realized that the Bryan-College Station community did not have a Spanish-language media station that aired a weather broadcast in Spanish. 
Eager to help fill that crucial information-gap, the meteorology student contacted 101.1 FM Radio Alegría, through a recommendation from Spanish professor Dr. Eduardo Espina, and interviewed that week. In April 2016, he began a volunteer internship there, recording two-minute weather forecasts every single day.
"I had experience from a TV internship the year before, but I didn't have radio experience or a degree — but I said, just give me a two-minute slot, and I can do it," he said.
Three years later, Trujillo is about to graduate with a meteorology degree from the Texas A&M Department of Atmospheric Sciences, in the College of Geosciences. And his "El Cazador de Tormentas," or "The Storm Chaser," weather segments have proved so needed in the local community that over 2,000 listeners follow its Facebook page.
"It's a weekday weather segment, I made it interactive, and I taught meteorological concepts in an accessible way every week. I couldn't just say 'there's a warm front coming through;' I had to explain what a warm front was, because this community hadn't had a meteorologist before."
While also earning a second degree in Spanish, Trujillo planned and managed the radio show on top of a heavy course-work load, service involvements, research projects and an on-campus job.
"I realized during college that I loved serving my community and helping them," he said. "And I decided that if that meant taking all of these difficult dynamics classes, then you know what, I would."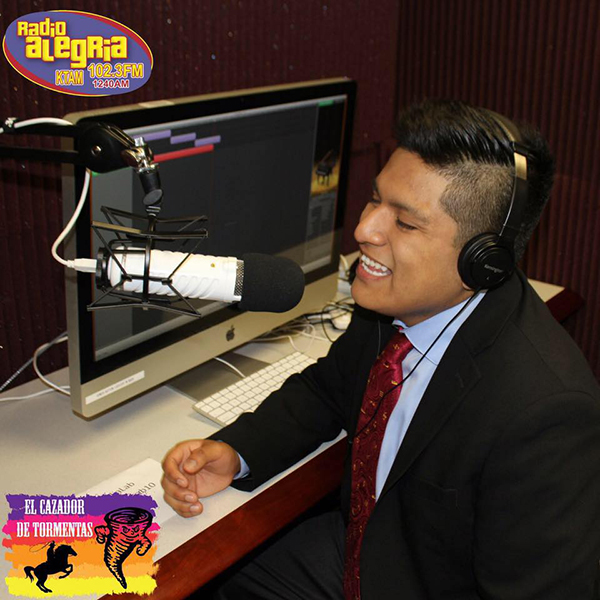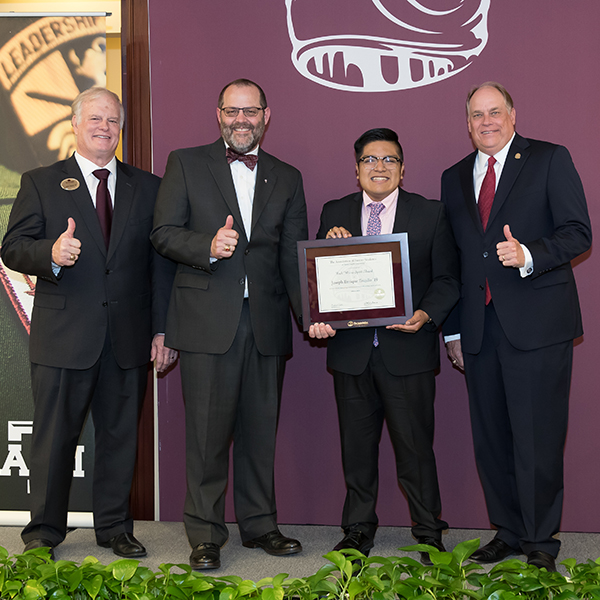 This year, so much of Trujillo's hard work has paid off. In March, the Association of Former Students presented him with a 2019 Buck Weirus Award, a prestigious accolade only awarded to 55 current students every year. And this week, he will walk across the stage at Texas A&M and receive the degrees he's earned over four years of hard work.
"Joseph, or 'Broseph' as we call him to distinguish from the multiple Josephs that arrived four years ago, has been a joy to teach and mentor," said Dr. Don Conlee, instructional professor of atmospheric sciences. "His intellect is more than matched by his passion, which is just infectious."
Improving Weather Communication For All
Trujillo's next journey is taking him about 350 miles north, to the University of Oklahoma's Master's in Communication program.
"I will be both a teaching assistant for the Department of Communication and a research assistant at NOAA's National Severe Storms Laboratory," Trujillo said.
"Fusing my love for meteorology and communications, I will immerse myself in social science research, focusing my time on the Probabilistic Hazard Information project, along with several bilingual science communication projects."
"Joseph is an incredible communicator, in both languages," Conlee said. "I will never forget when he gave a special Spanish segment daily forecast at the national meeting of the American Meteorological Society."
Trujillo feels passionately that with today's technologies, science can be accessible for everyone to understand. "With my work, I hope to open more opportunities for underrepresented communities to become involved in the scientific conversation," he said. 
Another experience that ignited Trujillo's passion for weather communication came during his freshman year internship at KXTX Telemundo 39 and NBC 5 in Dallas. 
"That internship really bolstered my love for meteorology, because I got to see it presented both in English and in Spanish," he said.
"The defining moment for me there was a tornado outbreak that happened the day after Christmas. One of the meteorologists was away, so they called me in to help get information out via social media. The outbreak lasted for about 8 hours, and we were broadcasting the whole time. Afterwards people were thanking the meteorologists, saying that they wouldn't have known if it weren't for us — that right there was a defining moment for me."
"I realized I wanted to serve my community and do this for people," he said. "It's awesome to know the science, but at the same time translating all of that jargon to the public is so critical."
Incredible Learning Experiences At Texas A&M

Faculty mentors in the College of Geosciences have connected Trujillo to amazing research opportunities and high-impact learning experiences.
"They've given me plenty of opportunities, especially in research," he said.
During his first two years at Texas A&M, Trujillo conducted research with Dr. Timothy Logan, assistant professor of atmospheric sciences, on aerosols. And for the past two years, he has researched on science/risk communication with Dr. Charles Conrad, professor in the Texas A&M Department of Communication.
Trujillo has also presented his undergraduate research at major conferences. At the American Meteorological Society meeting in Austin in January 2019, his oral presentation on "Rhetoric and Climate Science: Organizational Influence on Public Policy Related to Hurricane Harvey" earned "Honorable Mention" at the 14th Symposium on Societal Applications. The project became a thesis and was later published in the OAKTrust digital repository through the Undergraduate Research Scholars program at Texas A&M.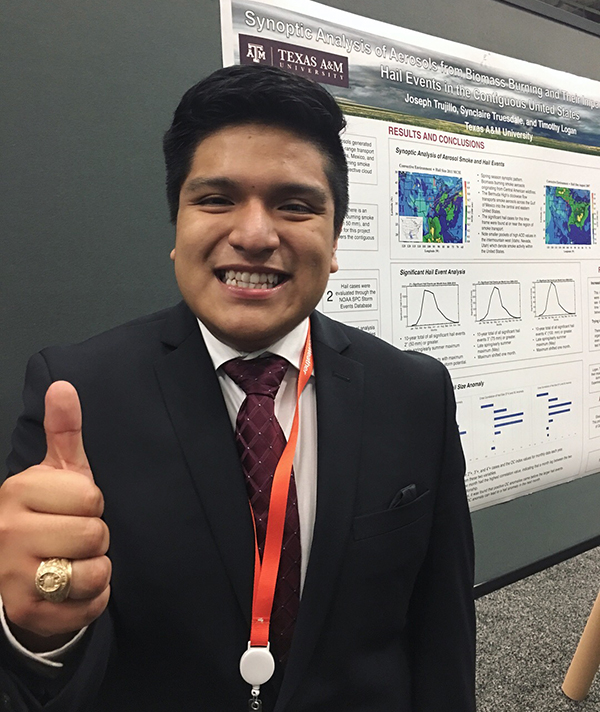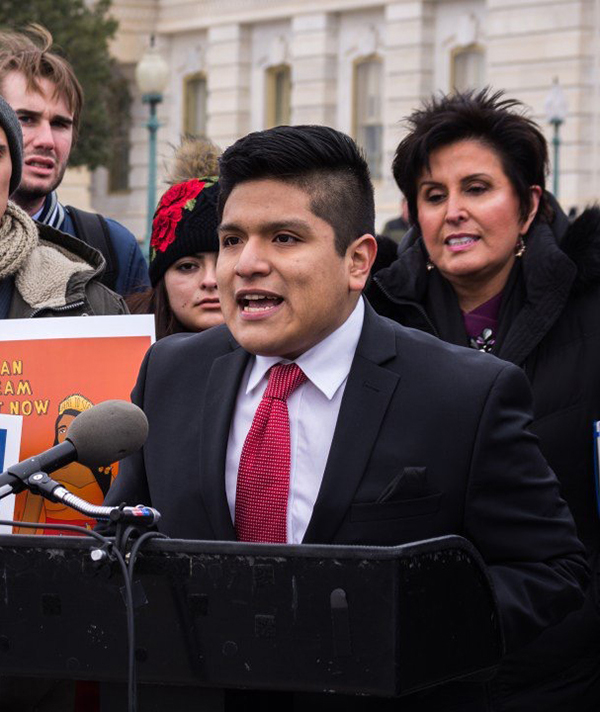 Balancing Academics And Service 
In addition to studying and conducting undergraduate research, Trujillo has served and volunteered in Aggieland in numerous ways. He has been involved in the Texas A&M Chapter of the League of United Latin American Citizens (LULAC), Fish Camp, the Campus Community Emergency Response Team, and the Texas A&M Latinx Community and Advocacy Association.
He was named President of Texas A&M LULAC in 2018.
"LULAC is the oldest civil rights organization for Latinos in the United States, so it was such an honor to step into that role, because I've always had a passion for our Latinx community, especially since I am an immigrant," said Trujillo, who was born in Lima, Peru.
In January 2018, he even had the opportunity to travel with LULAC to Washington, D.C., speaking at a televised press conference on Capitol Hill about immigration policy.
"The whole experience was life changing - to be able to speak to a national audience like that," he said. "When I stepped up to that podium, time froze — there were so many people and cameras."
Still, Trujillo's determined voice rang out over the capitol:
"I came to the United States when I was five years old, from Lima, Peru, and I've overcome so much to be standing here today. … I can promise you, we will make you proud."
By Leslie Lee '09