From Faults To Fossils, Geology Undergraduates Journey On Unforgettable Trip
Geology students participated in a multi-state field trip, obtaining invaluable research skills over Spring Break.
May 3, 2019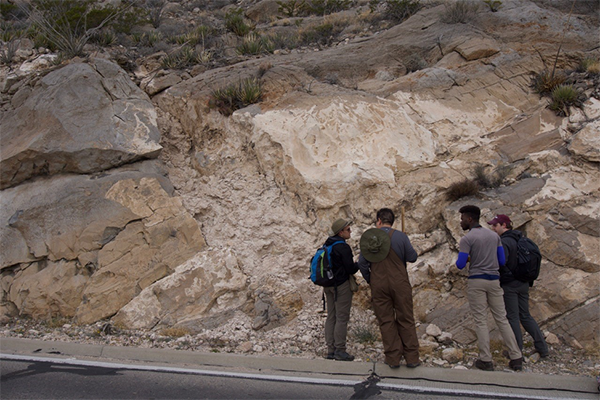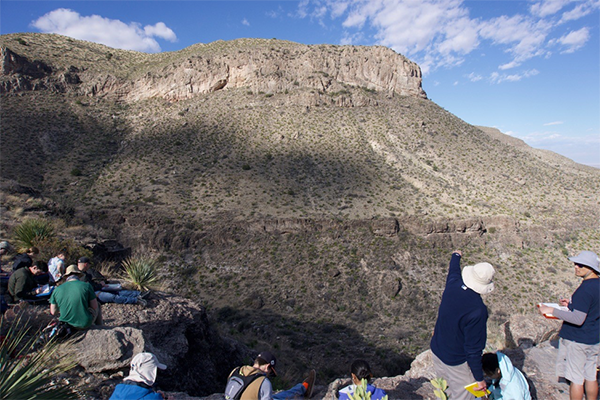 Over Spring Break, undergraduate students in the Texas A&M University Department of Geology and Geophysics Field Methods Course (GEOL 250) journeyed on an unforgettable 9-day field trip to West Texas and New Mexico.
Led by Professor and Department Head Dr. Mike Pope and Assistant Professor Dr. Nick Perez, the students worked on enhancing their field skills by participating in hands-on activities such as measuring stratigraphic sections, conducting geologic mapping in a range of lithologies, and constructing geologic cross sections. During the trip the students camped in state parks, had to cook their own food and resupplied materials along the way.
"Students in the geosciences have unique opportunities to participate in high-impact learning experiences such as this, which are unparalleled in their ability to create well-rounded and capable geoscientists," Perez said.
Beginning in El Paso, Texas, the students explored the Franklin Mountains, looking at early Paleozoic and siliciclastic deposits, Perez said. They then observed different lithologies from the Precambrian basement such as granite, volcanic tufts, extrusive volcanic rocks and more.
Following this, the group then travelled to a camp outside of Alamogordo, New Mexico where they participated in geologic mapping of mid-Paleozoic era carbonate and siliciclastic rocks.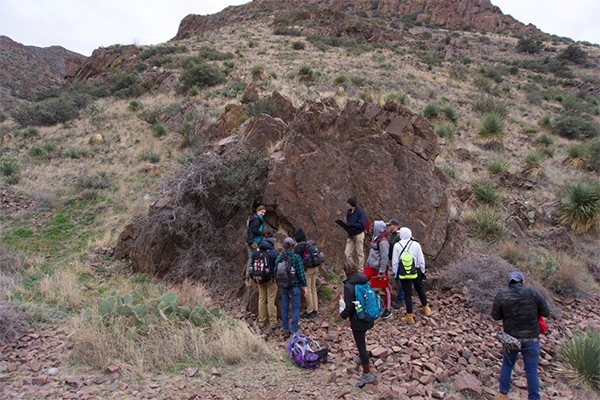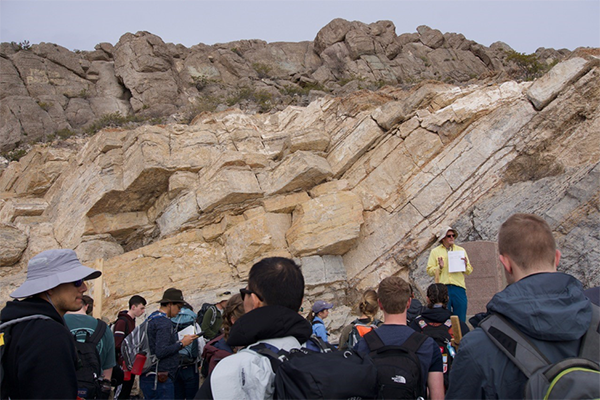 "They got to see unique Mississippian mud mounds, faults and fossils" there, Perez said. The students then had the opportunity to journey to White Sands National Park, where they observed first-hand modern aeolian sediment transport and also experience dune field work on a windy day, having to brave the elements and still conduct proper research.
Travelling next to the Guadalupe Mountains, the group had the opportunity to climb the Permian Reef Trail and see a variety of ancient reef environments dating back to the Permian era.
Upon travelling through the Chihuahuan Desert in New Mexico, the students got to stop at the Carlsbad Caverns and see ancient sea ledges comprised of stalactites and stalagmites. Their adventure concluded in Mason, Texas, where the students were tasked with mapping the contact between Proterozoic basement and Cretaceous carbonates. On the final Sunday of Spring Break, the group returned to College Station, tired but ready to return to classes again the following day.
By Amanda Hoth '21