Brian Balta Honored With Aggies Celebrate Teaching Award
Senior student nominated Balta for his transformational teaching in the Department of Geology and Geophysics.
May 1, 2019
Dr. J. Brian Balta, visiting professor of petrology in the Department of Geology and Geophysics in the College of Geosciences, was honored with a 2019 Aggies Celebrate Teaching (ACT) Award from the Texas A&M Center for Teaching Excellence earlier this semester.
The award recognizes outstanding Texas A&M instructors and faculty members who have made significant impacts on their students through their dedication and transformational teaching. A total of six Texas A&M faculty members were honored this year, two of which were from the College of Geosciences. Dr. Kristen Thyng, assistant research professor in the Department of Oceanography, also received an ACT Award.
Michael R. Martinez, a senior geology student, nominated Balta for the award. 
"Texas A&M is a fun place to be," Balta said. "The students are excited, engaged, work hard, have good resources to work with, and are going to do great things."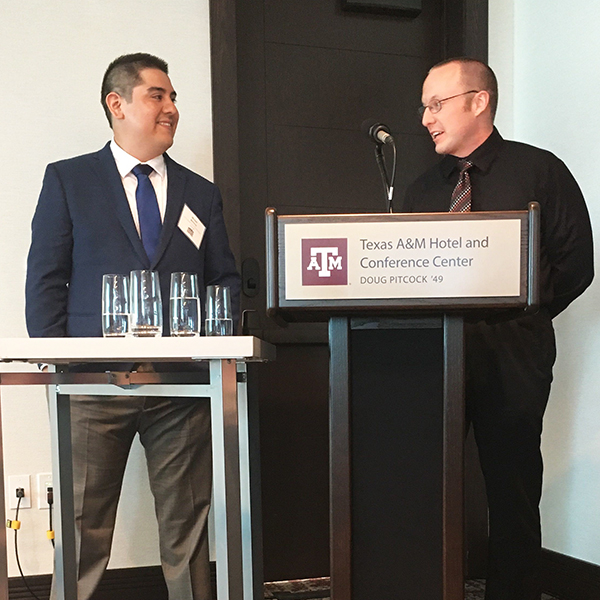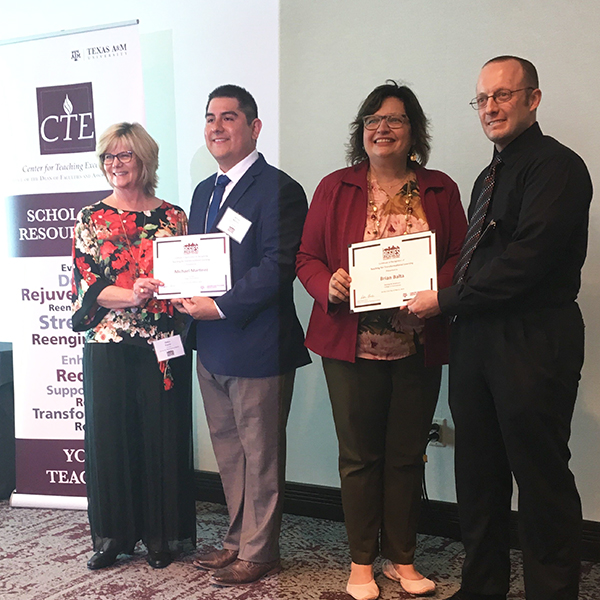 "It's pretty common for my time actually teaching class to be the best part of my day; even when I'm the one who's tired, getting to work with the students always energizes me. I'm particularly excited when I get to see a student showing real promise; every so often on a homework assignment or lab, I'll explain how to do a problem to one student and get to stand back and watch that student teach an entire group what they just learned.  I'm not sure there's anything more fun than that."
"Transformational teaching is a teaching that encourages students to question assumptions and challenge beliefs… such that they emerge from the experience a changed perspective influencing interactions and contributions to a modern world." said Dr. Debra Fowler, the Director of the Center for Teaching Excellence at Texas A&M University.
Balta said his teaching philosophy prioritizes effectively teaching the concepts while also making courses enjoyable.
"I cover some of the core geology classes, with difficult to understand subjects like crystallography and phase equilibria, but I also work to make those subjects interesting and relevant by showing how some minerals affect our daily lives (your teeth are even minerals!) or how an understanding of mantle chemistry is important for figuring out what drove mass extinctions," Balta said.
He works hard to make his classes both relevant and interesting to as many students as he can.
"I'm in geology because I think many of the things we cover are really neat — it can be work to figure out why they're so neat, but even difficult concepts in geochemistry or geophysics can tell amazing things about our planet. "
"This award for me serves as a recognition that at some level I'm meeting these goals; the students may not remember everything we covered in these classes a few years from now, but while they're in my room they understand that what they're covering is important, interesting, and relevant to their lives."
By Leslie Lee '09