Hiroko Kitajima Receives NSF CAREER Award
With prestigious CAREER award, Kitmajima will conduct subduction zone research and continue helping students get hands-on research experiences.
Apr 17, 2019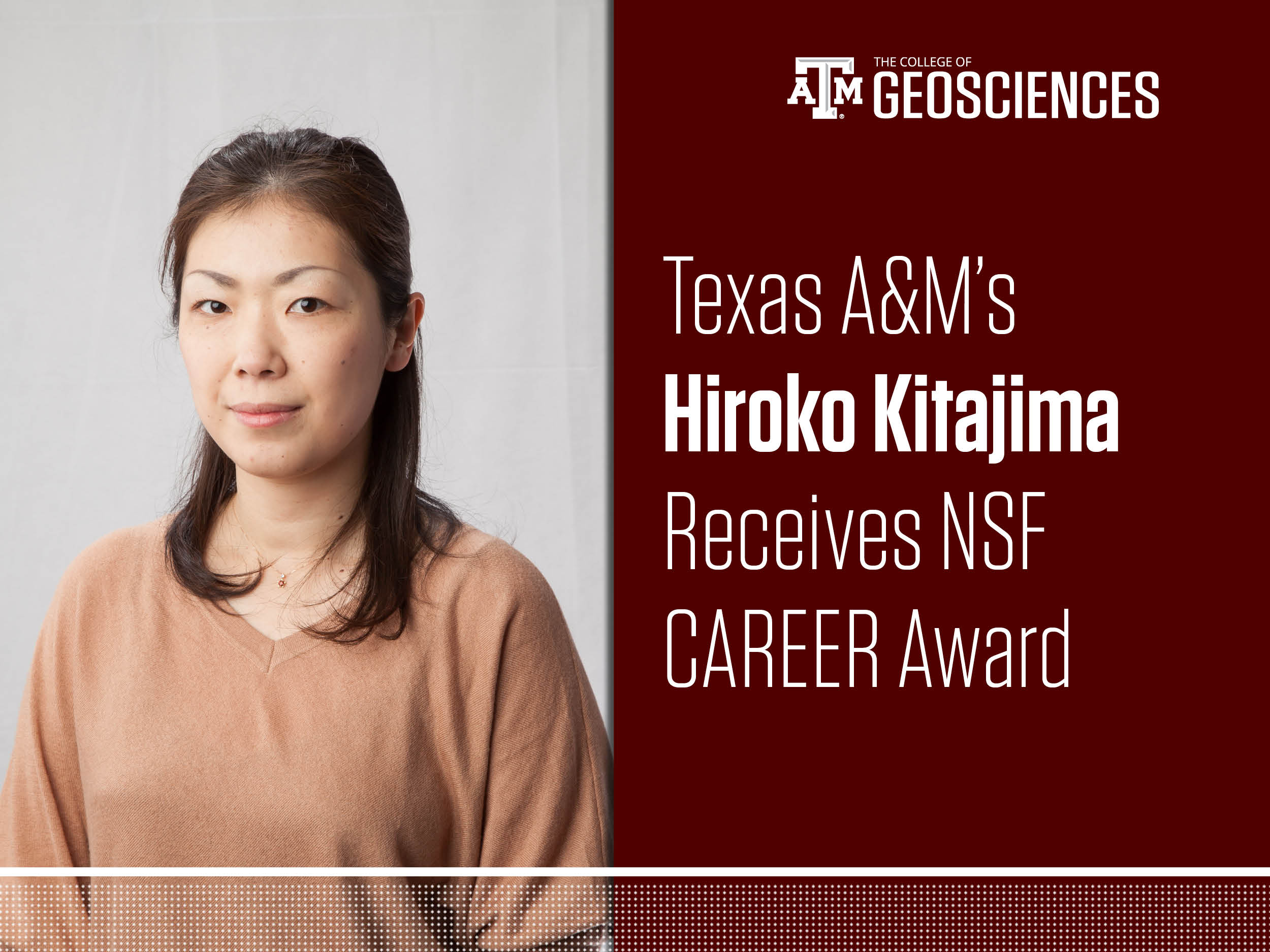 Dr. Hiroko Kitajima, assistant professor in Texas A&M University's Department of Geology and Geophysics, in the College of Geosciences, was recently awarded a prestigious CAREER Award from the National Science Foundation (NSF).
The Faculty Early Career Development (CAREER) Program offers NSF's most prestigious awards in support of early-career faculty who have the potential to serve as academic role models in research and education and to lead advances in the mission of their organization. Kitajima will be studying rock mechanics in the subduction zones near locations of previous earthquakes in Japan and providing high-impact learning experiences for students. 
"Dr. Kitajima is eminently deserving of one of the coveted NSF CAREER awards and this recognition is a beautiful testament to her accomplishments to-date as an early-career thought leader, as well as the potential impact of the science and education work that she proposed," said Dean of the College of Geosciences Dr. Debbie Thomas. "We are so thrilled that her efforts and accomplishments have earned this recognition!"
Kitajima's research investigating deformation and slip behaviors of subduction megathrust rocks will take place in the John W. Handin Laboratory and involve replicating the temperature and pressure conditions present in Japan's subduction zones, using samples from the International Ocean Discovery Program. Through this research, the scientific community will gain understanding of rock deformation, to better predict earthquakes, for mitigation purposes, she said.
"It is important to understand deformation behavior and the pressure conditions in the past 10-15 years," Kitajima said. "Not many studies investigate how the population can affect and control the pressure." 
The CAREER grant isn't only about research, Kitajima said, but it also has an educational component.
"I proposed a capstone project in rock deformation experience, in the lab, for four credit hours, with hands-on experiments," she said. She is also interested in hosting weekly workshops for students from other universities who do not have access to similar facilities. "I want to expand this to outside people; our lab is one of the largest rock mechanics lab in the U.S, but not all universities have these facilities."
Lastly, Kitajima plans to take a group of undergraduate students to study abroad in Japan.
"It is not only science — of course we will go to an outcrop — but we will also go to the tsunami tower and go to museums to show how the Japanese have mitigated," she said. "I am also trying to take them to the area where Tohoku (Japanese tsunami in 2011) hit."
Kitajima believes that having knowledge of these phenomenon is beneficial for everyone.
"In Texas we never experience earthquakes, so I usually teach and try to explain how bad they are, but if you haven't experienced it, you don't know how bad it can be."
By Rachel Swindell '19