Helping Aggies Jump-Start Careers: Mike And Debbie Dishberger Endow Scholarships
Former students' $1 million gift is helping students for generations to come.
Feb 26, 2019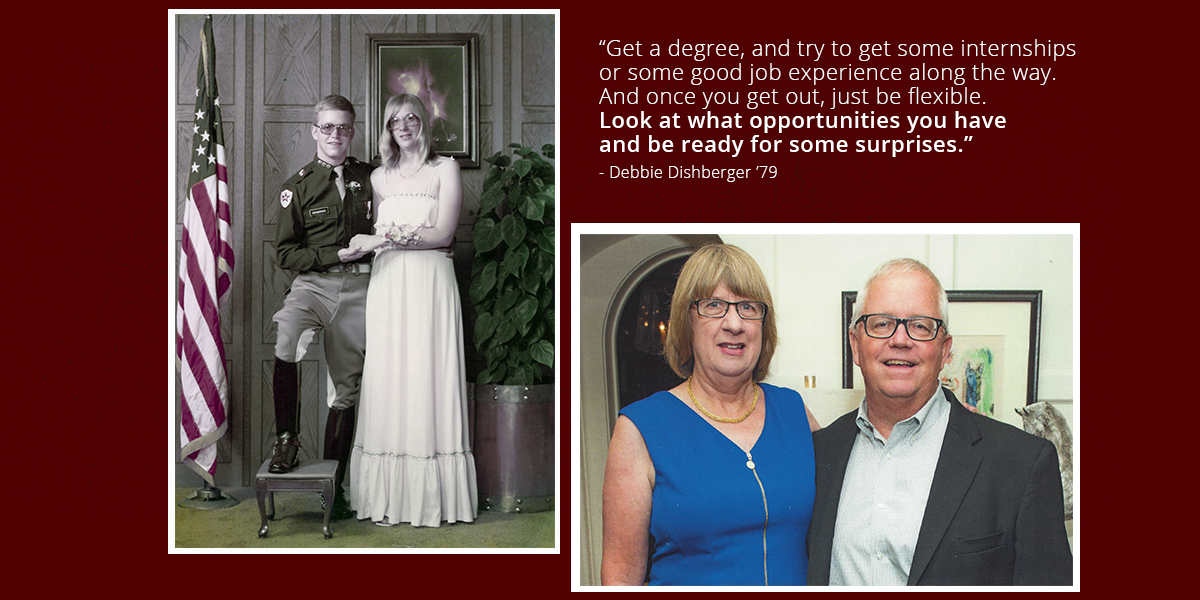 Making the transition from an undergraduate to a successful graduate student requires funding, support and academic rigor, and two Texas A&M University former students are determined to help with that.
During her three decades of working in the oil industry, Debbie Dishberger '79 experienced how beneficial graduate degrees were to employees' long-term success.
"I wanted to encourage more students to think about advanced degrees, and I am just hoping to make it easier for someone else to make that leap," Debbie said. "Texas A&M's always been near and dear to our hearts, so we wanted to help other students get a good start to their career."
Established in 2017, The Michael and Debra Dishberger Graduate Fellowship Endowment provides fellowships to graduate students in the Department of Geology and Geophysics, in the College of Geosciences. The couple also endowed a scholarship in the College of Science that supports undergraduate students who are Corps of Cadets members. Together the endowments total $1 million.
A Match Made In Aggieland
They both arrived on campus in the fall of 1975 — Debbie McLean was majoring in geophysics and Mike Dishberger was studying chemistry.
"My favorite memory of Texas A&M is, of course, meeting my husband," Debbie said.
"We actually met the first night I got to A&M," Mike said. "She had been there a few days, I think. I had just gotten there. We met at a dance outside; they used to have a street dance outside of the MSC."
They continued to date for the next four years in Aggieland, and married in 1980. 
"Another one of my favorite memories is my geophysics classmates," Debbie said. "We were a small class — there were 9 or 10 of us, so we got to know each other really well."
The small cohort worked hard studying together and supported each other, and of course played 42 together.
"We'd be up 'til 3 a.m. working on this lab or that lab, and truth be told we had started on the studying part late because there may have been a dominoes game first."
Debbie completed her bachelor's degree in geophysics in 1979 from Texas A&M, and Michael earned his bachelor's in chemistry, also in 1979. 
Embracing Surprising Career Journeys
Debbie's first job after graduation was working as an exploration geophysicist out of Houston. After they married, the couple moved to Fort Lewis, Washington, as Mike was completing his 4-year commitment to the U.S. Army, following his ROTC scholarship to Texas A&M.
"Up there I wound up studying computer science at Evergreen State," Debbie said. After she finished her second bachelor's degree and graduated from Evergreen, and upon completing Mike's time with the Army, they moved back to Houston, where Debbie's computer science degree led her to a position at Western Geophysical.
"I was doing software development for seismic exploration, and that was great because I got to use both degrees," she said.
Her career with Western Geophysical spanned three decades, including the company's acquisition by Schlumberger in 2000. And then in 2015, "I got caught in the oil downturn and was one of the 40,000 or so that Schlumberger let go," Debbie said.
That transition into other industry sectors has proved fortuitous, and Debbie now serves as a financial analysis software developer at JP Morgan Chase. "I'm having a great time at JP Morgan," she said.
Pursuing an advanced degree and staying flexible are strategies that she recommends to Aggies preparing for their careers.
"Get a degree, and try to get some internships or some good job experience along the way," she said. "And once you get out, just be flexible. Look at what opportunities you have and be ready for some surprises."
Mike also embraced surprising career opportunities when they came his way. After returning to Houston, Mike used his experience as an Army Captain to begin working as a manager in the home building industry.
"In the late 90's I started my own company, went off on my own," he said. "I've owned and operated Sandcastle Homes here in Houston, ever since."
He advises students in STEM majors to also acquire some business knowledge.
"If you're going to get a science degree, consider taking a few courses in business," Mike said. "Even though you are in the sciences, you are still likely going to be doing business and the people you work for will care about making money and managing people."
Thanks to their generosity to Texas A&M, students for decades to come will have a jump-start on successful careers.
"We just love the idea," Debbie said, "Of helping someone get off to a good start with their education."
By Leslie Lee '09
Learn more about the exciting ways you can help support the College of Geosciences.