A Letter From The Dean
Read about Dr. Debbie Thomas' vision for the future of the College of Geosciences.
Feb 7, 2019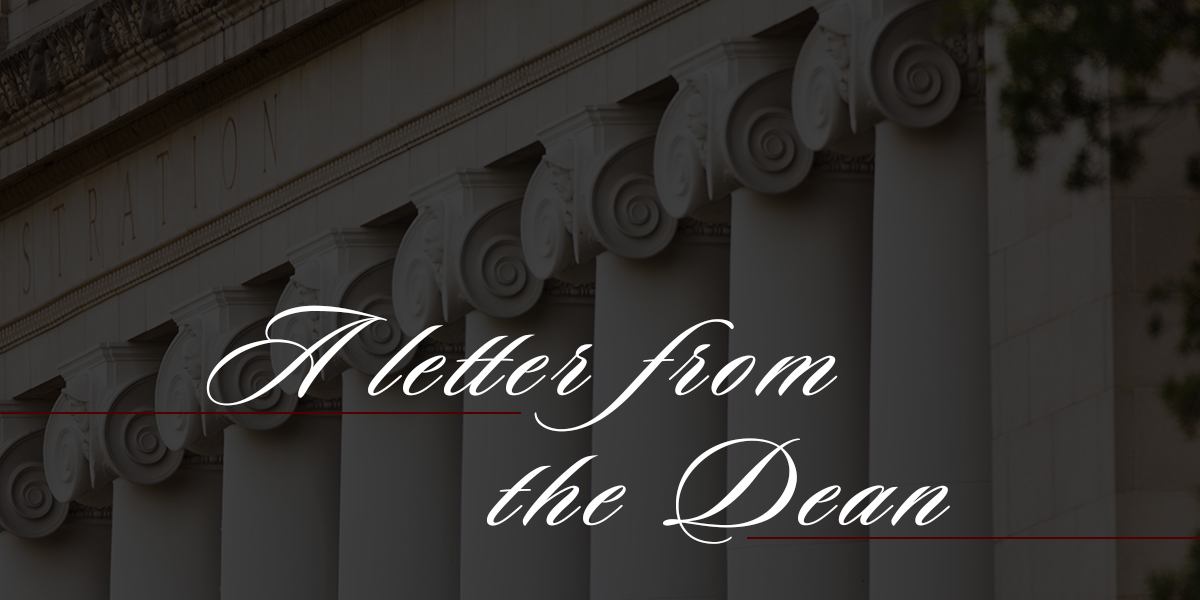 Dear College of Geosciences Family,
It has been an honor to serve Texas A&M University as faculty member, department head, and interim dean of geosciences. I am humbled to have earned the honor of serving as the dean of geosciences.
The role of the dean is to enhance the impact of the college, both externally and internally, while at the same time working with the other deans to enhance the impact of the entire university. In my view, an exceptional dean creates a culture of team and empowers all team members to achieve their potential. An exceptional dean provides positive, collaborative, transparent and selfless leadership. An exceptional dean is entrepreneurial and visionary, providing the motivation and resources for the team to nucleate and lead transformative research and educational programs. An exceptional dean identifies new resources and strategically reallocates resources in the face of opportunity and challenge. An exceptional dean finds ways to network the team in unique ways, and to connect our current and future students with our former students. Suffice it to say that I strive every day to be that exceptional dean.  
The geosciences represent a unique and truly interdisciplinary intersection of sciences, technology and society, with the unparalleled capacity to improve lives and create even more opportunities through education and innovation. This spring we will launch the first, completely integrated college-wide strategic planning process that will engage every single member of the College of Geosciences family, including many former students and stakeholders. The foundation of this process will be a series of college-wide summits to apply appreciative inquiry in the creation of our collective vision and mission. Then we will systematically explore our strengths, opportunities, aspirations, and how to measure and achieve the results needed to fulfill our mission. 
In the meantime, we have several immediate opportunities to enrich our educational and professional development programs. The most immediate opportunity is to improve student success and retention for all of our learners — those who begin their Aggie experience as freshman, those who find their way into Texas A&M and the geosciences through transfer pathways, those who seek graduate degrees at the master's and doctorate levels, and those students who pursue their graduate degrees digitally. The foundation for success in all of these efforts lies in the family-like culture of our college. Our size gives us a unique, personal impact on our former, current and future students — and, as our former students can attest, our programs literally change lives. 
We already are leveraging our size to have a colossal impact on student success, and position our college to lead the university under a new initiative that will incentivize student retention and time to degree. While student retention and time to degree may sound like "bean counting" metrics, behind these terms lies very quantifiable virtue and compassion. Decades of data indicate the myriad benefits of a college degree, and one of Texas A&M's highest priorities is to provide students with the opportunity to earn an exceedingly valuable degree at exceptional value. Students who begin college but are not able to earn their degree potentially incur crippling debt, and students who require additional semesters to complete their degrees also incur higher expenses. Thus, innovating strategies to promote student success absolutely will improve lives. Our first set of student success initiatives addresses holistic student wellness and active advising — predicting and identifying warning signs in students and intervening compassionately before challenges become insurmountable. We also seek to establish a peer mentoring program in order to apply a proven strategy for success in the early foundational coursework. Another major near-term goal is to establish the College of Geosciences Student Success Center, actively linking advising and mentoring to internship and career placement. Team members within the Student Success Center will deliver professional development programming and coordinate leadership symposia, such as the popular "Pizza with a Pro" program.
How can you help us change lives? Our small size is a mixed blessing, and in order to effectively and compassionately implement our Student Success programs we need to hire additional team members with very specific skill sets. Your contribution to a Student Success Excellence Fund will help permanently fund our new Student Success Coordinator. Your contribution to the Peer Mentoring Excellence Fund will help permanently fund the Peer Mentoring Program. We also have a grand vision for renovated space to serve as the Student Success Center. 
If you have interest in these important initiatives or our other programs, please reach out to us – one of the most rewarding aspects of my role is the chance to meet with our former students and chat about how we can leverage your philanthropic investment to change lives!  
Thank you for all you do, and I look forward to working with you all to achieve our mission! 

Dr. Debbie Thomas