O'Reilly named a 2018 Texas A&M Presidential Impact Fellow
Honor comes with $75,000 stipend to accelerate faculty teaching, research and service.
Oct 25, 2018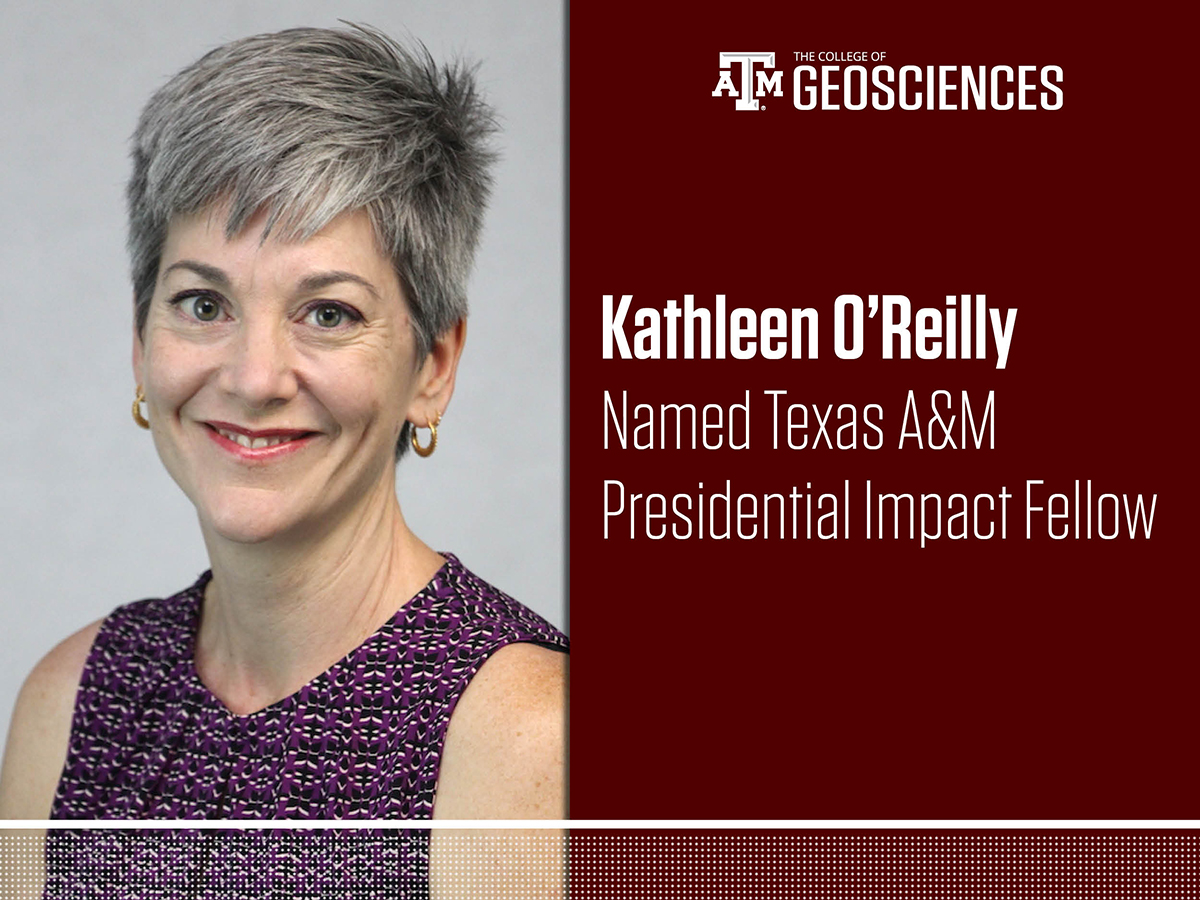 Texas A&M University President Michael K. Young and Provost and Executive Vice President Carol Fierke have announced the second class of Presidential Impact Fellows, which are among the most prestigious recognitions for scholarly impact presented to Texas A&M faculty.
Dr. Kathleen O'Reilly, professor in the Department of Geography, in the College of Geosciences, has been named a 2018 Presidential Impact Fellow.
"Dr. O'Reilly's early career successes include an NSF Career Award and a Gates Foundation grant, and this track record of accomplishment, as well as her continued trajectory skyward, have propelled her into an elite group of faculty at Texas A&M," said Dr. Debbie Thomas, interim dean of the College of Geosciences. "We are so thrilled that her accomplishments are now recognized at the university level."
A total of 21 faculty members across Texas A&M's 16 colleges and schools, two branch campuses and University Libraries received the honor this year. Each recipient will receive an annual stipend of $25,000 for the next three fiscal years to accelerate their teaching, research and service efforts. The honorarium helps foster opportunities to dialogue and collaborate with other leading scholars and create new partnerships. The award also confers the lifetime title of Presidential Impact Fellow.
O'Reilly discusses sanitation at the 2016 3ie Delhi Evidence Week. (Video by 3ie.)
"Texas A&M University is proud to invest in our amazing faculty who continue to make significant impacts through teaching, research and service efforts," Young said. "These rising stars are meeting the challenges in their field and demonstrating what influence they have toward creating a better world."
The award winners were identified by their college and dean and confirmed by the academic leadership. Each is considered to be a candidate for continued, or new, national and international acclaim.
In 2017, Dr. Sarah Brooks, atmospheric sciences professor in the College of Geosciences, was named a Presidential Impact Fellow.
"This honor is clear recognition of the excellence of these faculty in their scholarly endeavors," Fierke said. "They are among the nation's very best and will continue for many years to make transformational impacts that reach far beyond the walls of Texas A&M."
The 2018 Presidential Impact Fellows were formally recognized in a ceremony Oct. 25. Read the full list of all 21 honorees.
By Texas A&M University Office of the Provost and Texas A&M Geosciences