Accessible Aggieland: GIS Team's Award-Winning Work Improves Texas A&M's Aggie Map
An interdisciplinary team of faculty, staff and students has added helpful accessibility features to the campus map.
Jun 20, 2018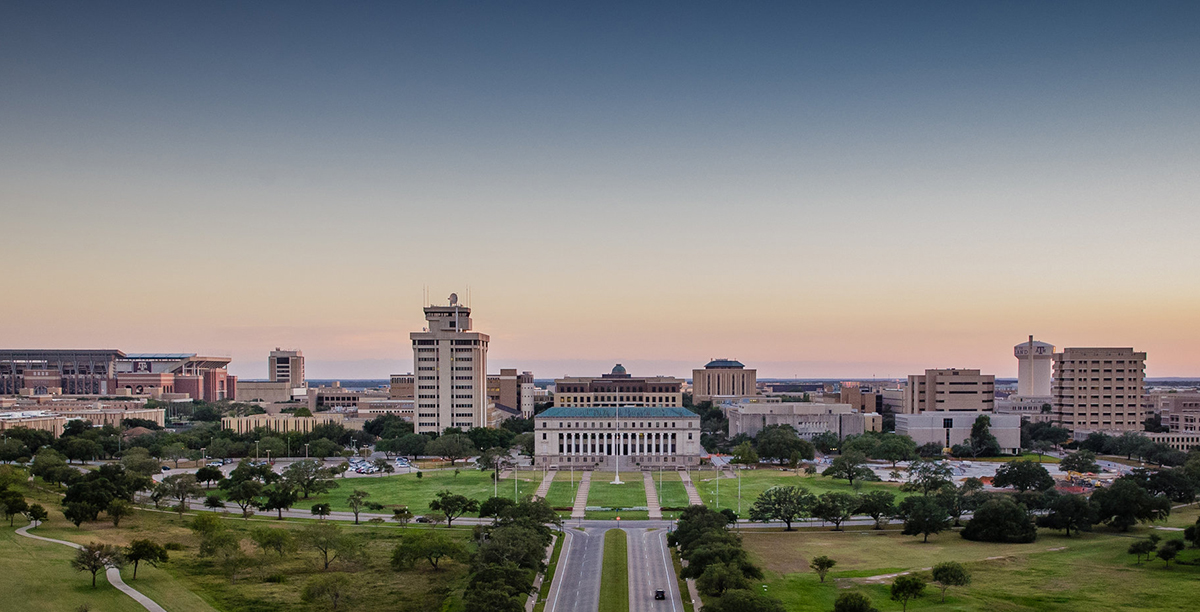 Navigating the 5,200-acre Texas A&M University campus just got a little simpler for Aggies with disabilities, thanks to recent improvements made to the Texas A&M Aggie Map.
Students, faculty and staff on an interdisciplinary development GIS Team successfully designed new features for the map, which now includes campus navigation via walking and biking — for visitors, students, faculty and staff of all abilities.
Texas A&M's Aggie Map has been enhanced to offer routing services to/from anywhere to anywhere on and off campus, with a brand new mobile interface designed for modern phones. Those who use mobility devices can use the interface to find routes that easily guide them to accessible entrances via accessible routes on the Aggie Map, avoiding obstacles such as curbs and stairs. 
Texas A&M is committed to maintaining an accessible campus community and complying with the Americans with Disabilities Act (ADA), and now the official map of campus also reflects the important features that make Aggieland accessible to all. 
"Having access to the locations of accessible building entrances, automatic doors and the ability to map out accessible paths on the online Aggie Map makes the campus map more accessible and usable by everyone regardless of ability or disability," said Tracey Forman, assistant director for disability services, in Texas A&M Disability Services. "With the addition of text-based directions it also adds a new layer of accessibility to individuals with visual disabilities."
Interdisciplinary Team Making Aggie Map More Inclusive
For their work on the Aggie Map accessibility project, the GIS Team received a 2018 Excellence Outstanding Team Award from the Texas A&M Division of Finance and Operations. The award is generously funded by The Association of Former Students.
"The GIS Team's work is a great example of how the entire Texas A&M community can come together to solve problems," said Texas A&M Executive Vice President for Finance and Operations and Chief Financial Officer Dr. Jerry R. Strawser. "The combination of faculty, staff, and students bringing their expertise has created an asset of tremendous value for our campus. We were so pleased to be able to recognize their outstanding work."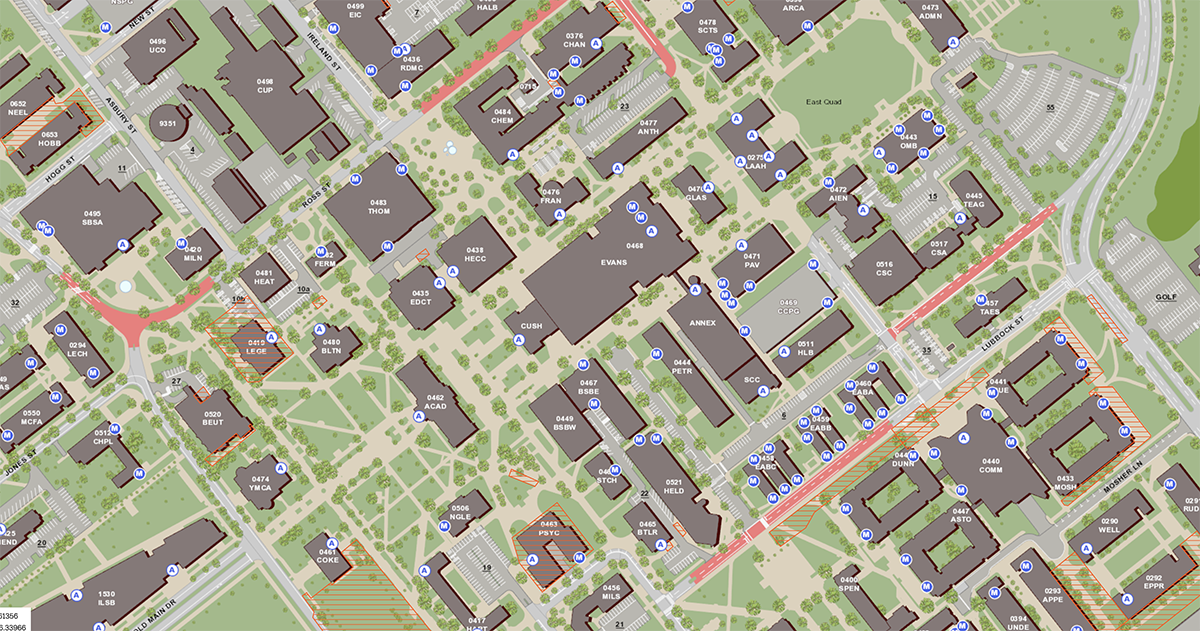 Team members include:
And earlier this year, the ESRI Development Center at Texas A&M awarded their Student of the Year Award to Fleming, for his student leadership and work on the project. 
"Andrew worked hard to complete this student research, service learning project and created important new accessibility functionality within the Aggie Map that will benefit students, staff and faculty throughout campus," said Goldberg.
A grant from the Texas A&M Office for Diversity  and support from the Department of Geography, College of Geosciences  funded the accessibility mapping project. In addition to the above Aggie Map partners, this project included the TAMU Department of Computer Science and Engineering, and TAMU Libraries' Maps and GIS Services.
"All project partners wanted to see Texas A&M meet the needs of ALL Aggies," Goldberg said. "This project highlights what can be accomplished when a diverse group of students, faculty and staff spanning the full breadth of academic, research, and operational communities of campus all come together to solve a challenge facing the Aggie community."
High-Impact Learning Experiences For Students
"These GIST students were exposed to a real-world accessibility problem, affecting real members of our community, which needed a solution," Goldberg said. "This was a high-impact learning experience for them. What they accomplished will have real impacts on the lives of real people, and it's the kind of formative experience we provide for students in the College of Geosciences."
During the spring semester, Fleming attended the ESRI Developer Summit, with Texas A&M faculty and staff, and received guidance on building and completing the ADA mapping project directly from industry leaders looking to push the boundaries of accessible navigation, Goldberg said. 
"Working on the ADA mapping project has really helped me learn how to make and process GIS data efficiently; our routing network is composed of over 100,000 features, which would be impossible to create and maintain in a non-programmatic way," Fleming said. "Because of this project, I have furthered my skills with FME, a software package by Safe Software. It feels good and was fun to have helped build this network with my friend and colleague Hank, and the rest of the GIS team."
Fleming interned with ConocoPhillips last summer, will intern there again this summer, and plans to graduate in December 2018, he said. Originally from Virginia, Fleming plans to use his GIS degree to continue solving real-world problems after graduation.
For more information, visit:
Disability Services partners with Facilities Services, Residence Life, and Transportation Services to facilitate access to buildings, residence halls, parking lots and other locations on campus. 
Students with disabilities who experience physical barriers should contact Disability Services for assistance.
By Leslie Lee '09