Atmospheric Sciences Student Nominated For 2018 Astronaut Scholarship
Quinton Lawton is one of four Aggie undergraduates nominated.
May 15, 2018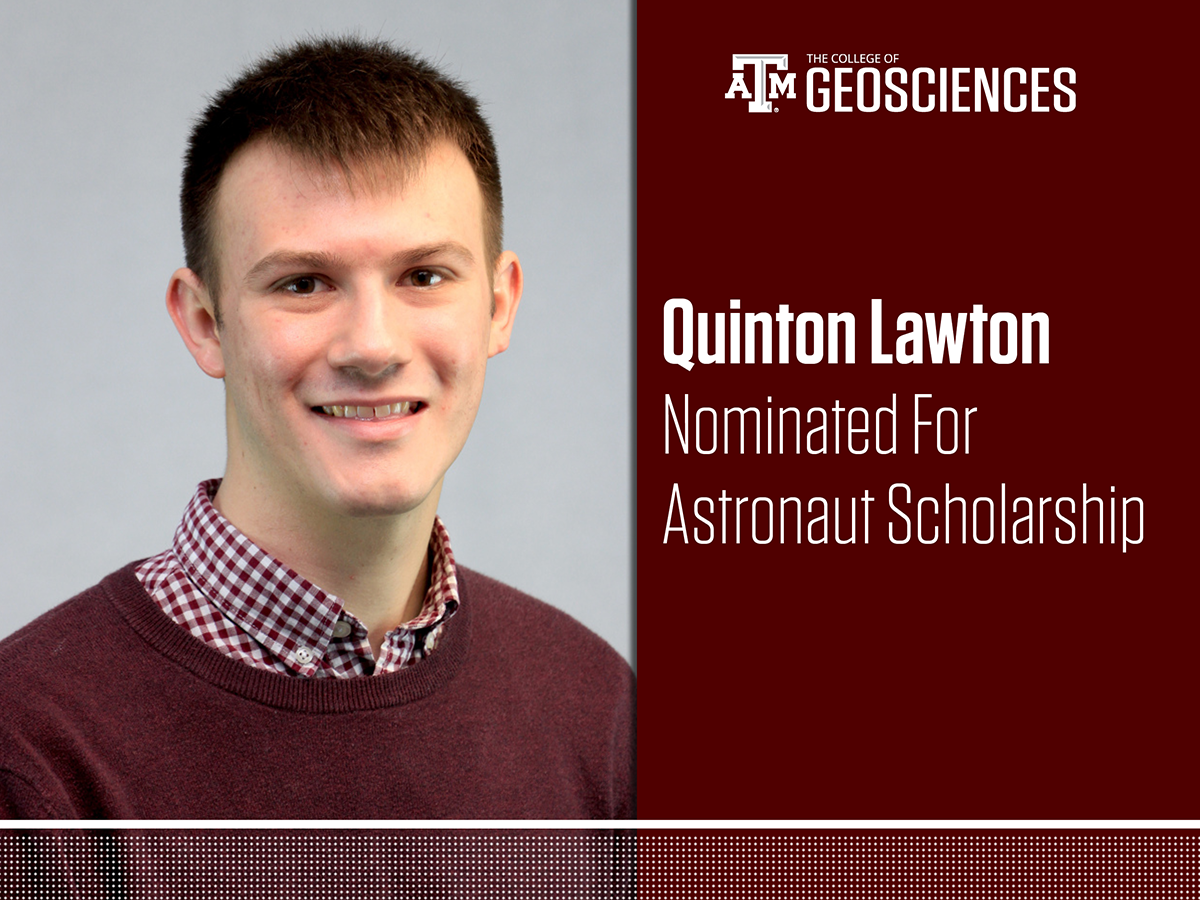 The Astronaut Scholarship Foundation (ASF) seeks to support the brightest scholars in the fields of science, technology, engineering, and mathematics (STEM), while commemorating the legacy of America's pioneering astronauts, and this year four Texas A&M University undergraduate students were nominated for an ASF scholarship.
Quinton Lawton '19, a meteorology major in the Texas A&M Department of Atmospheric Sciences, in the College of Geosciences, has been nominated for the Astronaut Scholarship Foundation's 2018 Astronaut Scholarship, along with Oscar Gonzalez '20, Ashley Hayden '19 and Ashley Holt '20.
Quinton Lawton, who is also minoring in oceanography, is originally from Houston, Texas. In his undergraduate research work, he studies the relation between tropical cyclone behavior and global climate change. He also serves as a LAUNCH Undergraduate Research Ambassador.
That position "lets me share my passion with others and encourage them to deepen their involvement in research," he said. "I don't just participate, but lead, while inspiring others to do the same."
Undergraduate Research Ambassadors strive to expand and enrich student engagement in undergraduate research. In long-term, Lawton said he hopes "to carve a new path forward and serve as an example for others long into the future."
The ASF has supported undergraduate students across the nation in pursuing their education for more than 30 years. The Astronaut Scholarship is one of the most significant merit-based scholarships in STEM fields that can be awarded to an undergraduate. Students must be nominated by faculty based on achievements in their chosen field.
Out of a pool of 42 universities, ASF typically chooses one recipient from each school. Texas A&M University has had 30 honorees since the scholarship was established in 1984 by the surviving Mercury 7 astronauts. More than 100 astronauts have contributed to the cause, resulting in over $4 million in scholarships.
The recipient of the Astronaut Scholarship will be announced at the Astronaut Scholarship Foundation Award Ceremony on September 20, 2018 at Texas A&M University.
Written in collaboration with Texas A&M Honors and Undergraduate Research.