Helping Equip Future Ocean Scientists, Aggie Oceanographers Partner With Eagle Pass School
Junior high students were eager to learn marine microbiology from Texas A&M Oceanography experts.
Feb 19, 2018
Marine microbiology might sound too complicated for junior high students to explore, but thanks to Texas A&M Oceanographyscientists, students in Eagle Pass, Texas, recently had the opportunity to get hands-on training in it.
Dr. Jason Sylvan, assistant professor in the Department of Oceanography at Texas A&M University, and oceanography graduate student Shu Ying Wee traveled to Memorial Junior High School in Eagle Pass to work with seventh grade teacher Alejandra Martinez and her students Jan. 19-20.
Sylvan met Martinez for the first time on an International Ocean Discovery Program (IODP) Expedition where she was working as an outreach coordinator.
"When I found out she was an Aggie and also a teacher who was dedicated to her students, it seemed natural to try to find a way to work with her," Dr. Sylvan said.
Funded as part of an National Science Foundation grant, the project was designed by Sylvan and two other co-principal investigators, Drs. Virginia Edgcomb and Frieder Klein, of the Woods Hole Oceanographic Institute. The main goal was to visit Martinez's school to show her students how microbiology works, through environmental sampling and taking students on a field trip to see research first-hand.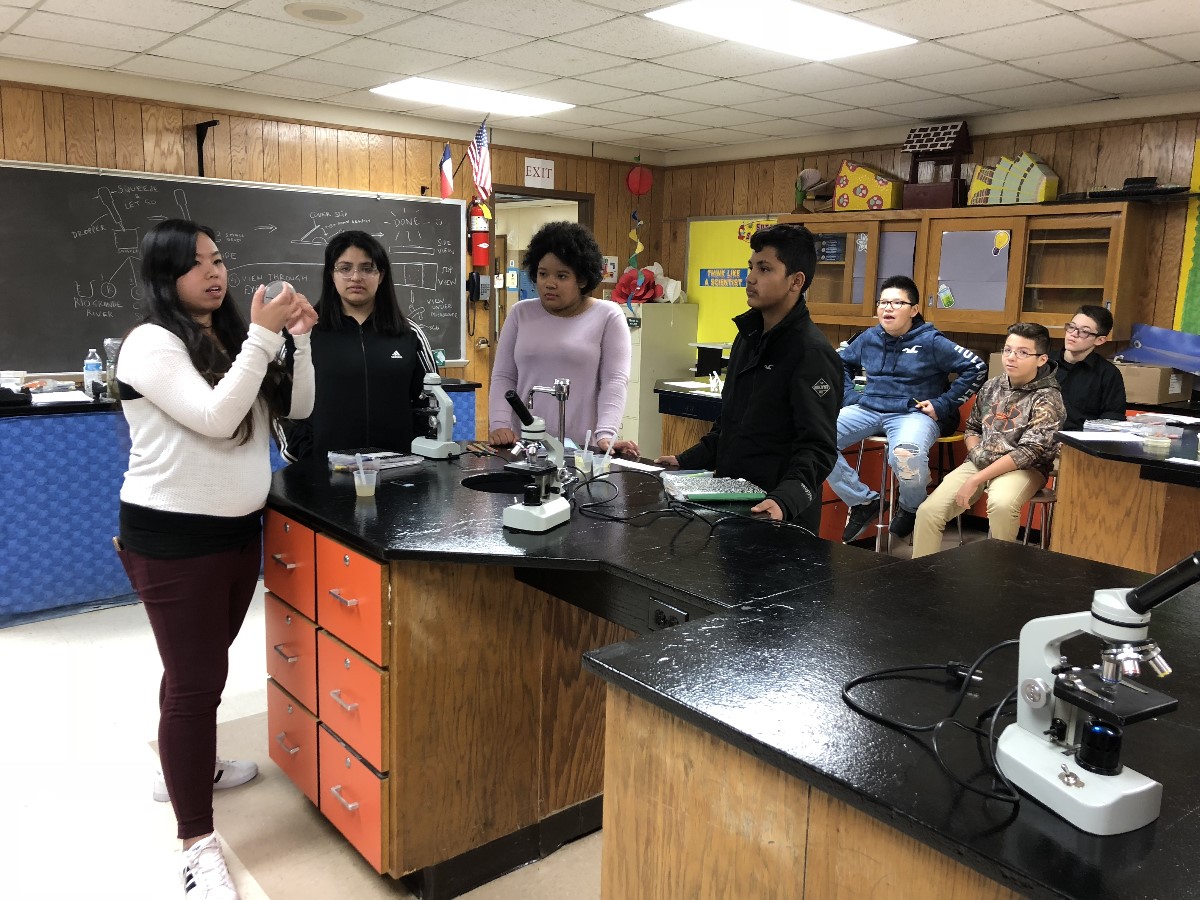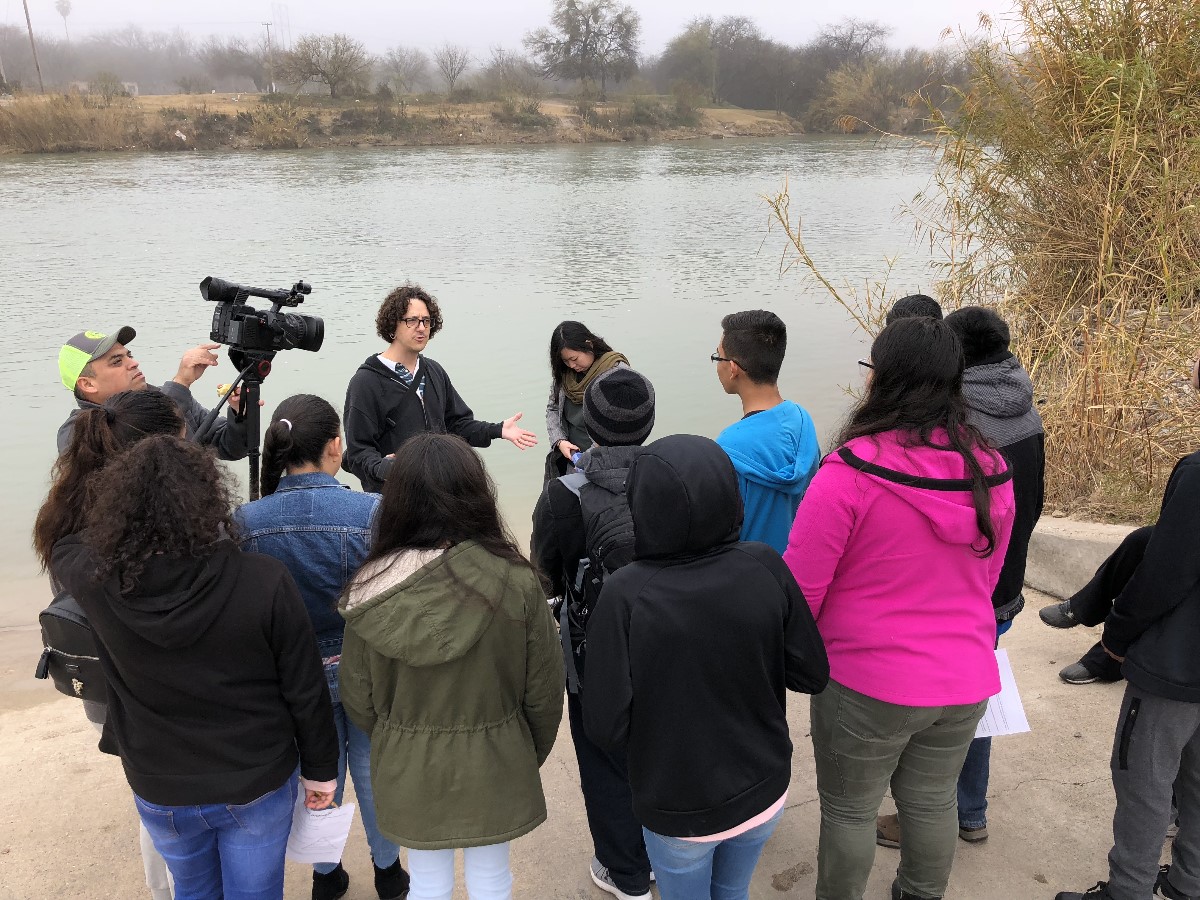 On the second day, 17 students together sampled soil and water samples at the Rio Grande to get their hands wet and use real scientific instrumentation. Students inoculated additional plates with soil and water samples, and took turns using a YSI meter to measure other environmental parameters of the river water, such as salinity, temperature, dissolved oxygen level, turbidity and pH.
"The pH of the river was slightly basic, which was really surprising to me as well as to the students," Wee said. Later, students constructed different Winogradsky columns with mud from the river bank and water from the river.
"A Winogradsky column is a simple laboratory experiment that helps create a microbial ecosystem in a glass tube," Wee explained. "When you put mud samples with an additional carbon source as a food, like newspaper, you can visually observe distinctive layers of certain microbes after one or two months later. Each layer indicates different microbes living there, based on their favorable condition
"The design of this experiment was for students to see for themselves that microbial ecosystems can have structure, to see how different microbes select different substrates (food)," Sylvan said.
Both Sylvan and Wee said they greatly enjoyed meeting each and every student at Memorial Junior High School.
"It was a really wonderful experience!" Sylvan said. "It was so much fun getting to see how excited the students were to do science and also to a meet real scientist, which students can sometimes think of as just an old white man in a lab coat, like in the Hollywood movies. Also, for these students who live on the border with Mexico, we sought for them to be able to see that the Rio Grande is a natural ecosystem and a scientific playground, rather than just a border between two countries.
"I really liked working with the students. You can tell that they were so excited, so interactive, and so curious," Wee said. "They were also good at critical thinking. I was impressed when one student asked me how the microbial life would be in a colder environment."
In April, Sylvan will be leading a field trip with 50 of Martinez's students to Port Aransas, Texas. They will board a research vessel, the R/V Katy, to experience real shipboard science, such as seafloor sediment sampling and CTD operation. Sylvan said he looks forward to continuing this project and meeting students who are passionate about marine microbiology.
By Bumsoo Kim