"Where I Feel Like I Belong:" New Degree Draws Ocean-Minded Aggies
Nov 16, 2017
Spending days at sea on research ships in the Gulf of Mexico may not be how typical Aggie undergraduate students spend their time in between classes, but for junior Victoria Scriven, it's nothing out of the ordinary.
That's because Scriven is one of the first students in the oceanography undergraduate degree program at Texas A&M University.
Fall 2017 was the inaugural semester of the Texas A&M Department of Oceanography's undergraduate program, and the pioneering students have gotten to take advantage of unique hands-on research opportunities and faculty mentoring. 
One thing these soon-to-be Aggie oceanographers have in common is a deep passion for the world's oceans.
"I always knew I loved the ocean; it is where I feel like I belong," said sophomore Samantha Longridge. "My dad, Kent Longridge '91, graduated from A&M and he has his master's in ocean engineering, so he has a passion for the ocean."
Scriven said, "I've always been passionate about the ocean; I thought maybe ocean engineering but I fell in love with the science of it."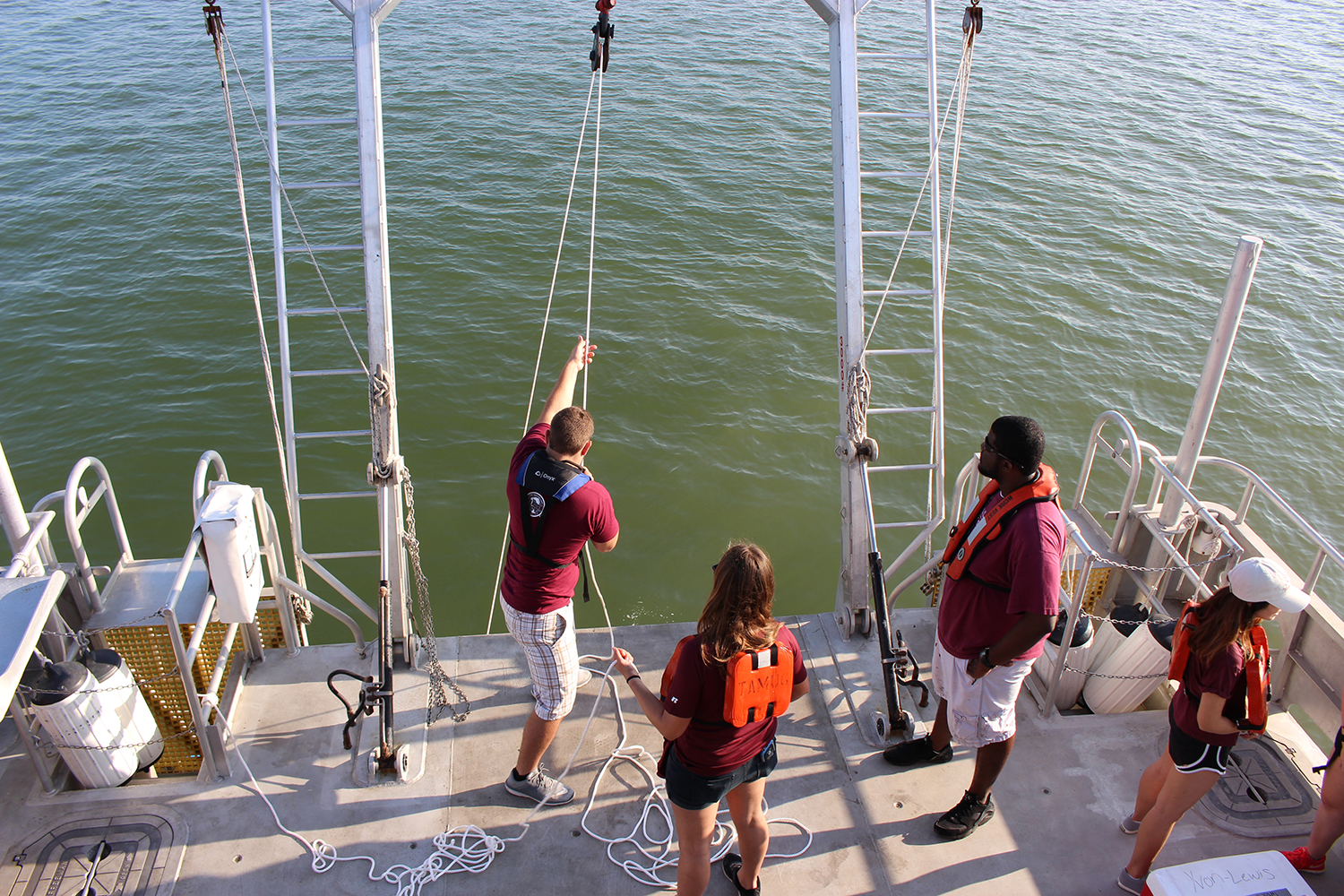 Oceanography students conducting researh aboard the RV Trident in Galveston Bay on Nov. 4.
Texas A&M has long offered graduate and doctoral degrees in oceanography, and received state approval to add the undergraduate program in December 2016.
"The Department of Oceanography is very excited to be able to offer this new STEM degree, the B.S. degree in Oceanography."  Dr. Shari Yvon-Lewis, professor and interim oceanography department head, said.
The students agreed that one thing that makes Texas A&M's undergraduate oceanography program so unique is that "you can tell all the professors are really into what they are teaching," Longridge said.
"I took Oceanography 251 with Dr. David Brooks, and he was so passionate about it, you could just tell that he loved it," she said. 
The size of the program also plays a role in its uniqueness.
"Being able to know my professors by their first name, being able to sit on a boat with them and talk to them about my future, and where they think I should go has been very beneficial to me," Scriven said. "The community lets me get to know the people that will help me in my future."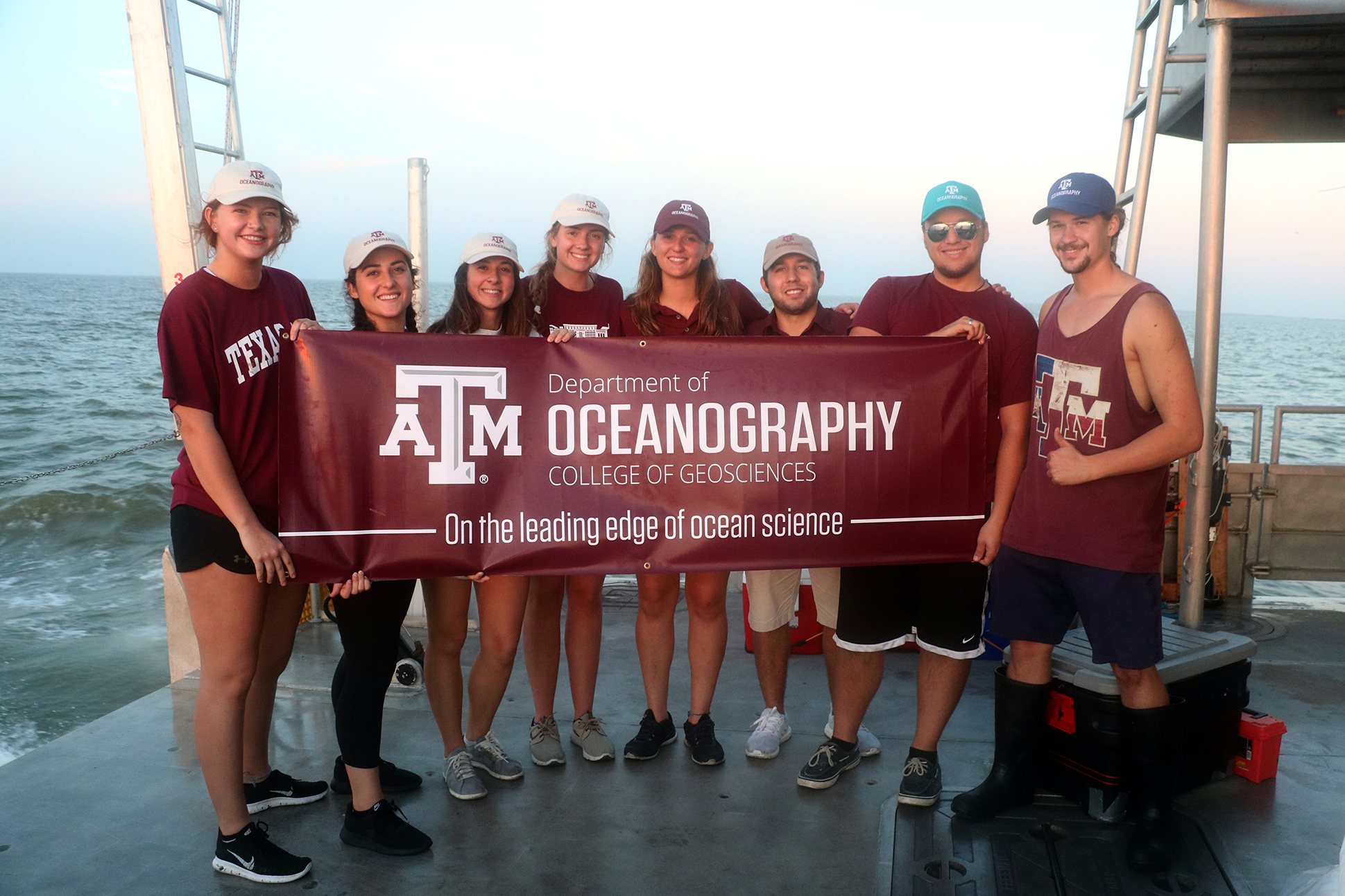 Undergraduate students aboard the RV Trident in Galveston Bay on Nov. 4, from left to right: Kelsey Gibbons, oceanography major; Cassie Oswood, OCNG 491 student; Ana Ramos, oceanography major; Samantha Longridge, oceanography major; Victoria Scriven, oceanography major; James Chapman, oceanography major; Cody Padlo, OCNG 491 student; Brian Buckingham, TAMU-GERG student worker.
The degree program provides hand-on experience that will be valuable to each students' futures. "I've been on two boats this semester, both in response to Hurricane Harvey," said Scriven. "I also got to do research with IODP (the International Ocean Discovery Program), which is the more geological side of oceanography, after my freshmen year, and then I went to Peru this summer. On the boats this semester, it opened my eyes to the fact that I want to be in operational oceanography."
"I want to be out in the boats; I want to be in the field, less so in the lab," she said. "I want to be interactive with the ocean environment."
Students in the degree program get unique opportunities to further develop their ability to problem solve and think critically."
"Research experiences, including field, lab and modeling studies, are necessary for students to get that hands-on experience," Yvon-Lewis said. 
For high school students considering majoring in oceanography, Scriven said "just go for it."
"Apply as soon as you can, and get to know your professors in the basic oceanography classes; I met Shari Yvon-Lewis she was my 251 professor and I've taken six of her classes now."
As for the future, both Scriven and Longridge plan to attend graduate school.
Get more information on the oceanography degree program.
By Taylor Fuechec '18