Future Leaders Learning from the Pros: "Pizza With A Pro"
Apr 13, 2017
During the Fall 2016 Geosciences Advisory Council's discussion, the topic of "professional development" for our students evolved in to a star-studded program called "Pizza With A Pro."
Since January 2017, Tuesday evenings in the O&M Building feature the mouth-watering aroma of fresh pizza, throngs of students, and one, very successful geosciences former student. The program was kicked off with Interim Dean Debbie Thomas giving an overview of topics that would be covered and discussion on communications skills in the workplace, next Bill Read '71 (former Director of the National Hurricane Center) presented "How a C+ high school student get to be Director of the National Hurricane Center," then Bruce Appelbaum '71 discussed "How to be employable in the geosciences," then Stuart Burbach '77 entertained with "Oh, the places you'll go," and wrapping up the Spring Semester on April 11th was Ruth Perry '04 with "Oil and gas opportunities."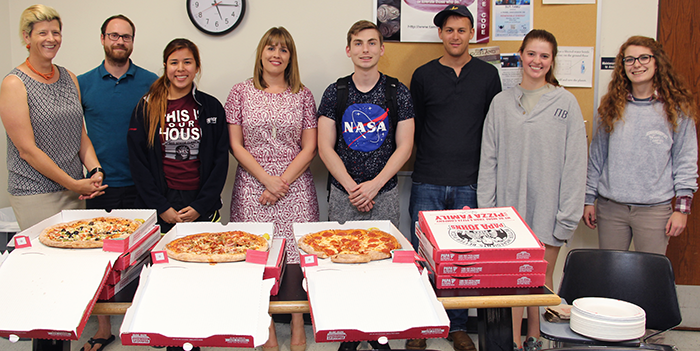 Each event grew in size and numbers of pizzas as word spread among the students. "Pizza With A Pro" will continue in the Fall 2017 with Jill Urban-Karr '86, the Chair of the Geoscience Advisory Council, among others. Dates and speakers will come soon.
"Our students are so fortunate to have the opportunity to learn from their guidance and experience. Each event has had its own dynamic with students getting so much from the talks. They have each been perfectly crafted combinations of history, personal journeys, and critical professional advice. The long lines of students waiting to talk one on one is clearly indicative of the value and the impact," said Interim Dean Debbie Thomas. "I am looking forward to engaging our former students in many meaningful, and rewarding ways."