The 2017 Scholarship Appreciation Celebration Had a Celebrity to Amplify the Appreciation
Apr 12, 2017
The First Lady of Aggieland, Reveille IX, was on hand to give her distinctive brand of appreciation to our generous donors and their scholarship recipients at the 2017 Scholarship Celebration. 
The College of Geosciences recently celebrated the generosity and support of the people who help make our students dreams come true, and ultimately make a very positive difference in our world. During the March 31st event, some of our donors met the students whose lives they've changed, and our students had a chance to show their appreciation for our donors' generosity.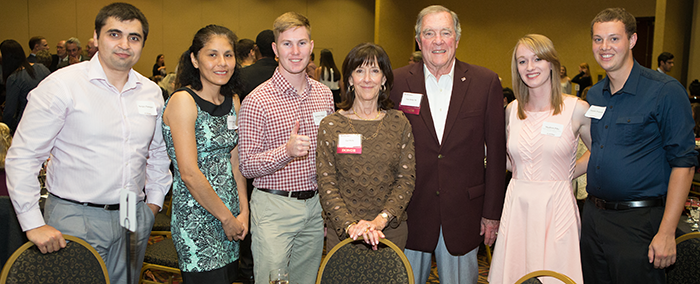 Interim Dean Debbie Thomas, the host of the evening's program, remarked: "Scholarships are the only way for many current and future students to realize their university degree, and so many times we hear from our donors that they themselves were the beneficiary of someone who helped them achieve their goals through a scholarship and it inspired them to pay it forward by giving back. Our donors are critical to delivering on our promise for a low or no-debt education. We know that geoscientists are required to address the world's most critical challenges – our students are uniquely educated and trained to lead in the geoscientific fields and to make a difference in their field of endeavor."
Scholarship recipients Jordan Skipwith '17 (recipient of the Natalie '82 and Doug McGehee '81 Endowed Scholarship) and Edith Sotelo Gamboa '13 (recipient of the Priscilla and Thomas E. Kelly '53 Petroleum Geosciences Fellowship, and currently working towards her Ph.D.), took the stage to talk about their Texas A&M experience and how their respective scholarships made their education possible.
Jordan said, "In the time that I have been at Texas A&M University, I have been able to be a part of exceptional experiences that have enabled me to meet incredible people, tackle exciting academic challenges, and give back to my school and community through service. Whenever I reflect upon these experiences, I realize that none of them would be possible if not for the gracious support of donors. Words cannot express how humbled and fortunate I am to be a scholarship recipient. Scholarships have profoundly impacted my college experience, as I can now focus on excelling in my higher education and giving back to my university – rather than worrying about my financial situation. But even more than that, this scholarship inspires me to challenge myself to be a better individual. I feel empowered to recognize my abilities and take advantage of the opportunities given to me at this incredible university and beyond! With this mindset, I hope that I can achieve a prosperous career in the geosciences and support future geoscience students in a similar position – just as donors have done for me."
We were delighted to welcome some of our donors:
Bill Barkhouse, Don and Gwen Conlee, Violetta Cook, Deaun Golding, Eddie Gray '57, Tom and Cyd Kelly '53, John and Sandy Matush '54, Natalie McGehee '82, George and Jean Morgan '80, Richard and Barbara Orville, Tim and Vivian Powell '79, Hal Schade '67, Curtis Samford '83, Ray and Melba Scurlock '45, and Elliot Vaughn '74.
Some of the College of Geosciences Advisory Council members were also in attendance:
Matt Hammer '80, Ruth Perry '04, Thomas Ratliff '84, Chris Samsury '90, and Jill Urban-Karr '86.
Jordan summed up his appreciation beautifully: "Scholarships from the College of Geosciences have opened up the door to so many incredible opportunities and experiences for me in my education and life. Over the last four years, these scholarships have provided me with the privilege of attending my dream school: Texas A&M University. When I was growing up, my dream of attending college seemed unlikely due to my family's financial background. But, because of the financial support of generous donors and moral support from my family and friends, this dream has become a reality."
The evening finished with everyone lingering to visit a little longer and taking many pictures.
The photo gallery can be viewed here.