Faculty Focus – the Early Career Team Members
Jul 21, 2016
The Department of Oceanography is proud to introduce our early career Team Members.
Dr. Jessica Fitzsimmons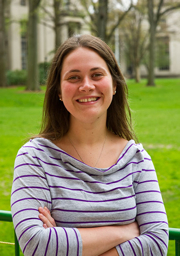 Dr. Jessica Fitzsimmons on campus.
Dr. Jess Fitzsimmons is a chemical oceanography interested in the biogeochemical cycling of trace metals in the ocean. Some trace metals such as iron, zinc, cadmium, and nickel are required micronutrients for phytoplankton that sit at the base of the food web and contribute to the global carbon cycling that drives climate. Other trace metals such as lead and copper are anthropogenic contaminants that can be used to trace the human footprint on ocean health and ecosystem function.
The Fitzsimmons lab focuses on the distribution, physicochemical composition, and isotope ratios of trace metals in seawater in order to understand the cycling and biological usage of metals in the ocean. The lab group spends significant time at sea collecting samples on research cruises, and then the samples are analyzed in the laboratory by inductively-coupled plasma mass spectrometry, which is housed in the Williams Radiogenic Laboratory in the Halbouty building at Texas A&M. Current projects in the Fitzsimmons lab include an investigation of dissolved trace metal distributions and speciation in the Western Arctic Ocean seawater and sea ice, an exploration of iron and manganese transformations during mixing between hydrothermal vent fluids and abyssal seawater, development of new chromatographic methods for separation of dissolved trace metals by size, and analyses of trace metal fluxes from West Antarctic Peninsula into the Southern Ocean.
Dr. Henry Potter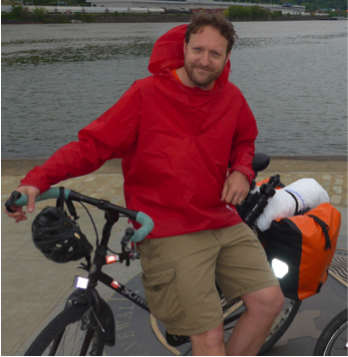 Dr. Potter sharing his passion for cycling.
Henry is an observational oceanographer who got his PhD in Applied Marine Physics from the University of Miami in Florida. He researched air-sea interaction with a focus on how turbulent exchanges of mass, heat, and momentum in tropical cyclones impacts their intensity and changes the characteristics of the underlying ocean.
In 2014, Henry moved from Miami to D.C. and turned in his flip flops for a suit and tie to start a postdoc at the Naval Research Lab in the remote sensing division. There he researched breaking waves using infrared, visible, and microwave cameras (both at sea and in a laboratory wave tank) to better understand the impact of breaking waves on the upper ocean and lower atmosphere.
When not thinking about marine boundary layer turbulence, Henry mostly thinks about food. He loves to make and eat cheese and recently took up solar cooking. When not in the kitchen, Henry enjoys riding his bike, exploring, and listening to podcasts.
Fall 2016 will be Henry's 1st semester at TAMU. He's looking forward to working with the talented staff in the Oceanography department, teaching, and wearing his flip flops in the winter again. 
Dr. Katie Shamberger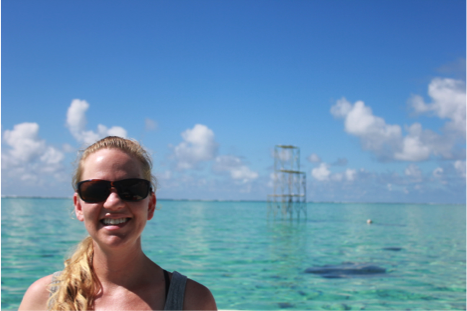 Dr. Shamberger investigating active CO2 cycling in Palau.
I am a chemical oceanographer and my research focuses on the ocean carbon cycle, its alteration by anthropogenic (human caused) ocean acidification, and the impacts of ocean acidification on calcifying organisms and ecosystems like coral reefs and oyster reefs. My research involves investigating the natural cycling of carbon dioxide in coastal ocean ecosystems, the sensitivity of coastal ecosystems to changing seawater carbon dioxide levels, and controls on marine calcification. Much of my research is field based and I have worked on coral reefs in the Caribbean, Hawaii, American Samoa, Palau, the Great Barrier Reef in Australia, Taiwan, and the Gulf of Mexico. 
I currently teach two courses: Introduction to Oceanography (OCNG 251): Undergraduate introduction to the field of oceanography for non-science majors; and Communicating Ocean Sciences (OCNG 603): Graduate course that provides instruction and practice with presenting scientific information on the ocean to science and non-science audiences.
Outside of work I love spending time with my family: husband Patrick, professor of Materials Science and Engineering at TAMU; 1 year old daughter Abigail; and our golden retriever. Abigail appears to have inherited my love for water, so we're often in the pool and try to get to the ocean as much as possible. I'm looking forward to introducing her to coral reefs!
Dr. Jason Sylvan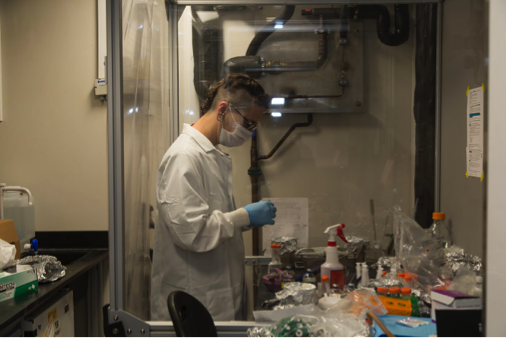 Dr. Sylvan aboard the JOIDES Resolution drill ship during Expedition 360 in the southern Indian Ocean.  He is working in the microbio-enclosure that he designed in collaboration with WHOI researchers for sampling low biomass samples in the field
Jason Sylvan studies interactions between marine microbes and their environment, with an emphasis on microbial processes and biogeochemistry at and below the seafloor.  Research in his lab spans multiple aspects of geomicrobiology from hydrothermal vent microbiology to microbial response to oil spills to studying life hundreds of meters below the seafloor.  He is ecstatic to be co-teaching a new course in Fall 2016 on Mid-Ocean Ridges and Hydrothermal Vents with fellow OCNG faculty member Jess Fitzsimmons, and also teaches graduate level Microbial Ecology and Biological Oceanography courses.  In his spare time, Jason enjoys spending time with his wife and son, playing guitar and making photographs.
Dr. Kristen Thyng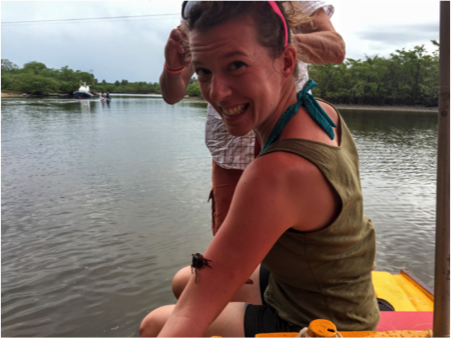 Kristen Thyng enjoying the water.
I do numerical modeling work in estuaries and coastal seas for a variety of applications, often with an engineering approach. Simulating drifter trajectories through flow fields reveals transport pathways indicating underlying physics that control important human-centered processes. Harmful algal bloom initiation in the northwest Gulf of Mexico, the fate of spilled oil, and the ability of fish larvae to move between neighboring bays along the Texas coast are informed using this Lagrangian perspective. I am also working to better determine optimal placement of tidal turbines in fast-moving flow fields, such as in the Puget Sound near Seattle, to optimize for power production while mitigating impact to the environment.
Having taught at both undergraduate and graduate levels, I am keen to improve my teaching using Peer Instruction, focusing on concepts in class and group-reinforced work, in addition to practice in and out of class. I have particularly enjoyed teaching about the Python programming language and look forward to teaching a distance version of it with Galveston this fall. 
In support of working on good science, I advocate for good choices in colormaps and visualization design in my classes and community. I have an open source suite of colormaps online available in many scientific software package formats, which can be used to accurately present data. This has been a fascinating avenue of investigation, for the people I have met in person and online, the opportunities it has opened for me, and the body of science behind what we know about human perception.
Outside of work, I like to get outside to run and hike. There are some great trails near Bryan-College Station I'm getting to know, and I always like to explore other cities when traveling.
Dr. Chrissy Wiederwohl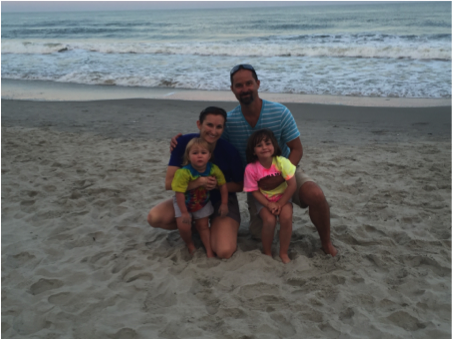 Chrissy Wiederwohl and her family.
Successfully training and educating the next generation of scientists is at the forefront of my scholarly interests.  This includes the training and mentoring our graduate students in teaching to help build and polish their classroom and overall communication skills before entering the job/academic market. I am also interested in the design of undergraduate high-impact learning experiences, as well as the development of new hands-on oceanographic exercises used in undergraduate labs and educational outreach.
Outside of Oceanography, my growing family keeps me busy and on my toes. My husband and I enjoy playing sports with our 4-year-old daughter Channing and dress-up with our 2-year-old daughter Quinn. We will be welcoming a baby boy to our family in October, bringing balance to the glitter and pink in our house!
Dr. Yige Zhang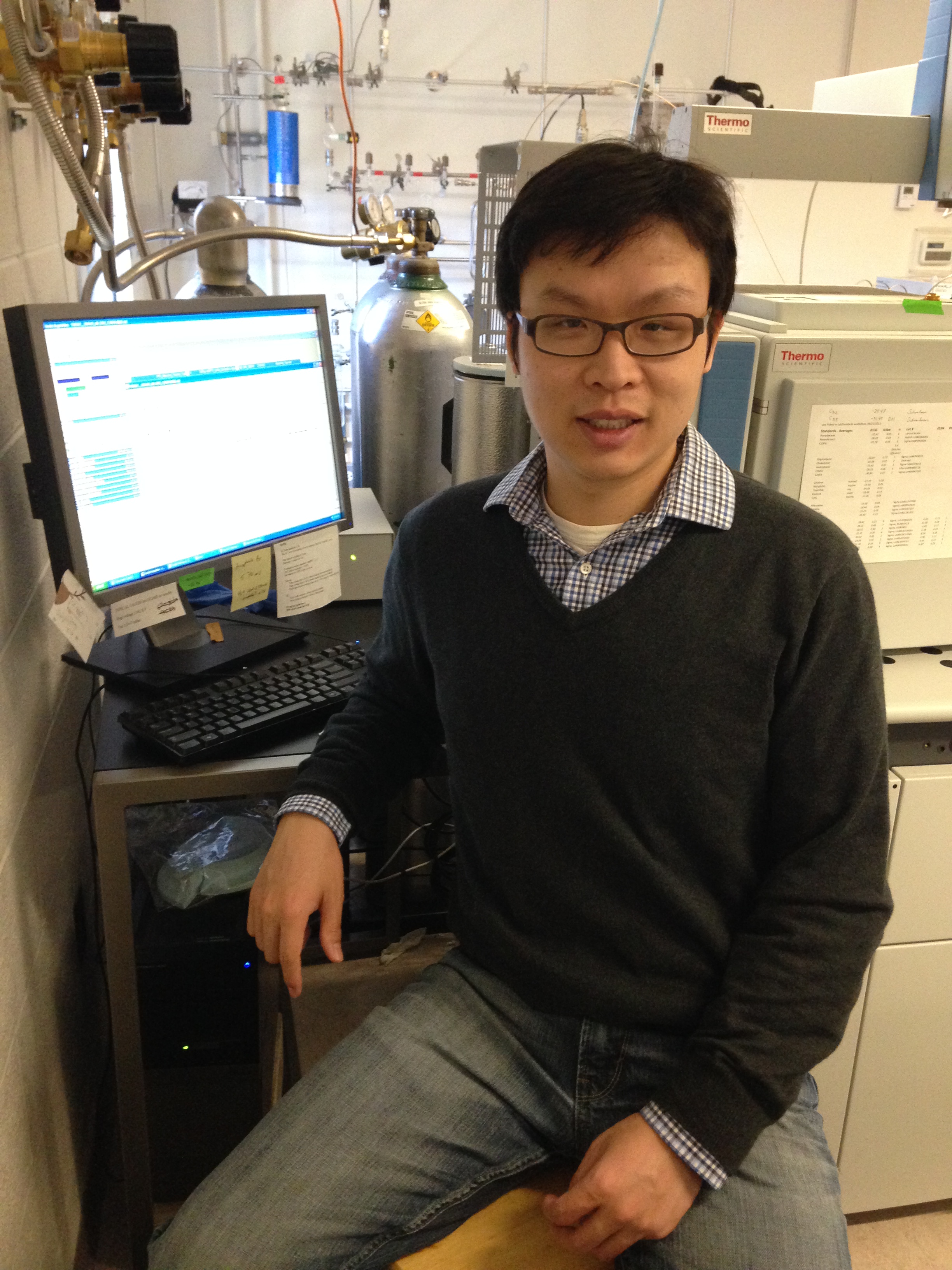 Yige Zhang in the lab.
I'm a geochemist interested in understanding how the Earth evolved chemically, and using various geochemical tools to study climate change and the global biogeochemical cyles of the geological past.
My group reconstructs Cenozoic ocean temperature evolution to constrain regional climate, global climate and the Earth System climate sensitivity. We also evaluate past atmospheric CO2 levels on various timescales using biomarkers and their stable isotopes.