2015 Faculty Awards
Dec 17, 2015
As 2015 comes to a close, we reflect on the hard work and accomplishments made by our faculty and staff. Not only has it been 50 years of the College of Geosciences – it's also been 50 years of continuous dedication and hard work by the people within this college. We would like to take the opportunity to recognize and celebrate the contributions which have been made throughout this momentous year.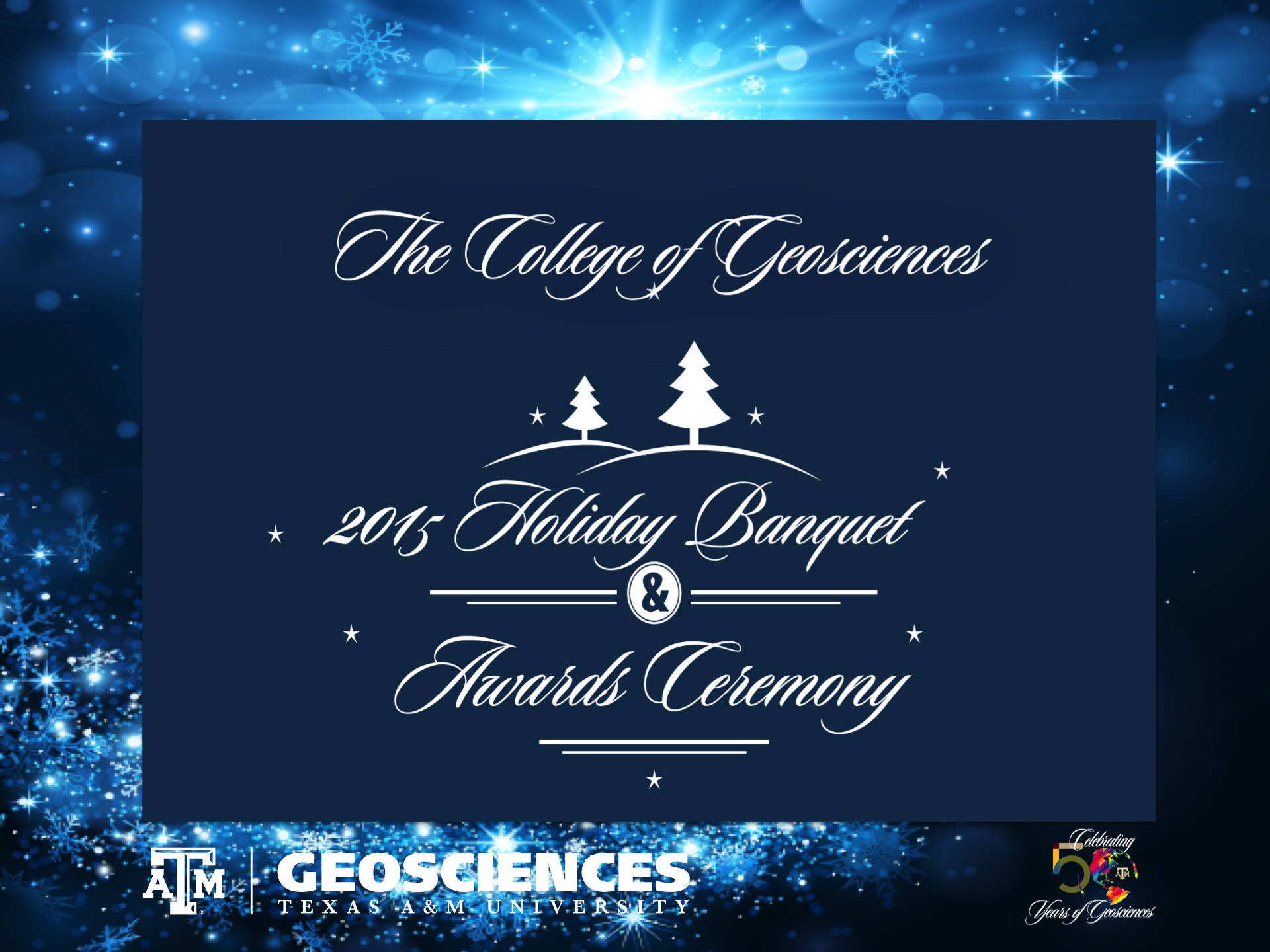 The commitment of our faculty is apparent as we recognize years of service to Texas A&M University. Mark Everett, Steven Schroder, Margaret Foster, Mitch Malone, Karen Graber, Katerina Petronotis, and Edgar Dillard are celebrating 20 years in the college. Piers Chapman, Rhonda Kappler, Ping Chang, and Sylvia Pitts are celebrating 25 years. Andreas Kronenberg, Rick Giardino, Wilford Gardner, Mary Jo Richardson, Paul Stine, Jose Sericano, and William Mackan are celebrating 30 years of service. And lastly, celebrating 35 years of service are Jean Wulfson, Stephen Sweet, Debra Defreitas, Janice Muston, and Thomas Yancey. Congratulations and thank you for your continuous commitment to the success of this organization.
Recognizing the advancement of our faculty members, there are several promotions and tenure positions which were awarded this year.  Dr. Andrew Klein was promoted to professor of geography.  Dr. Debbie Thomas was promoted to Department Head and professor of oceanography.  Dr. Shari Yvon-Lewis was promoted to the professor of oceanography.  Dr. Eric Riggs was awarded tenure and promoted to associate professor of geology and geophysics.  Dr. Inci Guneralp and Dr. Brendan Roark were both awarded tenure and promoted to associate professors of geography.  Lastly, Dr. Mike Pope was promoted to the Department Head of Geology and Geophysics.  Congratulations to each of these hardworking faculty members.
There were two recipients for this year's Dean's Achievement Award for Exemplary Staff Services.  The first is Maureen Reap, facilities coordinator. Her nominator wrote the following about Ms. Reap, "For 29 years, her commitment to the College and University extends infinitely beyond merely ensuring the safety and functionality of our facilities, and infinitely beyond the minutia of her position description.  Maureen's heroic contributions arise from her inspiring efforts to improve the teaching and research infrastructure of the College so that Aggies who pass through our doors have access to world-class facilities."  The second recipient of this award is Cindie Powell, editor for the Texas Sea Grant College Program. "Because of Cindie's tremendous service, dedication and professionalism, the program's communications reach has expanded and has reached new heights," wrote her nominator. We recognize these two individuals for their efforts in bettering the geosciences organization.
The Dean's Distinguished Achievement Award for Faculty Excellence in Research went to Dr. Ramalingam Saravanan, professor in atmospheric sciences. His nomination letter describes Dr. Saravanan as "one of very few climate dynamists considered truly versatile in nearly every aspect of climate research, from data analysis, to numerical modeling, to theoretical study. This makes him one of the most talented climate scientists I have ever known." In his fifteenth year at Texas A&M, Dr. Saravanan has 55 published papers – 33 of which he has written in his time at this university.
Receiving the Dean's Distinguished Award for Faculty Excellence in Teaching is Dr. Don Conlee, instructional professor of Atmospheric Sciences. He is recognized for his dedication to his students and their exposure to high-impact activities inside and out of the classroom. A colleague describes Dr. Conlee as "an absolutely essential role within the department in our high-impact learning efforts.  His leadership and enthusiasm have inspired hundreds of undergraduate students." The second recipient for the Dean's Distinguished Achievement Award for Faculty Excellence is Dr. Pamela Plotkin, director of the Texas Sea Grant College Program.  Among her usual faculty activities, Dr. Plotkin's leadership has been essential in elevating the national rating of the Texas Sea Grant Program. A colleague says the following about Dr. Plotkin, "She leads by example, particularly in promoting the teaching-research-extension capacity of our college.  The exposure that statewide extension provides for the College of Geosciences benefits every unit and program, and contributes directly to the strategic vision of establishing the geosciences as the defining discipline of the 21st century." It is for these reasons above and many unmentioned that these individuals are recognized with this prestigious award.
The final award was started in 1982 by the Association of Former Students in which they fund awards to honor faculty members who demonstrate unwavering dedication to teaching. This year's Distinguished Achievement College-Level Teaching Award recipients are Dr. Kathleen O'Reilly and Dr. Lisa Campbell. Both of these individuals are known for their commitment to their students and passion in the classroom. "Dr. O'Reilly's enthusiasm is extraordinary.  Regardless of the lesson being taught, she enters the classroom with excitement and optimism," writes a student. Similar praise is passed onto Dr. Campbell as a former student says, "Dr. Campbell is sincerely passionate about the oceans, and she instills within her students, that same passion…Her teaching has a ripple effect, reaching not just the students she directly educates, but through the impact they will have from her influence."
Congratulations to all of the individuals recognized. The year 2015 has been extremely successful for the College of Geosciences, and it is due to the hard work which our faculty and staff continuously demonstrates. Thank you all for the great year, and we look forward to the success that the year 2016 will bring.