Geologists Without Borders
May 8, 2015
College of Geosciences study abroad and research opportunities find their next home at Hacienda Santa Clara in San Miguel de Allende.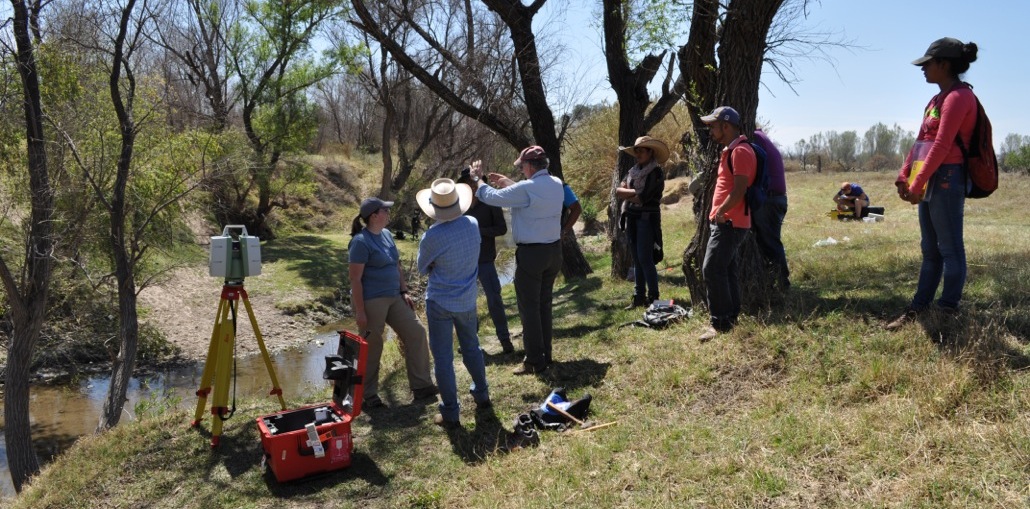 Geology and Geophysics students work with students from Mexico's Universidad de Guanajuato evaluate to San Miguel's water issues.
Picture this: brightly colored buildings with tiled roofs, cobblestone roads, panoramic mountain views, and a world-renowned art culture, all nestled in an old-world setting declared a UNESCO World Heritage Site. Add some mellow Latin guitar music and average year-round temperatures of 70 degrees, and you've got San Miguel de Allende, one of Mexico's premier tourist destinations.
Now picture this: rapid population growth and booming tourism nestled in one of Mexico's top agricultural areas, along with an expanded manufacturing sector, all dependent on an increasingly polluted and diminishing groundwater supply. Add data from a 2006 Ecosystem Sciences Foundation report indicating the quality of the region's water does not meet Mexico's acceptable drinking water standards, and the traveler's maxim "don't drink the water" takes on a whole new meaning.
This year, with the help of a combined funding program by Mexico's Consejo Nacional de Ciencia y Tecnología (the National Council of Science and Technology) and Texas A&M's Division of Research, the College of Geosciences geology and geophysics students embarked on what promises to be a long and fruitful collaboration with students from Mexico's Universidad de Guanajuato in quantifying and qualifying San Miguel's water issues. But they will also gain another invaluable asset to a Texas A&M education: a cross-cultural experience.
"This is a unique opportunity," says Dr. Rick Giardino, geology and geophysics professor and department head. "San Miguel de Allende can change students' global perspectives dramatically. This is important, significant research, but the most important thing to come out of it is relationships between the two universities. When you build personal relationships, you develop lifelong admiration and cultivate understanding."
Relationships between Texas A&M and San Miguel de Allende have been deepening since the 2009 opening of the Hacienda Santa Clara Study and Research Center by Pablo Marvin, a 1966 Aggie and member of the department's advisory council. Last fall, Giardino took 32 members and their spouses from the College of Geosciences' external advisory board to San Miguel to experience firsthand its potential for hosting student research and study abroad programs.
Mission accomplished; no one wanted to leave, and San Miguel came in with flying colors in all areas: safety, cost efficiency, cultural significance, and directly relatable experience in solving some of Texas' own water issues. 
Marvin and his wife Barbara designed Hacienda Santa Clara specifically for hosting collaborative research and educational opportunities. Replete with dormitories, classrooms, computer labs, wet and dry laboratories and multiple classrooms with wireless Internet and video conferencing capabilities, the Hacienda is well-equipped to carry out its mission, "to be an incubator where universities, government, and the private sector will collaborate to solve real-life problems."
A 20-minute drive from San Miguel, the center is not only environmentally sustainable but maintains Mexico's warm and rich culture with hacienda style architecture, lush gardens that supply ingredients for much of the centers' authentic Mexican cuisine, and an art collection built around some of Mexico's most famous artists.
Giardino and colleague Peter Knappett have been working with two co-Principal Investigators from the Universidad de Guanajuato, Dr. Horaico Hernandez and Dr. Yanmei Li, in establishing a program that emphasizes scientific collaborations and cultural exchanges between students, professors and the two universities.
This past January, 10 students and professors from Mexico traveled to Texas A&M to participate in field demonstrations involving water quality testing and monitoring, as well as various geophysical techniques to be used in the field in Mexico. The week-long workshop also involved team building between the Guanajuato students and Texas A&M students before working in the field together in Mexico.
In February, four Texas A&M graduate students, Raquel Granados Aguilar, Amy Price, Kim Rhodes, and Taylor Rowley, accompanied Giardino and Knappett to San Miguel to work with the Guanajuato students. "The students collected data and did analysis to accurately quantify the diminishing water resources of the Acuífero de la Independencia that underlies the Guanajuato-San Miguel de Allende Region. We will use the results from this for an in-depth, long-term study," Giardino said.
In conjunction with Universidad de Guanajuato, Giardino and Frank Hopf are currently at work on an undergraduate program they will introduce in fall 2016 that takes incoming freshman to Mexico. "We will be able teach incoming freshman about the geology of the Trans-Mexican Volcanic Belt ," Giardino says, "but they will also be exposed to the culture. During the day, we'll take field trips and look at some spectacular geology, the hydrology of the streams, and the distinctive volcanoes throughout area. Then in the evening, students will have lectures about history and the politics of Mexico from professors at the University of Guanajuato.
"My goal is to make a long-term, sustainable program that lasts. Not just as long as I'm involved, but a program that continues long after I retire."
By Sharon Roe
sharonroe@live.com


For more information about the College of Geosciences program in Mexico, email Rick Giardino: rickg@tamu.edu