Texas A&M, NSF Announce Agreement for Research Ship Operations, May Total $250 Million
Nov 22, 2013
The National Science Board has authorized the National Science Foundation to enter into a cooperative agreement with Texas A&M University to continue managing the International Ocean Discovery Program (IODP) and operating its scientific research vessel JOIDES Resolution, considered a premier research vessel for deep-ocean drilling. The new cooperative agreement with the NSF could be as high as $250 million, with the international community contributing another $87.5 million, subject to availability of funds and continued scientific priorities.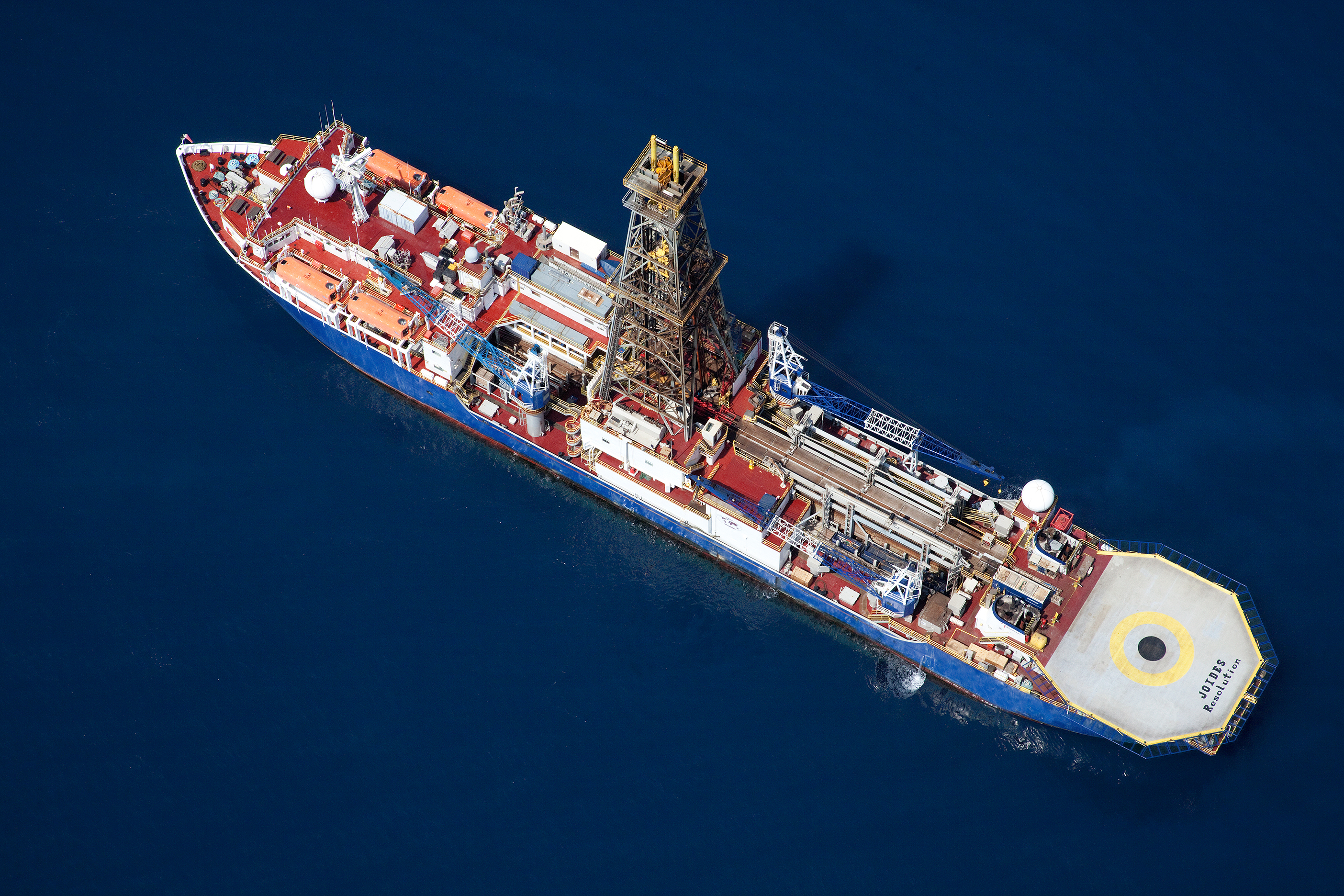 Texas A&M has served as science operator since 1985 for the research vessel JOIDES Resolution.During normal operations, work aboard the ship never ceases as drilling and science activities continue 24 hours a day for up to two months. A typical ship's complement consists of up to 60 scientists and technicians and 70 crew members.
(John Beck, IODP, Texas A&M)
The five-year agreement begins Oct. 14, 2014. "Research aboard JOIDES Resolution has contributed to our knowledge about Earth's climate, ancient sea levels, continental drift, volcano formation and the onset of earthquakes," said Roger Wakimoto, assistant director for the NSF geosciences directorate.
During the 28-year period that Texas A&M has served as science operator for the program, it has received funding in excess of $1.5 billion, with much of it spent in Texas. IODP headquarters are located in the Texas A&M Research Park.
Of federally funded programs that have successfully been carried out in Texas, only the Johnson Space Center in Houston has received more financial support than IODP, according to informal tabulations.
"This is another homerun for Texas A&M—and for Texas, economically and otherwise," said Texas A&M University System Chancellor John Sharp. "It puts us even more in the worldwide vanguard of scientific research, and I'm confident that the findings that come from this research can have far-reaching applications."
Texas A&M Provost and Executive Vice President for Academic Affairs Karan Watson joined in underscoring the significance of the new agreement and thanked everyone involved in bringing it to fruition.
"This is further evidence of how our faculty scholarship is recognized around the world for its impacts," Watson said. "Grants and partnerships of this magnitude, having now exceeded $1.5 billion, are not funded without an acknowledgement of the quality and effective management of our programs. I am proud of Dr. Miller, Dr. Clement, the principal investigators involved and their team of faculty and students for their work.  I also commend our government relations team who assisted in demonstrating our program strengths to federal decision makers."
In addition to worldwide operations being coordinated at Texas A&M, the IODP facility includes vast cold storage accommodations for thousands of core samples taken from beneath ocean floors around the world, with scientists from throughout the nation and abroad coming to College Station to study the extractions.
NSF expects to support about four JOIDES (which stands for Joint Oceanographic Institutions for Deep Earth Sampling) Resolution expeditions per year under the cooperative agreement. JOIDES Resolution is currently operating under a one-year extension of the previous 10-year award to the Consortium for Ocean Leadership and its Integrated Ocean Drilling Program.
"We are pleased that the National Science Foundation is giving us the opportunity to continue operating the JOIDES Resolution for the International Ocean Discovery Program," said Brad Clement, science services director of IODP.
"JOIDES Resolution is a unique facility that allows dedicated scientists from around the world to access our planet's secrets that are buried beneath the seafloor. Our continued operations will ensure that knowledge of Earth's processes will continue to grow and serve as an invaluable resource for future generations."
Added Kate Miller, dean of Texas A&M's College of Geosciences: "We are very proud to have been selected, once again, to lead scientific ocean drilling for the international community. It is gratifying that the National Science Board so clearly recognizes the dedication and extraordinary technical expertise of our IODP staff members and their role in making many of the most important scientific discoveries about the ocean floor over the last 30 years a reality."
The International Ocean Discovery Program and its predecessors have led scientific ocean drilling worldwide since 1968. Currently, IODP has 28 international partners, with Brazil joining as its newest member.
The NSF has a long history with ocean drilling projects.
In the 1960s, the Deep Sea Drilling Project provided a test of the plate tectonic hypothesis and a basic reconnaissance of deep-sea sediments and crustal rocks. In 1983, Texas A&M became science operator for the Ocean Drilling Program, which focused on examination of Earth, ocean and climate processes. The Integrated Ocean Drilling Program began in 2003 and has served as an expanded program of scientific ocean drilling. The newest program, International Ocean Discovery Program, began Oct. 1 and will continue for the next six years.
JOIDES Resolution is currently in dry dock in the Philippines, undergoing routine maintenance checks. It is expected to resume its schedule in January with an expedition to study the tectonics of the South China Sea.
###
About Research at Texas A&M University: As one of the world's leading research institutions, Texas A&M is in the vanguard in making significant contributions to the storehouse of knowledge, including that of science and technology. Research conducted at Texas A&M represents total annual expenditures of more than $776 million. That research creates new knowledge that provides basic, fundamental and applied contributions resulting in many cases in economic benefits to the state, nation and world.
Media contact: Kate Miller, dean, Texas A&M College of Geosciences, at (979) 845-3651 or Karen Riedel, College of Geosciences News, at (979) 845-0910 or Brad Clement, Director of Science Services, at (979) 845-2673