DEAN'S MESSAGE
Dear Colleagues, 
It's nearly a month into the semester and we in the Dean's Office have been occupied with the start of the semester and the celebration of the 50th anniversary of the founding of the College, which we just observed this past weekend. I sincerely appreciate everyone for taking part in the festivities and making the celebration so monumental. In case you missed it, the "Happy Anniversary" video can be viewed here.
As usual, the start of the semester brought new faces and movement of faculty and staff to new roles. You can read introductions to some of these people in the sections below. In addition to the traditional GEOSFest led by our academic advisors, highlights of the week before classes included GAP (Geosciences Academic Preparation), a program designed to orient new undergraduates to the College and the university. Students were introduced to important programs and services on campus in addition to being given an opportunity to participate in a math boot camp and a workshop on how to take notes and study. GAP was organized by Judy Nunez, director of recruitment and retention, and Larry Komrower, high-impact coordinator.
At a new faculty orientation, organized by Chris Houser, participants were able to ask questions and get information on topics ranging from teaching and academic honesty, college business procedures, and grants and contracts to preparing for tenure and promotion. Seasoned faculty who missed the orientation should know that a number of college policies have been revised over the summer and are posted at the Geobusiness site. Certainly, members of the college have never been better prepared to start the semester. Many thanks to all who participated in organizing or presenting at these important start-of-semester events.
If you've spent any time in the O&M building of late, you've probably noticed the lobby renovations under way in preparation for our 50th anniversary. A donor recognition display is now in place and other elements are brightening the walls toward the front of the building. A new touch-screen computer display will soon be programed to show more than slides. Bench seating with access to power has also been installed. We hope that these changes will make the O&M lobby a more welcoming and informative space for the future. 
As of the 12th day of classes, we now have a record 1,496 majors in the college, up nearly 9% over last year. The Department of Geology and Geophysics leads the pack with 677, of which 538 are undergraduates. Watch out though, our new undergraduate program in Geographic Information System and Technology has gone from 37 to 100 majors and counting in just a year (see expanded story below).
Two of our centers are making great strides toward becoming even more involved with faculty and students in the college and university. Recently, Texas Sea Grant received an exemplary review from a national visiting committee, in part because of its programs to engage undergraduates through Aglantis, K-12 students with its Aglantis Jr. Adopt-A-Tank program, and research opportunities through the university honors program.
IODP research scientists are also working closely with undergraduate students by teaching First Year Seminars, drawing students into research, and teaching capstone classes, as described in my recent blog entry.
Enjoy the semester. 
Kate Miller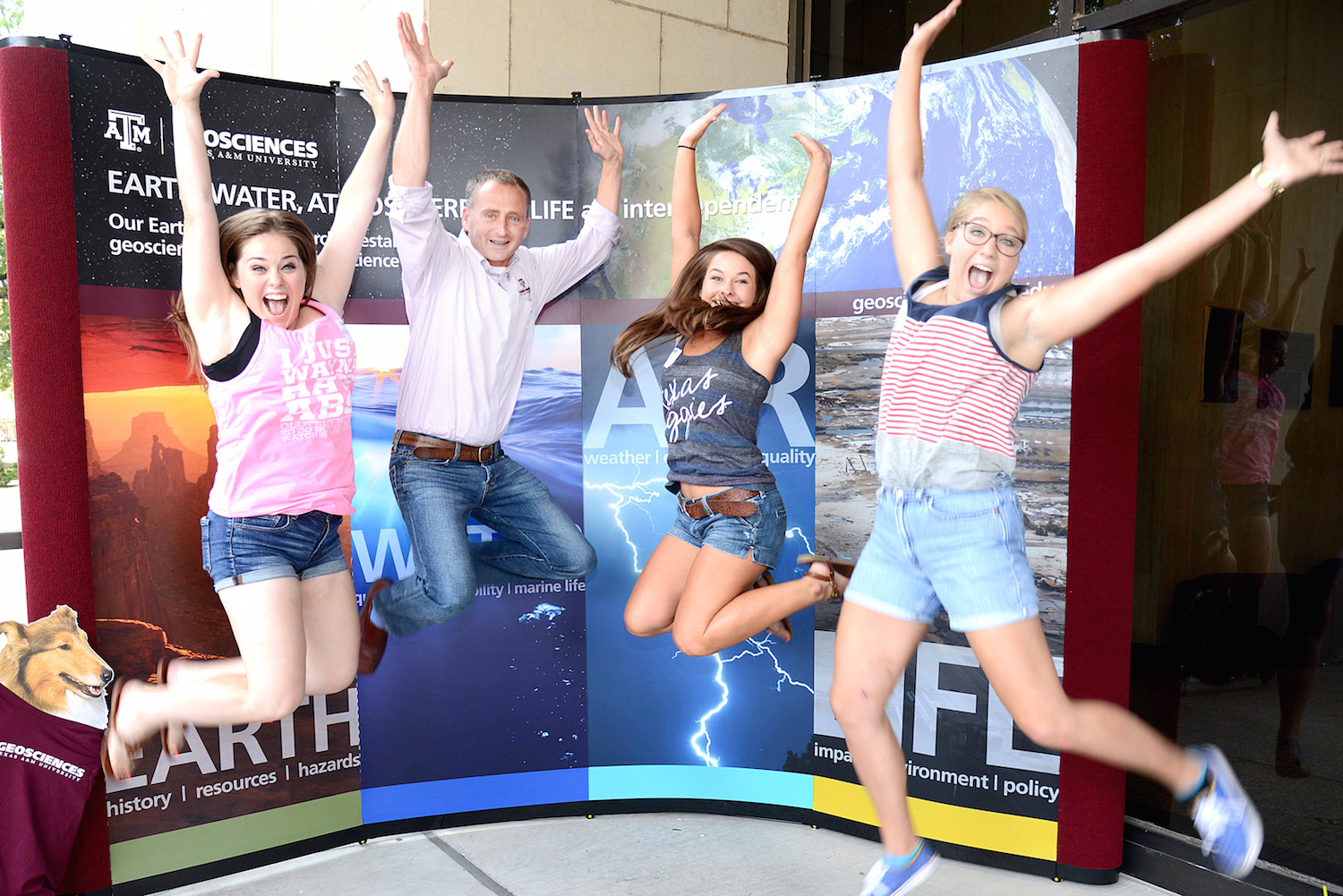 Students and Chris Houser, associate dean for undergraduate and faculty affairs, are jumping into the fall semester.
NEWS
Two Oceanographers Receive Grant for Hypoxia and Harmful Algal Blooms
IODP Scientists Learn That Some Deep Ocean Trenches May Be 50 Million Years Younger 
Geology and Geophysics Has a New Department Head
New President Visits the College of Geosciences
The Berg-Hughes Center Symposium Looks to the Future
Geographer Heads International Organization
NEW FACULTY
Atmospheric Sciences: Timothy Logan
HONORS AND AWARDS
David Sparks Receives Curriculum Award
Norman Guinasso Receives Lifetime Achievement Award for Buoy System
Dan Goldberg is Named Montague-CTE Scholar
NEW STAFF
New Staff Member Hired to Support High-Impact Programs
STUDENT NEWS
UPCOMING
| | |
| --- | --- |
| Oct. 16 | Berg-Hughes Symposium and Reception |
| Nov. 5–7 | University Capital Campaign Kickoff |
| Dec. 4 | College Holiday Party and Awards Banquet |
SECC: Building on a Tradition of Service
Once a year, the State Employee Charitable Campaign (SECC) highlights our tradition of service by demonstrating our collective philanthropic impact on community organizations that help those in need. Please consider how you can help these organizations this year, either by making a contribution through payroll deduction or participating in a unit fundraiser. Every gift makes a difference.  The campaign runs through Oct. 31, 2015, so you still have time to donate. 

"Last year, $544,346 was raised, said Rachel Rodriguez, Geosciences area coordinator. "As of today the Texas A&M System has raised $175,186, collectively. 

Please contact Rachel Rodriguez with questions.