Dean's message
Dear Colleagues,
As is usual in the Geosciences, summer brings many diverse field learning experiences for our students. This year geology students and their professors attending four sections of the annual field course where our students are learning to map and studying spectacular outcrop up and down the Rockies from Montana to New Mexico. We have also had student experiences in China and Costa Rica as well as summer programs in Atmospheric Sciences and Research Experiences for Undergraduates in Atmospheric Sciences and Meteorology. These experiences are always life changing for our students and we plan to continue to expand offerings like this in the future. See more details in Geosciences Students Explore the World.
In the late May, I attended the NSF-sponsored Employer's Workshop on the Future of Undergraduate Geoscience Education in Washington DC. This two-day workshop was a follow-up to the Summit on the Future of Geoscience Education held in January 2014 that a number of our faculty and department heads attended. The purpose of the May workshop was to gather input from employers on the skills, competencies and geoscience concepts needed for the future geoscience workforce. The discussions centered on results outlined in the original workshop report and from a survey of faculty and employers. About 40 people attended the conference of whom about 30 were from employers such as federal agencies, mining and energy companies, and environmental consulting firms. Jeff Fitzgerald, a member of our Geology Development Advisory Council, attended for Jacobs Engineering. Initial findings from the workshop are that most of the skills identified in the 2014 report align well with employer expectations. Employers expressed strong support for incorporating practical experiences into students' educational experiences and proposed models for better employer-faculty-student interactions in the classroom. A report will be forthcoming on the workshop results. 
From Washington, I went on to Denver to attend the annual Convention and Exhibition of the AAPG. We had a large booth on the exhibition floor staffed by students and faculty. Lots of former students stopped into the booth and/or attended a Texas A&M reception sponsored by the College and the Department of Geology and Geophysics one evening. It was great to renew connections with so many of our former students. We look forward to next year's meeting in Calgary.
Have a great month, 
Kate Miller
Geosciences' Students Monitor Energy-Savings Project
Students and their professors are using an Aggie Green Fund initiative to identify potential cost savings from window film applied in early to mid-June.
Oceanography Selects Department Head
Debbie Thomas assumes leadership in Oceanography.
Two New Faculty Members Join Geosciences
The Department of Oceanography welcomes Jessica Fitzsimmons, and the Department of Geology and Geophysics welcomes back Masako Tominaga.
Fifth Annual GeoX Program Introduces Students to the Geosciences
Twenty-two students from Texas and one from Minnesota spent a week on campus exploring the geosciences and learning the ropes to successfully apply and stay in college.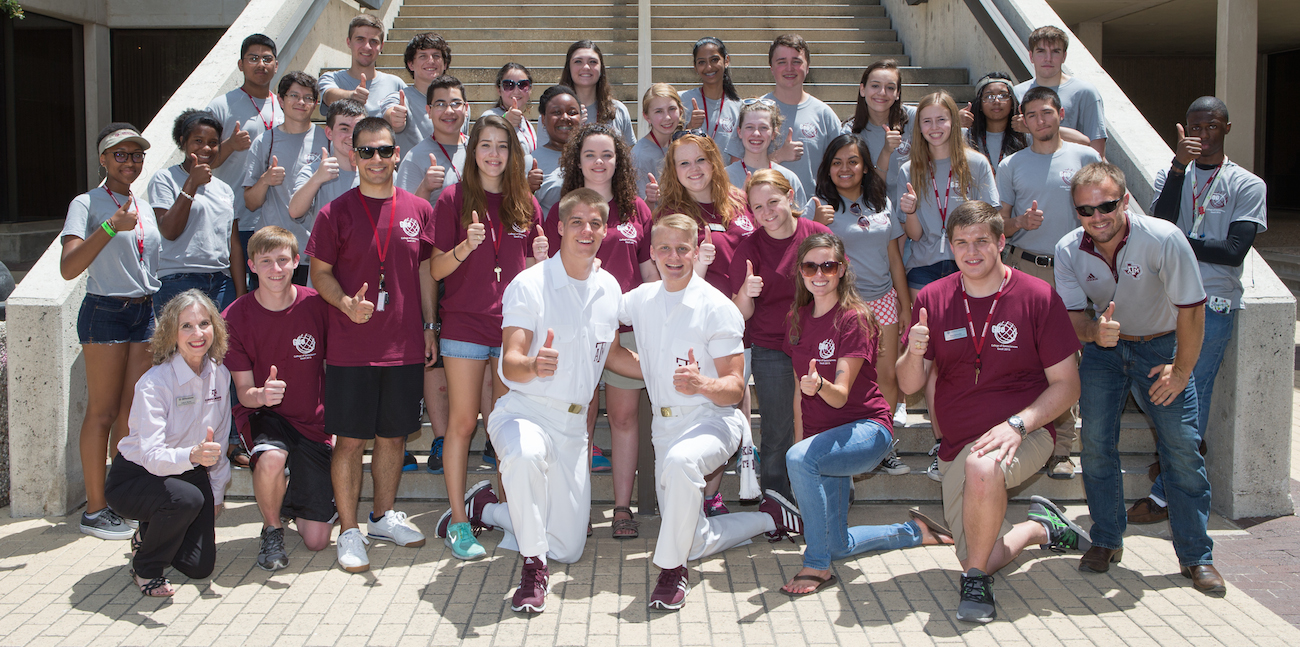 GeoX class of 2015 with their Director of Recruitment, Judy Nunez (bottom row, left), counselors and two of the Fightin' Texas Yell Leaders.
---
Published Research Papers
For research papers published since January, see the articles under the department name.
Help Save Lives By Taking a Survey
A national survey conducted by Chris Houser, associate dean for undergraduate and faculty affairs, and sponsored by Sea Grant, will help guide researchers in producing accurate warning signs.
Student News
Atmospheric Sciences graduate student, Souichro Hioki, receives a prestigious fellowship from NASA. 
August Events
Friday, August 21 - Dedication of the Robert O. Reid Ocean Observing Educational Facility
Sunday, August 28 - Geosfest, 12–2 p.m.