Dean's message
Dear Colleagues, 
After a hiatus, we have reinstated the Dean's Briefing, the monthly internal newsletter of the College of Geosciences. The reinstatement coincides with our efforts to finally launch some critical pieces of a new website for the College. The new ATMO, OCNG, ENVP, and Costa Rica REU sites are now live, as is Geonews. Now that our Communications team is fully staffed again, other sections will be coming up rapidly in the near future. 
When the major tasks of getting the new sites for the departments and centers online are complete, we will add the ability for faculty to update their own profiles, a capability that has been suspended due to security issues. In the meantime, please send your updates to web-request@geos.tamu.edu.
The new Dean's Briefing will highlight major news such as faculty and staff awards, policies and issues that affect all of the college such as budget, the strategic plan, the capital campaign, and other items that are of interest to the college as a whole. We will also publish a roundup of all major journal publications and grants received in the Geonews section as a separate news item. Karen Riedel will be contacting faculty about how to submit information.
Be sure to take a look at the new Geonews website. You will see that we have increased our content by at least 300 percent in this month alone. A new section, In the News, links to recent articles about the college in the popular press.
We have also revived the Deans' Blog, after an initial attempt a couple of years ago. Take a look at Eric Riggs' initial entry on the procedures and implementation of online courses.
The College was signed into existence by the Board of Regents on October 1,1965, making 2015 our 50th anniversary. Plans for a celebration October 1–3 are now under way. Robyn Blackmon and Cara Milligan will be leading the advancement team's effort for this event. The preparation will include building a comprehensive history of our College as we look forward to the next 50 years and beyond. We will be reaching out to many of you for contributions to this effort.
Until next month,
Kate Miller, Dean
---
---
New staff members join the college
Two new staff members have joined the Dean's Office to fill critical positions. Welcome Cara Millington, senior director of development, and Robyn Blackmon, communications coordinator.
---
---
Academic advising reorganizes for efficiency and service to the students
Report from Chris Houser, associate dean for faculty and student affairs
In fall 2014 we completed an assessment of the structure and effectiveness of academic advising in the college, to address ongoing concerns of the advisors, and to meet the challenge of coordinating and centralizing academic advising set out in the PWC report. The plan that we developed for academic advising balances the uneven distribution of students amongst departments and repairs reporting lines.Implementation of the plan was delayed by the departure of Missy Mathews from Atmospheric Science and Oceanography. As senior academic advisor, Roxanna Russell helped to cover academic advising in Atmospheric Science and helped other academic advisors adjust to their new responsibilities. Thank you, Roxanna!
On March 13, 2015, a search committee composed of Robert Korty (ATMO), David Sparks (GEPL), Suzanne Rosser (GEPL), Roxanna Russell (Dean's Office) and myself completed its search for a new academic advisor. We are pleased to announce that Brady Dennis joined us April 6 to provide undergraduate advising to the Atmospheric Science and support for undergraduate advising in Geology and Geophysics.
---
Celebrating 50 Years of the College of Geosciences at Texas A&M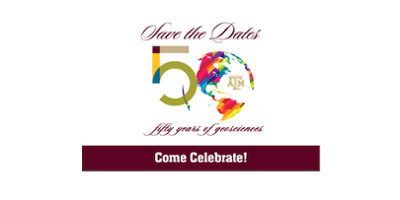 October 2015 marks the 50th year of the College of Geosciences at Texas A&M. We will celebrate the anniversary with special events October 1-3, 2015. Details to follow.
Although the first degrees in geology were awarded in 1930, merging the departments of Geology and Geophysics, Geography, Oceanography and Meterology came decades later. October 5, 1965, as part of the sweeping changes that Gen. James Earl Rudder instituted at Texas A&M during his tenure, the creation of the College of Geosciences became official. To commemorate the many achievements and distinctions of the past 50 years of geosciences at Texas A&M, we will host a variety of activities October 1-3, 2015.
Join the celebration as the College of Geosciences celebrates its 50th anniversary in 2015.
---
2015 Graduation
Please join us for the 2015 Graduation Awards Ceremony and Reception on May 14.  We will be honoring the 2015 graduating class at 3:30 in the Koldus Building, Room 110-111.  The ceremony will be followed by cake, punch and coffee.  RSVP to rrussell@tamu.edu by May 12.