Race to Reconciliation
Jun 30, 2015 - Barbara Bayer
This week, read about Race to Reconciliation, a unique motivational exercise that has the business teams rushing to get their monthly reports in.
The College of Geosciences academic business staff is responsible for processing thousands of financial transactions each month including payroll, travel, capital purchases, scholarships/tuition, research, and other operational expenditures. Each transaction has to be documented with backup and approvals. 
We have a friendly competition between departments to see which department will be first to provide all required documentation for transactions that have posted in a given month. Sean Stroyick, Business Associate I, is responsible for completing the verification process every month by going through each transaction, verifying that documentation is valid and saved in proper account folders. Departments are then responsible for providing any missing documentation to complete their report. We have been completing our reports in record time – days from the monthly close date. This is phenomenal. Congratulations to all of the departments for their hard work and efforts to make this possible! Way to go team!
 
For May 2015, the first department to complete all required documentation was the Department of Atmospheric Sciences business staff. They received a fun summer basket in recognition of their efforts in the Race to Reconciliation.
Barbara Bayer
Assistant Dean for Finance and Administration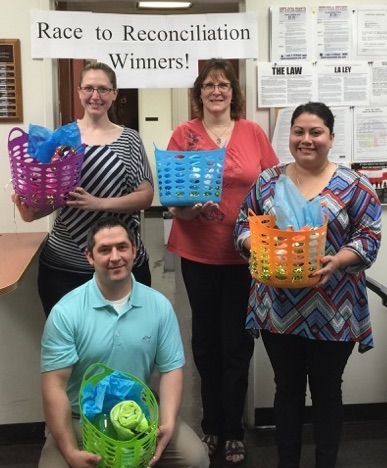 Diane Mills, Theresa Morrison, and Renee Campos and Jacob Cutler